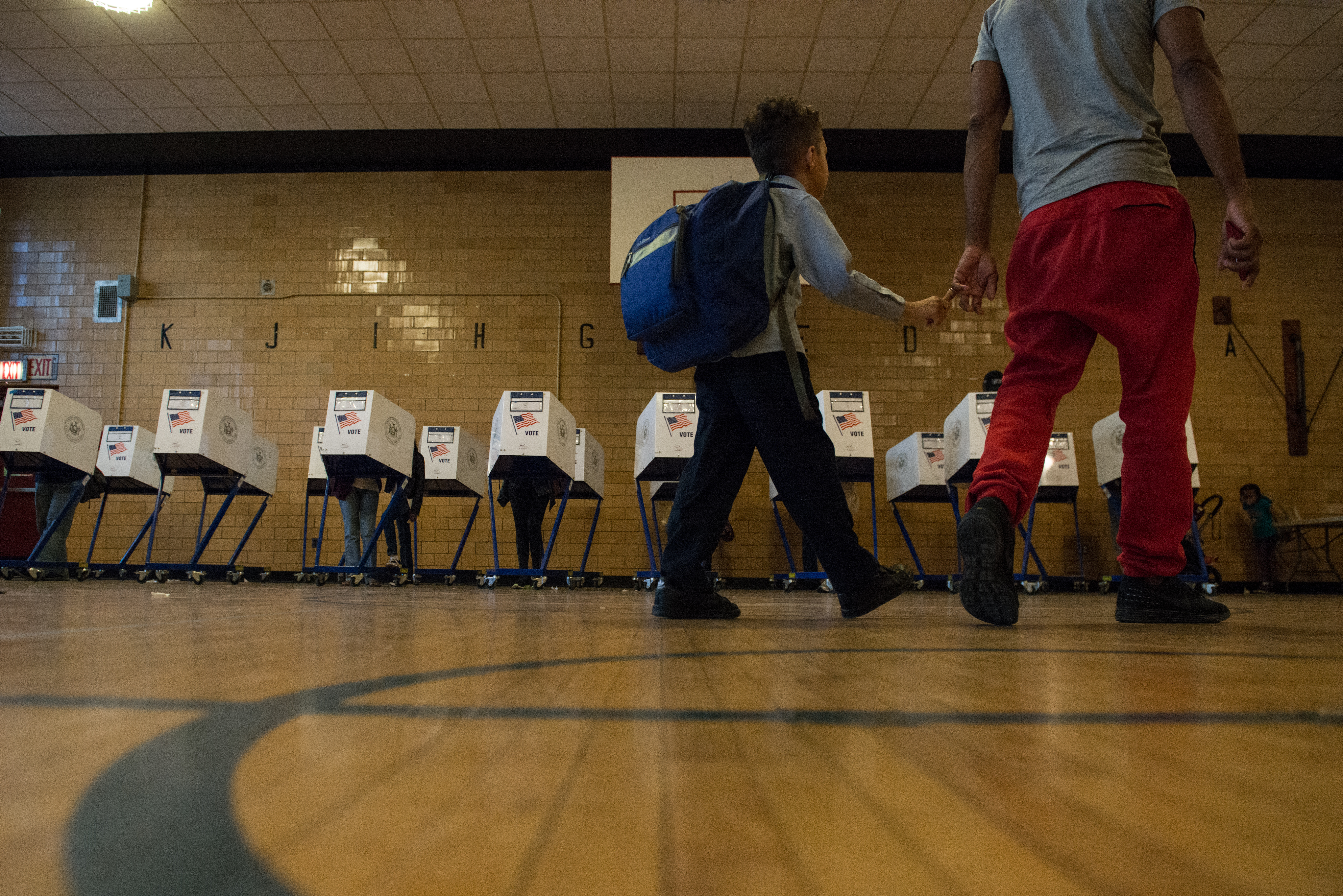 It hasn't exactly been a banner week for the New York City Board of Elections, and it's only Monday.
The fallout of a problem-plagued presidential primary last week continued today with an offer of $20 million in extra city funding from Mayor Bill de Blasio—but only if the board cleans up its act. That would include making "systemic changes" based on recommendations from an outside consultant and publicly posting all job vacancies, improving poll worker staffing with better pay and better training, and communicating more clearly with voters about poll sites, election days and registration statuses.
"We've said this is, in effect, a challenge grant," Mr. de Blasio said. "There's a lot we'd like to help the Board of Elections do, but we must see commitment to reform and modernization, or we're not going to spend the taxpayers' dollars."
But many reforms to the board, which is made up of patronage appointments by political party bosses in each county, will be beyond the reach of Mr. de Blasio, who said he believed legislative action was needed.
"I think we need to professionalize the Board of Elections. Let's face it: For decades and decades it's been a strange combination of government sanctioned but party-run," Mr. de Blasio said. "And it's time for a more professional approach."
The board has never had a great reputation for running smooth elections but has come under more fire than usual after more than 100,000 people were purged from Brooklyn voter rolls .
"We are way tired of having these press conferences," Susan Lerner, the executive director of good government group Common Cause, said at a City Hall press conference today. "Every presidential election year, it seems as if more fault lines in our antiquated, 19th-century election administration become glaringly obvious. Now we see more communities that are suffering from the kind of soft voter suppression that incompetence creates, that the minority communities and new Americans have been suffering for years."
Assemblyman Luis Sepulveda, meanwhile, is seeking to make it a felony to purge voters from the rolls—unless the person is "proven" to be dead or have moved away. (Last week, the BOE Executive Director Micheal Ryan told the Observer that people were removed from the rolls for moving out of Brooklyn, or if their mail from the BOE was bounced back by the United States Postal Service—including a group of 70,000 voters who had previously been tagged on rolls as "inactive voters" and did not respond to intent to cancel notices from the board.)
"There was no verification process," Mr. Sepulveda said, "and that's why you have the large number of complaints. When you're talking about 126,000 voters, I find it very difficult to believe that each person was either no longer living in the district, living in Brooklyn, or they're deceased."
The purge of Democratic voters in Brooklyn has raised anger among many supporters of Vermont Sen. Bernie Sanders, who lost the primary here to Hillary Clinton, the former secretary of state and senator. But observers of local elections have complained about similar problems from the bipartisan patronage appointees on the board for years, even if local races garner less attention. Ms. Lerner, with Common Cause, and others today noted that voting problems were reported across political ideologies on Tuesday.
Still, Assemblyman Brian Kavanagh argued that the board's mistakes were increasingly being seen as more than just incompetence.
"We're increasingly focusing on them as issues of equity and issues of voting rights—not just incompetence or mistakes that are made," Mr. Kavanagh said. "The mistakes that are made, whether they are intentional or unintentional, have become systemic. And we need change at the Board of Elections."
The board and its conduct in last week's primary is already being probed by Comptroller Scott Stringer and Attorney General Eric Schneiderman.
A spokeswoman for the Board of Elections didn't immediately return a message left by the Observer seeking comment.