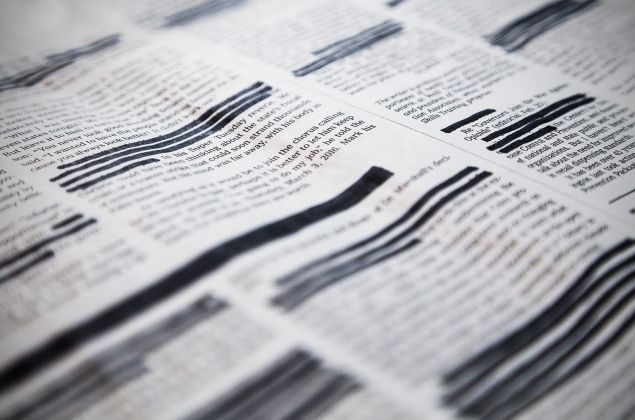 It has been a tumultuous year or so for student journalists. Around the country, they've have had to contend with campus protesters and school officials who frame the concept of a free press in opposition to notions of politically correct speech.
In November, Tim Tai, a freelance photographer for ESPN and a student at the University of Missouri in Columbia, was covering an antiracism protest in a public area of the campus when he was blocked out by student activists. "Hey hey, ho ho, reporters have got to go!" the demonstrators chanted, forcibly pushing Mr. Tai away from their encampment as he tried to take pictures. Minutes later, Melissa Click, an assistant professor of communications, was caught on videotape as she called for "muscle" to remove a videographer from the quad. (She was later charged with misdemeanor assault and fired by the university.)
Two months earlier, a right-leaning staff writer for the Wesleyan Argus, a biweekly student paper, published a column titled "Why Black Lives Matter Isn't What You Think." Students who took issue with the piece demanded an apology from the Argus' editorial team and signed a petition calling for the paper to be boycotted and defunded. "There was a period last semester where I was seeing large stacks of the Argus in the trash," said Jess Zalph, 21, one of the paper's two editors-in-chief.
To prepare for the possibility of being defunded, the Argus, which does not have a faculty adviser, last year raised $11,000 in emergency funds. "What happened is the funds backfired," said Courtney Laermer, 21, the Argus' other editor-in-chief. In mid-March, the paper ran an editorial claiming that the Wesleyan Student Assembly (WSA) was revoking the paper's funds for the spring 2016 semester because, the WSA claimed, the Argus was already sufficiently funded through the money it raised via other channels.
"Seen in a broader context, it [the WSA response] all just seems a little too coincidental," Ms. Laermer said.
In an email to the Observer, Justin Kim, who is chair of the WSA's Student Budget Committee (SBC), said that wasn't the case. "The Argus is not being defunded, nor has it ever been the WSA's intention to do so," he wrote. "The presence of outside funding informs our allocation decisions as the SBC recognizes not all student groups have the alumni or network that can contribute to funding operating costs. The SBC also reassumed money from WesRugby when we discovered that they also had access to a large separate fund. There was no politics here, just a routine practice that happens every year."
The incidents in Missouri and at Wesleyan were particularly stark ones, garnering national attention through social media. But they are hardly the only examples. The Student Press Law Center, a Washington, D.C.-based nonprofit that works to protect freedom of the press for student journalists on high school and college campuses, receives about 2,500 calls a year, 40 percent of them dealing with censorship, according to Adam Goldstein, an attorney advocate who works for the organization.
"Some colleges tend to view it as a creative test," Mr. Goldstein said. "If I come up with the most unusual method of censorship then it's not really censorship."
The same month Mr. Tai was being heckled by student demonstrators, The Flat Hat, a weekly newspaper at the College of William and Mary in Williamsburg, Va., courted controversy by publishing an incendiary guest column about rape culture. "It attracted a lot of negative attention, and a lot of people were concerned that this was an official opinion from The Flat Hat," said Áine Cain, 21, the editor-in-chief of the paper. "It was a bummer for a bunch of days—we got a veiled death threat on our website referencing an Oregon shooting, the police got involved, and the author got a lot of hate."
Kaitlyn Lewis, 20, the opinions editor at the Kennesaw State Sentinel, Kennesaw State University's student newspaper in Georgia, said she wished more students would respond to coverage they disagreed with in the pages of their campus newspaper—so as to encourage a healthy dialogue. "It makes the content flow easier, and it makes my job easier," she said. "It makes it more fun, and it draws more readers to our publication."
While the number of outbursts on campuses hasn't necessarily gone up—81 percent of U.S. college students feel the freedom of the press is secure, according to a new Gallup poll—"what we're seeing more of is the intensity with which students are attacking student journalists and outlets," said Azhar Majeed, a program director at the Foundation for Individual Rights in Education. At the University of Tulsa, for instance, a student was suspended by the school in 2014 for Facebook posts written by his husband. When the student newspaper, The Collegian, looked into the issue, the paper was threatened with sanctions by the administration for reporting on "confidential information."
"That's very chilling, when you see student newspapers doing their jobs and having their own status on campus threatened," Mr. Majeed said.
Mr. Majeed acknowledged that just as the media is protected, demonstrators have the First Amendment right to advocate for censorship. "But normatively speaking, it's an illiberal attitude," he explained. "It really speaks to the intolerance of certain viewpoints on too many campuses today. If you're a student journalist and you see this happening, you think certain ideas and certain viewpoints are just off the table for discussion."
***
In dozens of interviews with the Observer, student journalists around the country acknowledged having followed the Argus' plight with trepidation, though many noted that they work for independent, nonprofit newspapers that would not face the risk of being defunded by the student government should they publish unpopular material.
Still, there has been  a chilling effect: Topics like race, sexual assault and Israeli-Palestinian relations often receive extra scrutiny before they are committed to print. "Especially with the racial stuff, because it's a very sensitive issue for a lot of people," said Cody Boteler, a senior editor at The Towerlight, Towson University's student newspaper in suburban Baltimore. "I'm a straight white man, so I can come from a position of, for me, I've never thought about my identity in these terms because I don't have to, and I'm very privileged because of that."
But student journalists pushed back against the idea that they would self-censor to avoid controversy. "If one of our opinion writers has something controversial to say, we're not going to tell them outright how to do it," said Thomas Wood, 22, the editor-in-chief of the CU Independent, the University of Colorado Boulder's student newspaper.
"We want to serve our readers, but at the same time, we want to share opinions with everyone," said Amanda Etchison, 20, the editor-in-chief of The Lantern, Ohio State University's student newspaper. "And even if those aren't popular, it's important we publish."
Kristen Davis, 20, is the editor-in-chief of The Oakland Post, which serves Oakland University in Michigan. She says she has noticed an uptick in intolerance on campus, even within the ranks of her own newspaper. "I've never noticed it as bad as it is now," she said. "We had an instance this year at the paper, just a few months ago." A reporter had written a column arguing that the United States shouldn't let refugees from Syria enter the country. "The staff lost their minds—a lot of them tried to stop me from publishing this column," Ms. Davis said. "It was a conservative viewpoint, and they didn't want it published, but when they run the other opinion they didn't mind it."
In the end, she ran it. "The second we don't allow journalists to speak their minds, I feel like we're doing an injustice to journalists everywhere, because that's what we're supposed to do, as long as it's not false," Ms. Davis said. "We're supposed to be the, quote unquote, agenda setters, but what happens when we're only setting one side of the agenda?"
Prejudice against conservative opinion is nothing new on campuses—William F. Buckley Jr. was railing against that as far back as 1951 in his first book, God and Man at Yale. Political pundit Kirsten Powers' new book, The Silencing: How the Left Is Killing Free Speech, makes the case that intolerance from the left is stifling freedom of expression across the country. "This intolerance is not a passive matter of opinion," she writes. "It's an aggressive, illiberal impulse to silence people."
But intolerance comes from both sides. Last semester at the University of Florida in Gainesville, The Independent Florida Alligator, which is read both in town and on campus, put out a particularly heavy-handed editorial. "Fuck Donald Trump," one line read, "and shame on his supporters."
"That resulted in two Trump-supporter protesters outside of our office for a little bit," said David Hoffman, 20, the opinions editor at the Alligator. If Donald Trump's fans were irked by that piece, though, it's likely more demonstrators would have turned out for a piece on the Republican presidential contender the paper chose not to print.
"I held back one column just because the columnist is not the best writer and he was trying to compare Trump to Hitler," said Ariana Figueroa, 20, the editor-in-chief of the Alligator, which gained editorial independence from the University of Florida in 1971 after publishing the addresses of abortion clinics. "But in his writing, the way the sentences were structured, it sounded like he [the writer] was blaming Jews for the Holocaust, and I was like, 'Hm, I'm not gonna run that.' "
"As long as something is meaningful and informed," said Samantha Gross, 20, the editor-in-chief of The Daily Free Press at Boston University, it deserves to be published.
Indeed, recently at Kansas State University, College Republicans wrote anti-abortion messages in chalk throughout the campus, one of which compared abortion to genocide, said Jon Parton, 35, the editor-in-chief of the Kansas State Collegian, Kansas State University's student newspaper. (Mr. Parton, who took a circuitous route to college, described himself as a "nontraditional student.")
"We did an article about it, and we talked to the College Republicans who did it and the other students who were trying to write over the chalk messages, and when we published that it turned out to be an article that no one on either side liked," Mr. Parton said. College Republicans said they were misportrayed, and those on the other side didn't like the wording the paper used.
"It doesn't matter what you write about," Mr. Parton concluded. "There's always going to be someone who's pissed off."