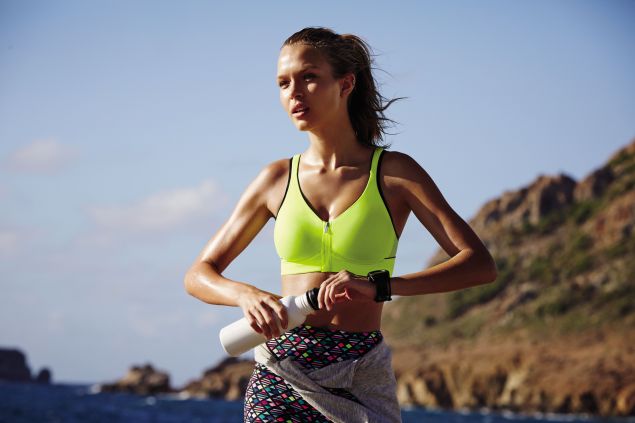 The perfect sports bra is much harder to find than the ideal pair of yoga pants. After all, the fit, amount of support and style all have to align, which is far more difficult than making a flattering spandex top. Then, there's finding the right one for the day's class. After all, a high impact trampoline class necessitates something different than a hot yoga class.
As athleisure's popularity continues to rise and new brands are introduced constantly, some are still having trouble mastering a full coverage sports bra. These brands make attractive, sleek looks that can be worn under a tank or on their own beloved by fitness instructors, princesses, Victoria's Secret Angels and celebrities who favor leggings over real pants.
For High Impact
If you've been searching for a sports bra to provide full coverage without looking hideous, British brand Sweaty Betty has created the Ultra Run Bra. It comes in a variety of colors to peek out from tank tops and match to yoga pants. Celebrity fans of the brand include Jessica Alba, Reese Witherspoon, Princesses Beatrice and Eugenie and Gigi Hadid.
Sweaty Betty Designer Jessica Adamson said, "It can be challenging to make high impact bras sexy and unique without compromising on the function. A way we get around this at Sweaty Betty is with flattering seaming, using our Sweaty Betty color palette, using power mesh for both function and aesthetics."
To make their Ultra Run Bra and Victory Run Bra supportive they use compression, encapsulation and rigid fabrics. Wacoal makes a similarly supportive style. While it's more of a true bra, it provides support for dance cardio or even trampoline class. Miryha Fantegrossi, the VP of Merchandising and Design for Wacoal America told Observer, "Bra design is very much like building engineering. You need to select materials that can support the weight and impact of the structure."
If your high-impact comes in the form of jumping jacks and body rolling and you don't need loads of support, Alala offers their "In A Snap" bra for a peek of fishnet best saved for burlesque. Up-and-comers BELOFORTE offer a similar zip-style called "The JLaw" with mesh paneling worthy of a music video. Carbon38 also gets in on the zipper action.
For Boxing
The newest Victoria's Secret Angel, Josephine Skriver, swears by the brand's Knockout bra. Ms. Skriver told Observer, "I love high cardio workouts, such as boxing, so I always look for a comfortable sports bra with great support. My recent favorite is the new Knockout by Victoria's Secret, which is both wireless and front zip for maximum comfort and support."
With spring coming, Ms. Skriver has been wearing their color block designs and spending time at The Dogpound training. Like Bridget Malcolm, she's into boxing, the unofficial Victoria's Secret workout of choice. "Most of my workouts have been different boxing methods and strength training. On a day I know I'll sweat a lot, I wear a breathable outfit to stay dry, such as the Victoria's Secret Incredible sports bra."
For Hot Yoga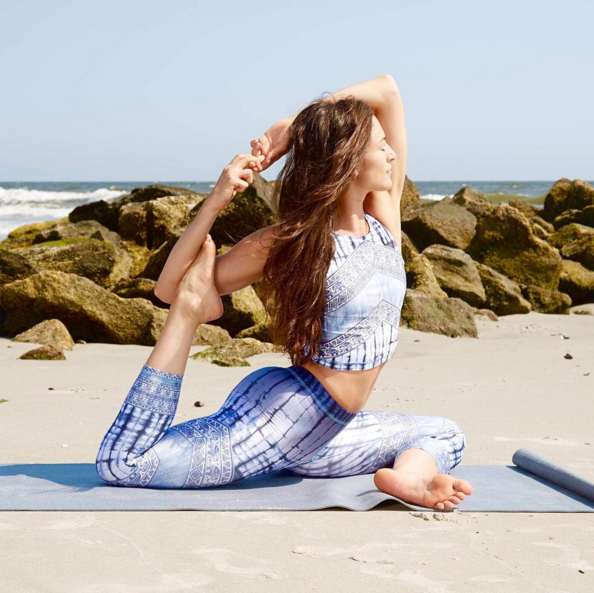 The recently re-branded Terez makes colorful, full coverage sports bra crop tops to make even the most modest ladies reaching to take their shirts off. Zara Tisch, the founder and CEO said, "The reversible crop top was designed to fit the way that flatters your body best. So, for a woman that needs a bit more support up top, the higher neckline almost serves her better than a regular sports bra, providing full coverage." While some women will have to layer up with a more supportive sports bra underneath, the shape makes it easy to forego a top. Celebrity fans Lena Dunham, Olivia Wilde, Molly Sims and Karolina Kurkova would agree.
With designs featuring everything from emojis to marble, these crop tops can be spotted at Laughing Lotus and all over Instagram. Basic black might transition from barre to bars, but it won't rack up those Instagram likes. If you've somehow amassed a collection of black yoga pants, one of their creative crop tops will rejuvenate your spring workout wardrobe. For those who plan on keeping their shirts on, yoga favorite Manduka makes a supportive, elaborate cross-strap. If you're only familiar with their popular mats, they've created an entire athleisure line dedicated to practicing yoga.
For Toning
(Photo: Riad Azar).
Angel Nina Agdal is a major fan of VIMMIA (she wears their Arc Bra), which makes sports bras that work for heavy lifting and low-impact, intense workouts at Tone House and SLT; Ms. Agdal is a fan of both. JJ Hendershot, a VIMMIA ambassador and Equinox senior manager said, "My favorite bra in 2016 is the VIMMIA tempo bra. This bra has a super soft inner lining that breathes and the fabric itself is moisture wicking and quick to dry." For those who are looking for heavy duty support for cardio, this bra is definitely not it. But if you're heading to Pilates, it will certainly look good, whether or not you're snapped by paparazzi on your way out.