In a world where subscription boxes, delivery services, and carpooling apps reign supreme, we live by the credo that for one flat-fee, you can click your way to life improvement. Beauty products, delivery meals and sample cocktails can be all yours for one simple monthly price. Now, flat-fee pricing models are infiltrating the New York City food scene, commanding the way we eat and how we pay for it.
[vimeo 119670819 w=500 h=281]
CUPS App Unlimited Coffee from CUPS on Vimeo.
For better or for worse, many caffeine-fueled New Yorkers have come to rely upon a Starbucks stationed on every corner of the city. The Cups app hopes to entice you to break out of your convenience-based patronage with a monthly flat-fee of $90 for unlimited drip coffee and $120 to include all drinks. "It's the Starbucks app for independent coffee shops," co-founder Gilad Rotem told Observer. "It unites independent coffee shops under one app making it more convenient to find hidden gems."
Since first piloting the concept in the founders' hometown of Tel Aviv, Israel, they took the plunge in the largest market that they could think of: New York City. It's been two years and the Cups app currently partners with 210 independently owned coffee shops in New York City and has expanded its reach to Philadelphia and most recently, San Francisco.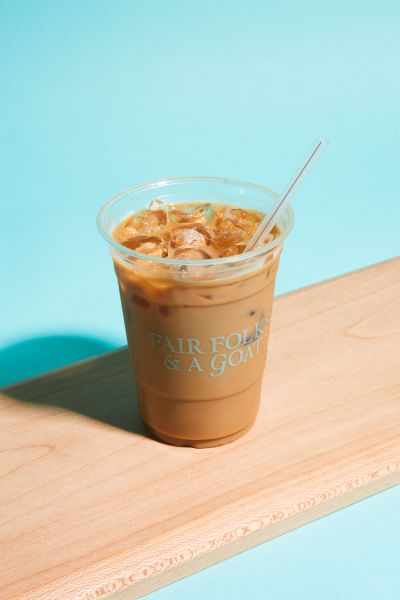 While the Cups app takes on a city-wide approach to subscription coffee, this concept still thrives on a  hyperlocal level. Fair Folks & a Goat founders Aurora and Anthony Mazzei scaled this model down to their two local coffee shops in the Village. Customers have access to unlimited tea and coffee including lattes and cold brew for the budget-friendly price of $25 a month. The incredibly low price point is unheard of in a city where $5 cup of cold brew is the norm, but the husband and wife duo have seen an incredible payoff. "Operationally, we have been playing catch-up since the day we opened our doors on Houston Street in 2012," says Mr. Mazzei. "It has just continued to snowball."
Aside from the incredible response from New Yorkers, their membership program has also gained the coffee shop a prized demographic: millennials. "Our demographic is very young," Mr. Mazzei tells the Observer. "We have learned that often times the younger the customer, the more receptive they are to our concept." It is not surprising that tight-budgeted millennials are embracing the benefits of a flat-fee membership. With the technological chaos that surrounds our daily lives, a set price eliminates the need for intricate budgeting by compartmentalizing costs.
Last week, the newest addition to New York City's flat-rate food phenomenon, MealPass, launched. Born from the tried-and-true model of its predecessor, the fitness app ClassPass, MealPass also champions variety, but for your lunch. "Lunch has always been a tricky meal for me," said ClassPass and MealPass co-founder Mary Biggins. "I'll be working and miss lunch or get stuck waiting in line. Also, I'm constantly going to same places over and over because I'm unsure of what other places offer and if there will be a long wait time. MealPass addresses all of those lunchtime issues."
For the introductory flat-fee of $99, customers can pre-order lunch on weekdays by 9:30 A.M. right from the app and choose a time slot for pick-up. At the chosen time, MealPass customers are permitted the luxury of cutting the line to pick up their lunch. It's a streamlined process that celebrates efficiency and cuts you a deal in the process. MealPass currently serves the small area between 10th St. and 30th St., however after launching last Tuesday, the company already has plans to broaden their reach to Midtown and Downtown.
What is it that's so alluring about the flat-rate membership model? Flat rates form a bias that gives the allusion of gaining value, whether or not that's actually true. A 2012 study of retail banking from Tel Aviv University showed that when customers were offered the option of a per-transaction fee or a higher, flat rate fee, customers most often opted for the flat rate fee, which caused an 15 percent increase in the bank's revenue. Slate equated this bias to the natural repulsion to the anxiety brought on by the minute-by-minute rise of cab fare, dubbing it the taxi-meter effect.
"In order to keep the model sustainable, we have to have make both sides happy. It's about the customer making a promise to the restaurant."
However, this research falls under the assumption that customers are not actually receiving a value by paying a flat fee. While flat fee options can definitely be a sucker punch for the lazy or ill informed, that isn't necessarily the case. In a fast-paced, high-priced city like New York, the flat-rate model has more potential for financial value. With long days finished with long commutes, the convenience of eating out takes on new meaning for New Yorkers. In a city where it is not unusual for people to consume up to five cups of coffee a day, Cups' monthly offering–which breaks down to $3 a day for unlimited coffee–is a definitive value. Subscription cocktail app Hooch, also offers an undeniable value of a cocktail a day for a monthly price of $9.99–essentially 30 cocktails for the price of one. If there is a caveat, it's that both apps leave it up to you to maximize the payoff.
There is no denying the financial gains customers receive through flat-rate membership models, however the true reason why the model thrives is that restaurants also benefit. "It's a two-sided market," says Mr. Rotem. "In order to keep the model sustainable, we have to have make both sides happy. It's about the customer making a promise to the restaurant."
MealPass also makes an effort to optimize the benefits for their featured restaurants. "Restaurants like the efficiency of getting more customers in, while maintaining their normal workflow," says Ms. Biggins. By placing orders for lunch by 9:30 A.M. it allows them to plan and prepare meals ahead of time so they don't experience any additional burden on top of their normal lunch rush. David Chang's flat-fee $12 lunch delivery service Maple, operates under a similar rhetoric of conserving labor by offering limited options that can be made in large quantities.
The founders of Fair Folks & a Goat take a more community-oriented approach to the flat-rate membership model. The membership does not only save customers on their monthly coffee expense, but it is also intended to create a community of regular customers. "Despite all of our advances in technology, we are not very different than our earliest ancestors sitting around a fire," says Mr. Mazzei. "We all want to belong."