When the late Massachusetts Sen. Edward Kennedy asked Nick Littlefield to leave a lucrative partnership in a prominent Boston law firm to become Kennedy's top domestic policy advisor in 1989, he brought Littlefield onto his Senate balcony, overlooking the Capitol, the Supreme Court and the Washington Monument, and told him that nothing got done in Washington without bipartisan support.  
"The notion of good guys and bad guys," Mr. Littlefield recalls Mr. Kennedy emphasizing, "was useless."
The only way to actually make a difference in the nation's capital, Mr. Kennedy told him, was to build relationships between Republicans and Democrats, nurture those relationships and then leverage them to try to do some good.
In Mr. Littlefield, Mr. Kennedy found someone ideally suited to the task. A lawyer with an Ivy League pedigree, Mr. Littlefield had worked for a Republican governor of Rhode Island, John Chafee, and then ran a congressional campaign for liberal Democratic icon Allard Lowenstein before a Republican United States Attorney appointed him a federal prosecutor in the gold-plated U.S. Attorney's office in Manhattan.
Following a stint teaching at Harvard, Mr. Littlefield was appointed chief counsel for a special Massachusetts commission set up in the late 1970s to investigate rampant corruption in the state's public construction programs and expose the palm-greasing that was pervasive in the process of awarding state contracts. The probe resulted in the goring of a great many Democratic oxen. Mr. Littlefield's investigation, The New York Times reported in 1981, concluded that corruption in Massachusetts had become "a way of life," and the commission's exposure of that crooked culture constituted "one of the most sweeping indictments ever made of the conduct of a state government."
By 1998, when Mr. Littlefield's tenure as chief of staff for the Senate Health, Education and Labor Committee came to an end and he returned to private practice, Mr. Kennedy had, through force of will, meticulous attention to the business of lawmaking and plain old hard work, successfully spearheaded a massive body of health care, civil rights and labor legislation that helped cement his legacy as one of the most effective Senators in American history. And along the way, the two men, who had not known one another when Mr. Kennedy offered Mr. Littlefield the job, forged a close bond that lasted until the former's death in 2009.  Mr. Kennedy and Mr. Littlefield spent hours singing the Broadway songs that Mr. Littlefield merely loved but which Mr. Kennedy simply adored. The morning after Mr. Kennedy died, his widow, Vicki Kennedy, asked Mr. Littlefield if he would sing one of the Senator's favorites, the Andrew Lloyd Webber blockbuster "Love Changes Everything," at the funeral service.
Shortly thereafter, Mr. Littlefield was diagnosed with a rare, virulent form of Parkinson's disease. Using extensive notes and drafts he put together before his illness took a grave turn, and with the help of his family and former Kennedy aide David Nexon, Mr. Littlefield managed to complete his firsthand account of Mr. Kennedy at work, Lion of the Senate: When Ted Kennedy Rallied Democrats in a GOP Congress, which was published late last year.  While on one level an account of Mr. Kennedy's fiercely partisan combat with an equally partisan GOP Congressional leadership, it also recounts that, for the legendary Democrat, despite the sandbox-on-steroids that Washington was deteriorating into, the art of building alliances with Republicans on issues on which even legislators of sharply different political persuasions could join together was energizing, joyous work.
Mr. Littlefield played an important role in what was one of the unlikeliest, and yet one of the most valuable, examples of bipartisan cooperation Congress has ever seen:  The alliance between Mr. Kennedy and Republican Sen. Orrin Hatch. Mr. Littlefield described the two as the most improbable of friends: "Hatch, the strait-laced, bone-thin, self-made, devout Mormon teetotaler and true-believing conservative from Utah, and Kennedy, the liberal, boisterous, fun-loving Irish Catholic from Massachusetts. But both believed that they were in the Senate to improve public policy."  
"Ted and I were a case study in contradictions," Mr. Hatch said. "When I first came to the Senate I thought [he] would be an adversary; instead, we became the best of friends."
Mr. Hatch traveled to Boston for the funeral of Rose Kennedy, matriarch of the Kennedy clan; likewise, Mr. Kennedy flew to Salt Lake City when Mr. Hatch's mother passed away.  Together, the inter-party friendship produced an array of legislation whose merits deserved to overcome partisan obstacles and which, thanks to the two lawmakers' unusual political partnership, actually did: The Ryan White CARE Act, which addressed the AIDS crisis; the Children's Health Insurance Program, which provides low-cost health coverage to children if their parents earn too much to qualify for Medicaid; expansion of the Head Start Program, a key early childhood education initiative; and legislation pertaining to rights for individuals with disabilities—to name just a few.
"Early on, close friends dubbed Ted and me the 'odd couple' in recognition of our unlikely ability to work together in spite of substantial political differences," Mr. Hatch said. "In an era of increasing polarization, I hope that our legacy of bipartisan collaboration can serve as a template for constructive lawmaking today."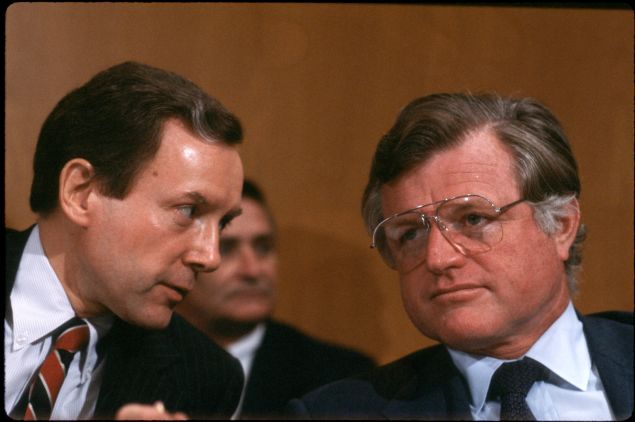 Whether it was the personal friendship that opened the door to policy collaboration or the common seriousness of purpose that created their friendship, their connection was a deep one. When Mr. Kennedy became sick, Mr. Hatch called Mr. Littlefield regularly to ask about his friend. Now that it is Mr. Littlefield who is sick, Mr. Hatch calls Mr. Littlefield's wife regularly to ask after him.
To be sure, Mr. Kennedy and Mr. Hatch passed the bulk of their Senate careers in a time very different than the vitriol-dominated one in which we find ourselves; it was a time when there was still a constituency of sorts for bipartisanship, even if it was rapidly eroding.  Each benefited from an almost God-like stature in his party, which afforded some leeway, some license to be bipartisan. That kind of wiggle room is seemingly nonexistent these days, in part because the fund-raising operations that have outsized influence over Democrats and Republicans alike thrive on hyper-strident rhetoric and a constant demonizing of the other side.
Still, there are other examples of Senators who have defied the almost gravitational pull toward partisanship, and whose careers provide some measure of optimism that all may not be permanently lost. Republican Sen. Susan Collins of Maine is frequently cited for her independence, a reputation reinforced just days ago when she bucked the Republican leadership and met with Supreme Court nominee Merrick Garland, and then followed up with a call for his confirmation hearings to be held.  Maine's tradition of supporting independent-minded legislators notwithstanding, it is not easy for Ms. Collins to function as she has; she is routinely flayed by the Tea Party on the right and by the Democratic Party on the left.  Ms. Collins, who is extraordinarily popular for the way she has conducted herself in her nearly twenty years in the Senate, has thwarted opponents every six years since she was first elected in 1996.
"I think that the voters need to reward bipartisan legislators by electing and reelecting them, as, fortunately for me, the voters do in Maine," Ms. Collins said. "The center needs to be as passionate about bipartisanship and problem-solving as the extreme left and the extreme right are about their issues and ideologies."
Ms. Collins points to her own partnership with former Sen. Joe Lieberman, a Democrat from Connecticut, as an example of what needs to be replicated. "The work that Joe and I did as the leaders of the Homeland Security and Governmental Affairs Committee is the best example that I can give you of successful bipartisanship," she said. "Whether Joe was chairman or I was the chairman didn't matter. We always worked together to achieve consensus."
She cites as products of their partnership the Intelligence Reform and Terrorism Prevention Act of 2004, legislation reforming the Federal Emergency Management Agency after Hurricane Katrina and port security legislation.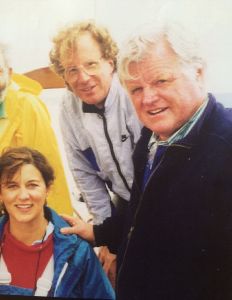 Former Sen. Carl Levin of Michigan, who retired last year after six terms in the Senate, was known for being both a partisan Democrat and one who was staunchly committed to old-school bipartisanship whenever possible, particularly when it was vital to achieving legislative goals.
"Bipartisanship is not dead—it's quasi-dormant," Mr. Levin said, pointing to institutional facts of life in the Senate that will always keep the embers of bipartisanship alive in that body: "Bipartisanship is promoted [there] because sixty votes are needed to get just about anything done, and some things do get done. It's a matter of being willing to listen to the other guy, trying to understand his points and passions, seeking honestly to find common ground, giving him a fair opportunity to have a place to present and argue his views, having a great staff that appreciates and knows how to work with their counterparts and keeping your word."
And, like Ms. Collins, Mr. Levin returns to the importance of having voters demand that candidates and incumbents conduct themselves in a certain way. "People need to realize we get the leaders we vote for," he said.
Mr. Littlefield's personal account of watching Mr. Kennedy in action will be required reading for any student of How Things Work in Washington, Congress-watchers and those who are intrigued by the late Senator's career.  It may be, however, the book's greatest significance is that it's a reminder, in a time in which the toxicity level in politics seems to have maxed-out, that the political climate need not always remain this way, and that it isn't too much to insist on a better brand of political representation.