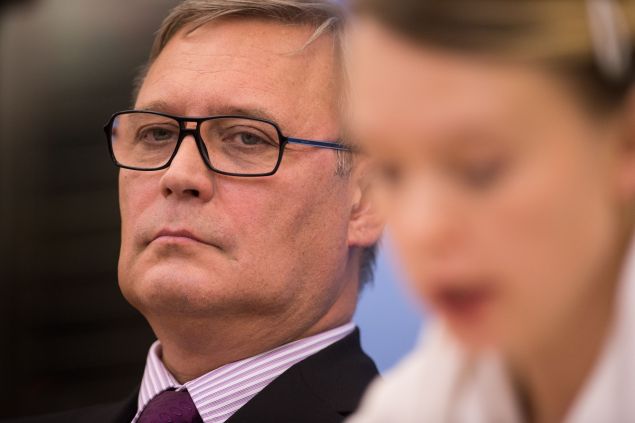 Political campaigns in the U.S. can be dirty, but Russia just tipped the nasty meter—again.
On Saturday morning, a number of British newspapers—including Daily Mail and Mirror—broke the story to the West that some hours earlier glued millions of Russians to their television sets.
Mikhail Kasyanov, the former Minister of Finance and Prime Minister under Vladimir Putin, is a chairman of the opposition party, PARNAS (Party of People's Freedom)—created long ago with the late Boris Nemtsov.
Mr. Kasyanov was caught in a scandal that will inevitably ruin not only his political aspirations, but also his family life.
Clips of a secretly taped 40-minute video were shown on the Kremlin-loyal NTV channel Kasyanov's Day, in hopes of delivering another devastating blow to Mr. Putin's rivals in the upcoming elections for the State Parliament Duma.
In the video, the former Prime Minister removes his usual sharp suit and expensive tie. Leaving his thick-framed glasses on, he goes to bed with his fellow party member and his personal political assistant, Natalia Pelevina. Mr. Kasyanov is 58, married and has two children.
Ms. Pelevina wears seductive lingerie and waits for him in bed.
The love scene follows.
She is 38, not married and has no children. Although born in Moscow, she is a citizen of Great Britain and "maybe" the USA. At the age of 11, she moved from the Soviet Union to England with her parents, only to return to Russia ten years ago. For four years she's been a member of PARNAS, rising to the position of Mr. Kasyanov's assistant in charge of the party's Youth Department.
And it appears that's not all she's in charge of.
The passionate encounter takes place in an unknown safe house, obviously bought for such purposes.
Although the video is repulsive, it is the audio that sent political shocks around the world.
http://www.youtube.com/watch?v=lOnCxrRViso
Ms. Pelevina taps the bed, inviting the former Prime Minister. "Come," she says. "But first, tell me who else but me you have had here."
He is happy to play the game. "You got yourself a pretty little thing," he says, lifting the blanket to look at Ms. Pelevina's most intimate part.
After sex, Mr. Kasyanov, in good spirits, begins to sing songs from Soviet pop culture. They play "name this tune," and it is fun for both—Ms. Pelevina is good at guessing.
'Natasha, I will push you to the top… You will be in the Duma in a year, getting your fat paycheck.'
Later, relaxed and calm, Mr. Kasyanov opens up about his family. His daughter and son-in-law—businessman Andrei Klinovsky—bought a penthouse in Manhattan, but want to move not to the U.S. but to Great Britain.
"I think it's the right decision," he says.
"What miserable people they are!" Ms. Pelevina says, disapprovingly.
"No," he insists. "It's the right decision. When mass murder starts here in Russia, he will be able to leave and take his family there."
It's time to talk about good old days. Ms. Pelevina lashes out at Mr. Kasyanov's friends—the oligarchs.
"Their billions are not honest," she says.
"They made their money as a result of the transformation of Russian economy [in the 1990s]," he corrects her patiently.
She doesn't buy it. "Wasn't it stolen?"
"Stolen? What do you mean? Stuff was bought for five kopecks and sold for five rubles! This is not theft! If so, then I am a thief as well… I made all I have this way. I bought everything for five kopecks and sold it for five rubles… And I have five apartments and couple of houses."
Mr. Kasyanov was never in business. Rather, he spent most of his life in the government and the opposition party. His years as Prime Minister earned him the nickname "Misha Two Percent" from his oligarch friends. It has stuck, and he hates it. Rumor is, the name was given to Mr. Kasyanov for taking a 2% cut of all financial deals he approved with the signature of his Prime Minister pen.
But then, more serious pillow talk begins. This is much more intriguing and revealing. Ms. Pelevina, a British national, states affirmatively to her boss and lover: "I have a right to be elected in this country (Russia)!"
"No doubt!" the PARNAS Chairman assures her. "I build my party around you. But don't expect too much too soon," he warns her.
"I build my life around you," says Ms. Pelevina, wanting more.
'The other option is to leave Russia, and become an advisor to someone like Hillary Clinton.'
His thoughts jump to something else. "How to build a front against [popular co-oppositionist Alexei] Navalny—that is the task at hand. How to ensure victory for your elections in the primaries? And then into the Duma—so that you will shine in full force, not just shimmer in the dark?"
Mr. Navalny's name touched a nerve. An unflattering outburst follows.
They "unfortunately have to stay in alliance with Navalny," Ms. Pelevina exclaims. Although Navalny is "a piece of shit, I can be honest with you. Of course, I say to everybody how great he is—but to you I can say that he is a piece of shit. A total piece of shit—as a human being, as a partner… he isn't doing a fuck [for the opposition]."
She hates Mr. Navalny's followers, calling them "the minions" and "nothings."
Ms. Pelevina continues, telling her lover that the deputy Chairman of RARNAS, Lev Yashin, is a man "without principles" who is "ready to sell his place in the election campaign for $30,000… He is a freak, and the people around him are becoming freaks with the time, becoming infected with his bastard-ism, turning into pieces of shit. And this is the truth. It's not my truth, but general truth… If one goes to Mars, the first Martian will say to you, 'Oh, my God, you have Yashin there on Earth, the most unpleasant man in all of mankind!'"
Mr. Kasyanov tries to calm her down, promising her a place in the State Duma from his party's quota if the party gets elected: "Natasha, I will push you to the top, top, top." He promises her the career of a publicly accepted politician. "You will be in the Duma in a year, getting your [fat] paycheck," he says.
Money is always weaved into the lovers' conversation—one way or another. How to squeeze money for the party from the exiled greedy oligarch Khodorkovsky who wants to finance only his own private candidates?
Whatever the outcome, Mr. Kasyanov promises his lover-subordinate the position as a representative of the opposition abroad, knowing her connections in Washington and London.
Ms. Pelevina visits the U.S. and British officials often, and is said to be in close contact with Senator John McCain and British financier Bill Browder. She lobbied hard around the world for the Magnitsky List and lobbies now for the Nemtsov List of the sanctioned Russian politicians in Britain. She is a staunch supporter of anti-Russian sanctions.
"The other option is to leave [Russia]," she says, "and to become an advisor to someone like Hillary Clinton."
"That's a good plan," Mr. Kasyanov agrees.
"A good one," Ms. Pelevina echoes.
"They pay good money there," reminds Mr. Kasyanov.
"Good money and more. They will find a position for me. But I don't want this. I want to fight here to the end. I don't want Navalny—this Nazi bitch—to come into power. Then, in four years, I will be sitting at Hillary Clinton's saying, 'Fuck, Hillary, I would rather have stayed there!' and she would say 'Why the fuck didn't you stay!' I don't want such a dialogue [to ever happen], do you understand?"
As the conversation becomes less political, Ms. Pelevina demands Mr. Kasyanov divorces his wife.
"Forgive me, but I'm human," she says, "I'm a woman, I have needs in this life—a loving man by my side, comfort, somebody to prepare me breakfast—it's true, and I have a right to this. Why, Misha, you cannot divorce your wife? What's your problem? In two years, your daughter won't give a damn about you."
"Absolutely, absolutely." Mr. Kasyanov doesn't want to fight.
Whoever made the video—which will obliterate any chance for the only opposition force in Russia to get elected into the Parliament—remains to be seen. Earlier this year, criminal charges were filed against none other than Ms. Pelevina for the illegal possession of a pen with a hidden camera function. The pen was discovered a year ago, and some say it was meant to collect blackmail—kompromat—to be used against her fellow party members in order to advance Ms. Pelevina's own position within the party.
On his Facebook page, Mr. Kasyanov denies it was him in the video, saying this is all a conspiracy by Russia's secret service, the FSB.
Ms. Pelevina doesn't deny it was her, but promised to take legal action against the NTV channel for "finding a new low" in its reports.
Mr. Kasyanov now has a new nickname—more humiliating than before: "Misha two-centimeters."
So far as his party is concerned, the video threatens to end to its very existence. After all, PARNAS is "Parnassus Mountain" in Russian—a place where the Greek gods dwelled in debauchery and permissiveness, from which they were thrown down by the brutal Titans.
All in all, many agree Russia needs new opposition leaders.