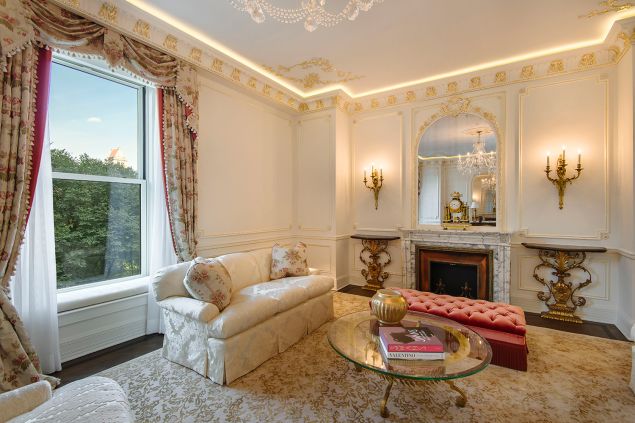 The Plaza's ornate marble lobby was filled with people clutching umbrellas with their shopping bags on a recent rainy spring day. The other lobby—designated for those with private residences—was almost empty, however, perhaps due to the abundance of pieds-à-terre 1 Central Park South is known for, including the fifth-floor apartment we visited.
"It's very Parisian-style," Corcoran broker Charlie Attias noted of the 2,000-square-foot condo, "and this is one of the only lines where every window faces the park."
Indeed, with its opulent décor, the apartment, listed for $10.5 million, could easily have been used as a set in Sofia Coppola's Marie Antoinette. The living room's armchairs and sofas were upholstered in silk, along with a plush red velvet bench and an antique gold clock perched atop a striking fireplace mantle.
Seeing our gaze, Mr. Attias noted, "The fireplaces are from an old chateau in Paris," as we then walked into the master suite, which contained the second of the antique fireplaces. A robin's egg blue canopy on the wall above the headboard was accented by matching sconces on each side—the carpet over the herringbone floors was of the same color scheme.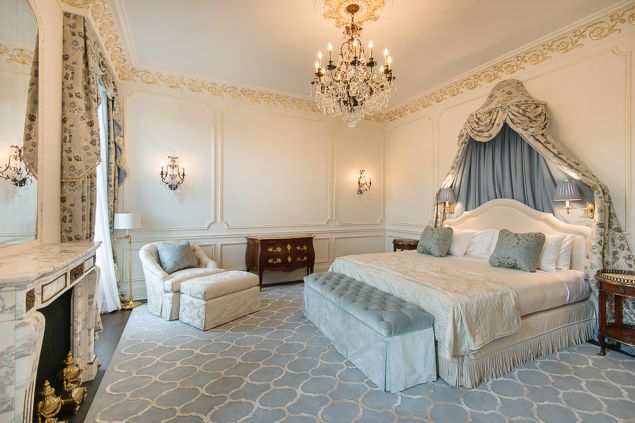 The double sink master bath had a separate bathtub and shower, and if one wasn't yet sure of the apartment's formality, an additional powder room contained a crystal wastebasket. Less elaborate was the relatively small kitchen, though the Plaza Food Hall is just an elevator ride away.
A mirrored door off the entry gallery led to the second bedroom suite—with, yes, an imported fireplace—which was furnished nearly identically to the master, though in canary yellow.
"He's a perfectionist," Mr. Attias said of the owner, gazing at the intricate crown molding—the living room ceiling had an additional design in each corner. "An artist was working for six months just on the molding, the gold leaf and the paint," Mr. Attias told us. "He's reproducing this in his new home—exactly the same design."