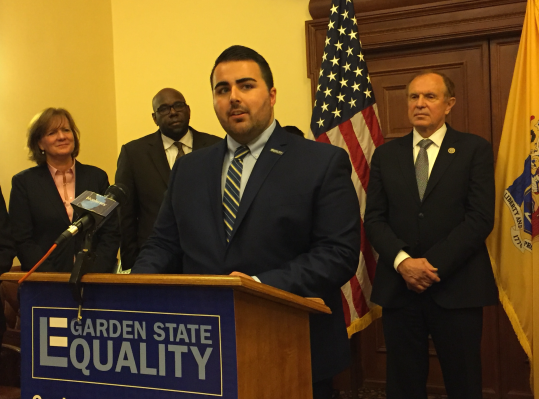 TRENTON – Garden State Equality just announced their new executive director, Belmar, Monmouth County native Christian Fuscarino, at a state house news conference.  An alum of Hofstra University, Fuscarino brings 10 years of organizing experience to GSE. He takes the helm of New Jersey's largest LGBT rights organization at a critical time in GSE's dozen-year-long history. 
Mr. Fuscarino spent the past two years as communications director for Educational Alliance, a non-profit organization engaging underserved, lower income students with educational opportunities. 
Prior to that, Mr. Fuscarino was student coordinator for the Gay, Lesbian, Straight Education Alliance (GLSEN) where we worked to expand Gay/Straight alliances in high schools throughout the North East region. Christian's digital media prowess was on display early; during his time at GLSEN he snagged a student Emmy Award from the National Academy of Television Arts and Sciences for producing 

a PSA

 about high school bullying.

The long struggle to extend marriage rights to gays and lesbians is arguably the biggest civil rights milestone we've seen in America in a generation or more. And there lies a void in the wake of that amazing victory in terms of fundraising, grassroots energy, and momentum. Christian Fuscarino seems to get that. In a post-marraige equality world, what's left to focus on? Turns out, there's plenty.
"People all over the country are wondering what an organization in a post-marriage state looks like. They'll find out in New Jersey," Mr. Fuscarino told PolitickerNJ. "Over the next few months we'll roll out our plan to engage the LGBT community in a broader social justice movement."
He also expressed his belief in Garden State Equality's duty "to cultivate the next generation of LGBT leaders."
Fuscarino plans a statewide listening/learning tour to gage what's on the minds of New Jersey's LGBT community and expects to engage on issues like curbing HIV transmissions, protecting LGBT youth from opiate addiction, and elder care for the generation upon whose shoulders this generation stands.
"It's important to me that those issues (HIV/AIDS and addiction) don't remain in the shadows. I understand the importance of providing support (for those individuals,)" Mr. Fuscarino told PolitickerNJ. 
"It was a long, intensive, and thorough search that led up to this choice," said Luanne Peterpaul, chairman of GSE's Action Fund. "Christian Fuscarino is the byproduct of our generation's efforts to achieve the progress we have. He's the fruit of those labors. And he knows we have work to to to ensure the full measure of citizenship for all LGBT community members."

Senator Raymond Lesniak, who's straight but not narrow, had some advise for the new leader: "Christian it's your responsibility to ensure the arc of justice move mores quickly!"
"GSE has a responsibility to ensure that LGBT youth have opportunity to grow into fulfilling, healthy lives," Fuscarino replied. 
Jay Lassiter is a big-mouth iconoclast, tech savvy media artiste, street warrior for marriage equality and marijuana reform, and un-intimidated presence in the halls of Trenton power as he aggressively pursues liberal causes. He's after at brunch and always on Twitter @Jay_Lass.