Sounds like an oxymoron. Say "park," and of course everyone thinks of Central Park in the middle of Manhattan. Few people realize that this is only 840 of 29,000 acres under the jurisdiction of the New York City Department of Parks & Recreation. Beyond this, there are the 26,000-acre Jamaica Bay and Staten Island Units of the National Park Service's Gateway National Recreational Area. These include a world-famous wildlife refuge adjacent to JFK International Airport and several beautiful Atlantic Ocean beaches along the city's 500-mile coastline. Indeed, when you think about it, in spite of thousands of miles of asphalt and concrete, its glittering array of skyscrapers, and a population of 8.5 million, New York is one of the greenest cities on the planet. And the good news is that it is actually getting greener. Just look at what has happened over the past three decades:
In 1980 the Central Park Conservancy was founded in order to reverse the decline of New York City's green heart and convert what had become a mugger's heaven and park user's hell into a clean, safe, and beautiful urban oasis once more. The first public-private partnership of its kind, the conservancy became a landscape restoration and management model for numerous other citizen-sponsored organizations both in this city and across the country.
In another happy development, the city's parks inventory increased during the Bloomberg administration by over 800 acres, with the addition of Brooklyn Bridge Park, the High Line, several parks along the Bronx River, and some perimeter sections of Fresh Kills Park, a 2,200-acre former landfill on Staten Island that is undergoing transformation into parkland over the next thirty years. The Million Trees Program initiated in October 2007 to plant more street trees and increase the number and diversity of native tree species in parks counts as another accomplishment of the Bloomberg years.
With the current trend toward an environmentally richer, more livable city, New York is enjoying a kind of green golden age.
Now that abandoned industrial infrastructure has become the design frontier for park proponents, efforts are underway to transform an abandoned rail line in Queens into a linear park called QueensWay and build a deck over the Brooklyn-Queens Expressway to be known as BQGreen Park. The Natural Areas Conservancy, a recently formed group operating in collaboration with the parks department, surveys the social benefits and environmental health of the city's natural areas and engages communities in trail building and forest-restoration projects. Its work is furthered by the Greenbelt Native Plant Center on Staten Island, which was established by the parks department to germinate seeds and propagate plants for habitat-restoration sites. Additional good news includes the Trust for Public Land's data-driven advocacy of a 10-minute (or less) walk for every resident of an urban area to a nearby park, playground, or greenway. And let's not forget that there are 600 community gardens blooming today on former vacant lots throughout the city.
When you add it all up, 57 percent of New York City is green. Qualifying for this designation are urban forests, wetlands, landscaped parks, private yards, and more than 75,000 acres of open water in New York harbor and the rivers and inlets surrounding the New York City archipelago. Ten thousand, or one-third, of the 29,500 acres administered by the New York City Parks Department consist of woodlands, fresh water marshes, and remnants of former wetlands. Here you can discover 350 species of resident and migratory birds and numerous other forms of wildlife, including such apparent anomalies as horseshoe crabs, coyotes, and the newly discovered leopard frog.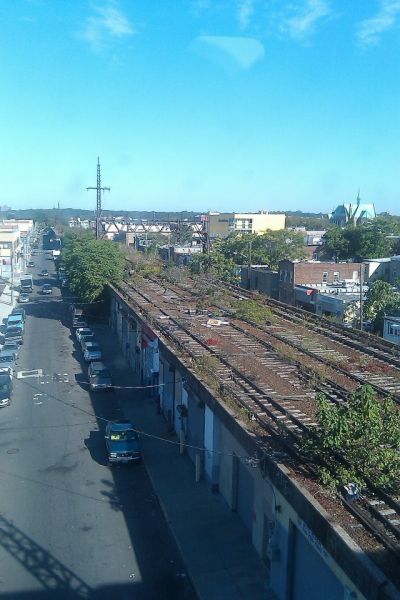 With the current trend toward an environmentally richer, more livable city, New York is enjoying a kind of green golden age. But it cannot truly be considered nature's urban paradise as long as the looming specter of climate change is knocking at the gates. Let's face it. There will be serious alterations in the future to the geography and infrastructure of the city as waters rise and the profile of its perimeter shrinks. But at least for this slice of historical time we can count ourselves lucky to be living in a place that provides so much exercise for the body, beauty for the eye, interest for the mind, and balm for the soul. Let's not miss out. I am going to leave my computer screen this minute and go to the park to enjoy the wonders of another spring in the green metropolis!
Elizabeth Barlow Rogers is the president of the Foundation for Landscape Studies, the former Central Park administrator, a founder of the Central Park Conservancy, and the author of ten books relating to the subject of landscape and place, including Green Metropolis: The Extraordinary Landscapes of New York City as Nature, History, and Design (Alfred A. Knopf, 2016).