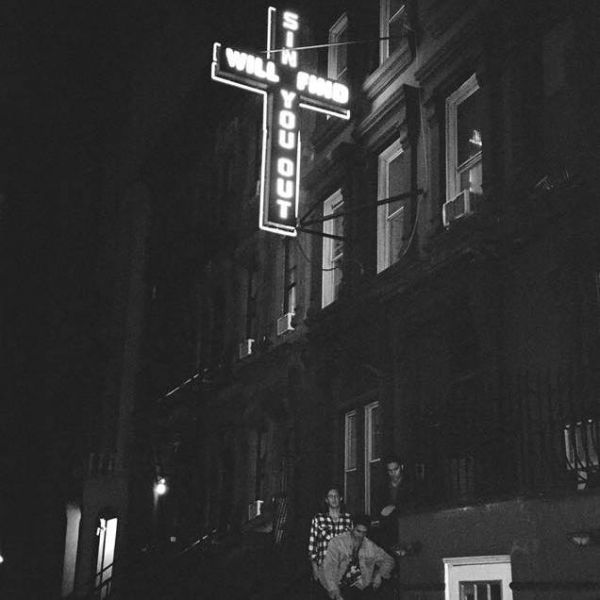 It was loud for a weeknight. I'll give Dad that.
I was 14, acting out hardcore theatrics to Unashamed's cover of "Awesome God" upstairs in our Northwest Florida home. I stomped around, priming the crowd of sweaty, bandanna-wearing teens in my head for the next breakdown.
We all screamed, "OUR GOD/ IS AN AWESOME GOD/ HE REIGNS/ FROM HEAVEN ABOVE/ WITH WISDOM/ POWER AND LOVE/ OUR GOD IS AN AWESOME GOD," as I yanked the mic between my mouth and bodies flailing at the foot of the stage. It was like D.C. or Hermosa Beach in the late-'80s, except our spark was less Reaganomics than fealty to the Almighty.
We neared catharsis when a sturdy knock ripped through the caterwaul, and with haste I twisted the volume on my combination CD/radio/cassette Sony to zero. I opened the door to find Dad, whose head was slightly askew.
"What is that?" he asked.
"The music?"
Dad made a great c'mon Ryan face.
"It's the Christian hardcore band Unashamed, as in unashamed of our faith. I've never heard anything like it. I found them at the Family Christian Store."
We were regulars at FCS, and my brother and I worked there separately in later years. So to find Unashamed's Reflection next to, say, Steven Curtis Chapman's The Great Adventure—saddle up your horsesss—suggested to me that hardcore, despite its abrasive touch, was every bit as worshipful as Contemporary Christian Music.
Finding Unashamed was key. I'd been struggling with Mom and Dad, who met in the early '70s at Abilene Christian College, over what was acceptable for my teen ears. I liked big, loud, aggressive sounds: Smashing Pumpkins, Green Day, Silverchair, Offspring, Nirvana, Metallica. They didn't approve, not because the bands weren't Christian—they've never been that black and white—but due to specific lyrics that caused them pause. That Dad-fav the Doobie Brothers were named for marijuana cigarettes was apparently immaterial insofar as he'd successfully traversed the perils of human maturation. I, however, was still vulnerable to poisonous design.
[youtube https://www.youtube.com/watch?v=SFaDuvJGjpA&w=420&h=315]
Which is why Dad was so concerned about the music quaking upstairs that night, music I played louder than normal to illuminate the Glory and Healing Power of Christian Hardcore. Our problems are solved! the volume suggested. You no longer have to be afraid for my heart or soul.
But what facilitated catharsis in me screamed sacrilege to Dad.
"They sound spiteful, like they might be mocking 'Awesome God,' " he said.
The idea that Unashamed weren't 100 percent sincere hadn't crossed my 14-year-old mind, seeing as I didn't yet appreciate irony and wasn't cynical—save of the idea that Christians could make music that was as compelling as everyone else. But I had enough intuition to know something was off in Dad's response, genuinely motivated as it was. His understanding of Unashamed's heart, and by extension my own, was obscured by how his mind processed the intense, foreboding sound of hardcore. The dissonance of content not matching form was initially too much for him to handle. There existed, in his mind, a defined sense of what "Christian music"[1] sounded like, and it definitely wasn't Southern California hardcore.
"As someone who has always appreciated good music," Dad, age 59, said recently, "I was initially dismayed at the type of music you were attracted to early in your listening journey. It seemed loud and angry to your mother and I, and we were concerned about the affect on your mind and the direction it might take you."
I called him in Florida and asked him to return to that night.
"I'm not sure if you remember, but, when I got to your room, I asked you to repeat the lyrics of the song playing to me. I was shocked to discover it was 'Awesome God,' and the way the artist was screaming the words bordered on sacrilegious to me. Frankly, I didn't know what to make of the whole situation."
"But I asked you what was so attractive about this music, and your answer really opened my eyes. You liked the 'grunge' style music that was so prevalent during this time, but wanted to find bands with lyrics that conveyed more wholesome themes. Knowing early in your life that you were 'called' to music, I began to understand this was your way of expressing yourself."
He then said, "it's been my distinct honor watching you grow as a creative person over the years, especially reflecting back to that night so long ago in your room," and I brushed aside a horse tear in public.
[youtube https://www.youtube.com/watch?v=P4uZ_RlHI48&w=560&h=315]
Befitting 1988, when Rich Mullins released the album Winds of Heaven, Stuff of Earth, the original "Awesome God" has a big-haired, wavy sheen reminiscent of Bruce Hornsby or Joe Jackson or Richard Marx. It goes down easy. It's non-threatening like Full House or Amy Grant. Because of this there's one response you could expect in 1996 from a 14-year-old "grunge-style music" fan upon hearing it: An eye roll of enormously self-righteous proportions.
Befitting 1996, when "spirit-driven" hardcore was having a moment in West Virginia and South Florida and the Bible Belt, Unashamed's "Awesome God" sounded to Dad, I imagine, like a lamb being slowly sawed to pieces before being ritually offered as a blood sacrifice to Balam. It goes down like shards of glass, yet shards of glass were exactly what I needed from music at that age.
I didn't have issues with Christianity itself. I wanted to belong, both within my immediate family and our church community, and I was hopeful that finding Christian music I liked would make it easier for me to connect with everyone. I held little hope that Unashamed's "Awesome God" would ever replace Rich Mullins' in a communal worship setting—it's so fun to imagine that scene though—but I was relieved I could now make my parents happy and worship in a manner that suited me. Finding Unashamed made me feel less alone, and Dad eventually saw that what I heard in Christian hardcore was passion and reverence, not anger. Hardcore suggested to me the grandeur of heaven, of souls transcending bodies, of holiness amid earthly ruin.
Rich Mullins, rest his soul, did not do that for me.
The world bloomed once Dad relented. I spent my lunch money on Christian hardcore and used our dial-up connection to find more evidence of alternative Christian subcultures. I discovered gutter punk Christians and straight-edge Christians. I found rude boy Christians and freak folk Christians. There were even goth Christians. And skater Christians. And Christians who dumpster dove and pierced their noses and tattooed their bodies and smelled bad and loved the Lord like Billy Graham.
Where I found light and nourishment in heavy music, Dad initially heard despair and mockery.
Surfaces weren't the point, though, or weren't on our better days. The point was to live into ourselves fearlessly, which, contrary to Christ's message, is not how most young people are raised in the church. Similarly the point was to be radically inclusive, both as a means of correcting for that shame and exclusion, and because we felt that was the right way to live. These scenes also gave voice to our fresh but earnest desire for moral justice and transcendence: Like many young people involved, I had little interest in exploring drugs or drinking or sex, but I was sure a vanilla faith was not for me. So Christian hardcore gave me an identity. It allowed me to feel at home in my skin.
This increasingly made sense to my parents in the years after Dad interrupted my imaginary hardcore show. In 2002, when my band released our own vaguely spiritual hardcore record, Dad purchased copies for friends and family. He drove us out of town before we could ably do it ourselves, and O.K.'d my decision to temporarily drop out of college and tour. My parents opened our house to other touring bands and often arranged for them to be fed.
Still, that night sheds light on the stakes involved in how we individually receive and process sound. Where I found light and nourishment in heavy music, Dad initially heard despair and mockery. Even today, where I feel most alive listening to music that suggests melancholy or searching, longing or bereavement—this music can be incredibly loud or incredibly soft—others hear only fatalism and futility. They see a road to sadness or anger.
Melancholy, for me, isn't futility. Bereavement isn't fatalism. Shouting isn't dying or evil; it's about as explicit a way as man has to say I Am Here. I Care. Care With Me.
Is all shouting or dirging or sighing that way? No. Much "dark" music never escapes its neuroses. It is consumed by itself and ignores the listener. Or if it cares, it cares only to cement some darkness in us, to crystallize the vitality of sadness or cynicism into anger and depression. Even so, with balance we can see these attempts in the light of sadness—an aching to be heard paired with a confused or vain sense of how one conveys that need. That's where most trouble in the world comes from.
Maybe the emotional tones I like most in music can be summed up by a recent Autolux lyric: "It's so so sad/To be happy all the time."
Because infinity zen is not only unrealistic, it's unhealthy. This is one reason why the dream of the '60s counterculture could never come true. This is why we tune out overzealous characters and flinch when people resort to folk sayings when feigning to comfort someone who's broken.
Christian hardcore gave me an identity. It allowed me to feel at home in my skin.
There's a stark difference between drowning in melancholy and floating in it. Drowning involves a struggle against reality that ultimately ends in annihilation. Floating atop and through a feeling or an experience opens the possibility of enlightenment, of wisdom earned, of reality savored for all its bliss and harm. The Buddhist Thich Nhat Hahn says its best: "No mud, no lotus." To eliminate suffering is to eradicate our sense of beauty, of why something or someone is beautiful.
So I like my music a little pained or oblong or blue or meditative. I like it to mirror the quiet voice within, the steady, aware me, not the one getting lost in surfaces and smoke screens. I like it to transmit dusk and dawn.
This music isn't containable by genre. It is solemn like Bing & Ruth's "TWTGA" and ferocious like Converge's "Aimless Arrow." It is knowing like Jens Lekman's "The End of the World is Bigger Than Love" and "So This Guy at My Office." It smiles weakly through fog like David Bazan's "Slow Car Crash" or Hammock's "In the Middle of This Nowhere." It is the sound of Elliott Smith picking an acoustic guitar on "Bottle Up and Explode!" or covering The Beatles with only his voice. It is Deftones and Frank Ocean and the Platters and Santo & Johnny. It is Grouper and Caspian and Satie. It is James Blake and M. Ward and the Flamingos. It is Radiohead and Kanye West.
It is so much music, more than I'll ever know, that doesn't address life's labyrinthine emotional states in bumper-sticker slogans. Nor does it equate melancholy with nihilism, and it isn't afraid to explore what searching sounds like, whether that's tribal rhythms or steel-wool atmospherics or hour-long disintegrating loops.
I don't like mechanistic thinking: Our perceptions are often misguided, born, as Erhmann put it, "from loneliness and fatigue." So I like music that reflects life's opaque realities in all their grievance and beauty. I like songs that mirror the way no one wave in the ocean is different from the next, how they rise and fall but always have a home regardless how flustered the weather gets.
[vimeo 161822078 w=640 h=360]
All this came flooding back as I began processing new records by Brooklyn's Bambara, and Suuns, from Montreal. Titled Swarm and Hold/Still, respectively, both albums writhe in darkness and dissonance, and they use vastly different means to conjure those feelings. Swarm is thrashy and woozy and violent, a fever dream, a nightmare. Hold/Still is icy and dead-eyed yet immaculate and coiffed. It has a touch of Patrick Bateman.
Even the album covers suggest a spiritual relationship, as if they were plucked from the head of Hitchcock or Lynch. On Swarm, Bambara singer Reid Bateh seems to lean with eyes closed, looking pained and a shadow—maybe his, maybe an oppressor's—graces a nearby wall. On Hold/Still, a woman stares directly ahead, not at the camera but to the left of it, and it's impossible to discern whether her eyes are set on the middle distance or focused on a fixed object. Her feet are so plunged into darkness they're not visible, but faint light washes over her face. Faintness of light on the covers could, very generously, suggest faintness of hope, though hope manifests on these albums as often as a total lunar eclipse.
Still Swarm and Hold/Still speak to me, that's clear in how much time I've spent with them to the exclusion of other new albums plenty worthy of my time. Why is a question that's been more difficult for me to answer. Toss an open bag of quinoa in Brooklyn and you'll hit 15 people intimate with the appeal of Radiohead's melancholy. Ten of them might even like the pinks and blues of Deafheaven or Isis. But Hold/Still and Swarm, especially, are lines drawn in the sand: They ask How little relief can we give you so that you'll still come along? They brought me back to the question of helpful and hopeless darkness.
[youtube https://www.youtube.com/watch?v=uSOly5EKyOE&w=560&h=315]
The line is so fine. At 14, still pining for music that lent voice and identity, I needed Unashamed. Thankfully life looks different at 34: I'm more or less who I'll be until it's time to go, and my equipment for living is comprised not just of music, but literature and exercise and watching humans try harder than they feel they have the capacity to try. Art and health and everyday grace, in other words, supplement my sense of self. And that self was formed through enough pain as it is. So: why Swarm and Hold/Still?
I think there's something utterly compelling about music that hovers wild-eyed at the edge of abyss. I think there's an honesty that I admire in it. I think there's boldness in music that refuses to remove any emotion from the table, even if that feeling doesn't make for great dinner conversation.
Two instances from Pedro the Lion's Control come to mind. In the opener, "Options," David Bazan sets this scene of a married couple walking quietly atop a beach when the one of them says to the other, "I could never divorce you, without a good reason. And though I may never have to, it's good to have options."
Ouch.
Except he didn't say it. "But it was only in my head," Bazan sings, "because no one ever says what they really mean to say when there's so much at stake."
[youtube https://www.youtube.com/watch?v=2vv5bp88I2g&w=560&h=315]
The couple say I love you and "mostly" believe each other, and thereafter a very Bazanian tale of infidelity, deceit and murder ensues. One can flinch at this, and many of his fans did. Or we can appreciate the texture and facts of Bazan's honesty. We don't have to indulge actual sadness to stand at the foot of a work of art and say: Yes, this rings true. There's value in exposing ourselves to uncomfortable truths and feelings, whether they're light or dark. The balance is key to seeing our surroundings for what they are, and in doing so we're given a chance to refine our perspectives. Maybe we'll also feel less alone.
Here's the other instance from Control, in the final song "Rejoice": "Wouldn't it be so wonderful, if everything were meaningless?/ But everything is so meaningful/ And most everything turns to shit/ Rejoice."
It's hard for me to hear the third line as hopeless when the second and fourth lines exist, just as it's impossible for me to feel retail despair in Swarm or Hold/Still. What I hear in Bambara's disheveled, rumbling, cavernous punk is exhaustion—with love and city life, with the folk sayings of their Southern roots. I hear tension, an uneasy allegiance to both the gritty edges of New York and the gothic beauty of Georgian kudzu.
There's something utterly compelling about music that hovers wild-eyed at the edge of abyss.
When Swarm slows in places, breathing sooty, gaseous air, I hear dread and melancholy. I hear humanness. The point isn't adolescent writhing. The point is, so far as I can tell, to most accurately capture what it feels like to be lost. This isn't annihilation, but it's also not simple answers. Swarm is bloodletting and catharsis, and somehow I feel the trio felt better after leaving everything on the floor. Which they did.
Naturally there's an elephant nearby: Artifice. Being taken for a ride.
What if Unashamed were mocking a popular worship song and my 14-year-old ears couldn't perceive it? What if the three Bambara guys write despair-punk for sport, and laugh in private at anyone who connects to their performed gloom? What if Kendrick Lamar's making it all up?
While we're here: Is any music a pure reflection of a creator's heart or intent? Maybe. Maybe not. Sufjan Stevens' Carrie & Lowell might be.
It doesn't matter really—our experience as listeners is paramount. Music isn't journalism. It's storytelling and it's air, and air moves where it pleases. That's why Dad and I heard Unashamed differently.
Still, it's invigorating to assess where an artist falls on the purity spectrum, especially when it comes to Suuns' Hold/Still. Sonically this is a vastly different beast than Bambara's Swarm. The palette is the opposite of ferocious: all fractured, oblong guitars, deeply burrowing synths, plodding drums, vocals a couple shades from being disembodied. It's the only album I've heard in recent years that initially had me asking if the use of power chords was ironic, or worse, an intentionally cruel tease of bright melody in a landscape that most often resembles The Road.
Then I remembered: it doesn't matter. When I stopped feeling I could ever know with any certainty why Suuns made a record that, to my ears, conveys there is no hope; burn down what you wish, I was freed to lie prostrate at its austere beauty. There's a reason many of us like sparse, pocked landscapes, places that seem uninhabitable but for the most callous of species. We need places that let us feel what decay feels like. I do anyway. Hold/Still is one of them. How boring would life be if art were all uplift and triumph? How much of a lie. So we visit the darkness to remember why the light feels so good.
I'd like to tell you Dad and I got along famously after he better understood why hardcore appealed to me at 14. The truth is we didn't begin to hit our stride until the last few years, when we both adopted a policy of openness toward that which we don't understand and understand all too well about each other—the brilliant dawns and fog-thick dusks, our capacities for heroism and harm. And where the landscape was choked, now it blooms.
[1]I later came to believe that "Christian music" is a harmful misnomer, especially for work that isn't explicitly written as "praise and worship." The less we do to project our assumptions and agendas on artists the better. From here on terms like "Christian hardcore" should implicitly carry air quotes.