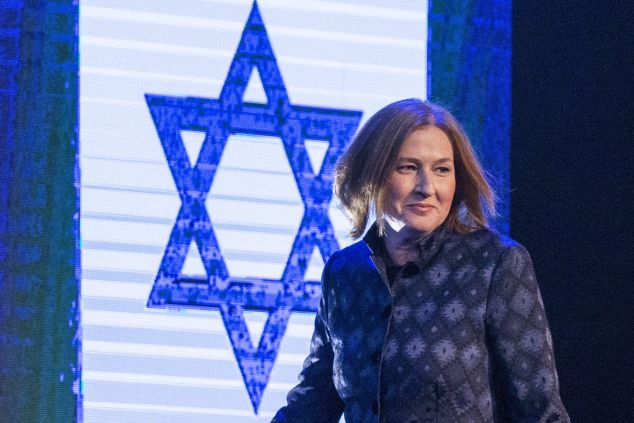 On Thursday, April 14, at an event hosted by the Program on Negotiation at Harvard Law School, Tzipi Livni, a former Israeli minister and member of the Knesset, spoke to roughly 150 students and faculty members. During the Q & A portion at the end of the presentation, a Harvard Law School Student directed an ad hominem attack on the Israeli guest:
"My question is for Tzipi Livni—how is it that you are so smelly?" The student, a male third-year who is also the president of a student organization on campus, added, "It's regarding your odor—about the odor of Tzipi Livni, very smelly."
On Monday, April 18, Jeremy Salinger and Jacqueline Wolpoe, current co-presidents of the Jewish Law Students Association (JLSA), as well as Jonathan Gartner the former president, penned a statement condemning what they termed "blatantly anti-Semitic rhetoric."
JLSA's denunciation was published in the HLS Record, an independent student-run newspaper at Harvard Law School. Within the last two days their statement has been shared on social media over 1,700 times.
This recent event is predated by another anti-Semitic episode, which occurred last year. After Pnina Sharvit Baruch, the former head of the IDF international law department visited campus, a swastika was found carved into a desk at the law school. At the time, the administration sent out an enigmatic email about the incident, which many students considered an underwhelming response.
Against that backdrop, the reaction to the "smelly" incident was much more forceful.
Yesterday, Martha Minow, the Dean of Harvard Law School, sent a powerful email to the entire law school. In the email, titled, "A Disturbing Event," Dean Minow quotes the anti-Semitic comment and writes, "The comment was offensive and it violated the trust and respect we expect in our community. Many perceive it as anti-Semitic, and no one would see it as appropriate. It was an embarrassment to this institution and an assault upon the values we seek to uphold."
When dealing with events that appear isolated, it is important to avoid generalizations. Still, it would be imprudent to ignore the alarming fact that recent anti-Israel sentiment on college campuses has emboldened students to conflate protest with hate speech.
It was bewildering to many at HLS that a Harvard Law student felt comfortable making his comment in front of roughly 150 colleagues and professors. Perhaps the most upsetting component is that other students have been willing to shrug off the choice of slur as "an unfortunate coincidence."
UPDATE: The student who made the remark has now apologized. The Observer has declined to name him. His statement appears in part below.
"I am writing to apologize, as sincerely as I can via this limited form of communication, to anyone who may have felt offended by the comments I made last week. To be very clear, as there seems to be some confusion, I would never, ever, ever call anyone, under any circumstances, a "smelly Jew." Such a comment is utterly repugnant, and I am absolutely horrified that some readers have been led to believe that I would ever say such a thing. With regards to what I actually did say, I can see now, after speaking with the authors of this article and many other members of the Jewish community at HLS, how my words could have been interpreted as a reference to an anti-Semitic stereotype, one that I was entirely unaware of prior to the publication of this article. I want to be very clear that it was never my intention to invoke a hateful stereotype, but I recognize now that, regardless of my intention, words have power, and it troubles me deeply to know that I have caused some members of the Jewish community such pain with my words. To those people I say, please reach out. Give me an opportunity to make it right. … Many members of the Jewish community—some of whom hold strong differences of opinion with me—have reached out to me on their own to let me know that they did not interpret my words as anti-Semitic, because they know me well enough to know that that is not at all consistent with who I am as a person."