When news broke this morning that Hedi Slimane–known as the designer who shortened Yves Saint Laurent to just Saint Laurent–was leaving at the Parisian brand he'd been commandeering for the past four years, it came as little surprise to industry insiders. Though Saint Laurent's sales numbers had been on the up-and-up since the LA-based artistic director redesigned the company from top to bottom and relaunched the couture ateliers, for the past few months, rumors of this split were pervasive.
"What Yves Saint Laurent has achieved over the past four years represents a unique chapter in the history of the house," François-Henri Pinault, chairman and chief executive officer of Kering, said in a joint statement with Saint Laurent released today. "I am very grateful to Hedi Slimane, and the whole Yves Saint Laurent team, for having set the path that the house has successfully embraced, and which will grant longevity to this legendary brand."
It's been a long, winding road which has seen Mr. Slimane do everything from pick fights with press to relocating the brand's design studios to Los Angeles — where he also staged a fashion show that all the major players in Hollywood attended. But now, according to rumor, it's about to be Anthony Vaccarello's road to travel.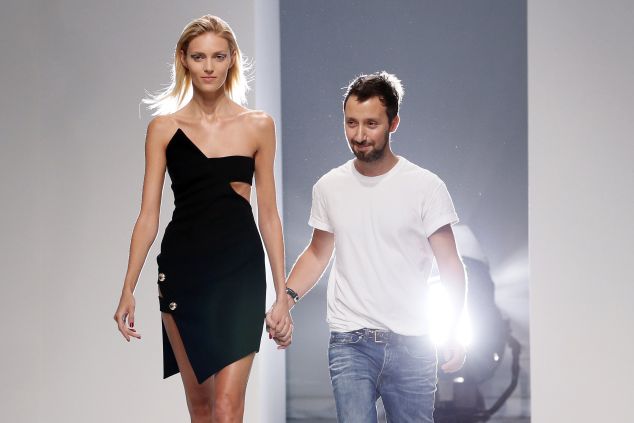 Having launched his own eponymous brand back in 2009, the Belgian-Italian is known for cutting a sexy figure. From a young age he was obsessed with photos of Gianni Versace's work (he actually thought he'd be a photographer but found he didn't have the aptitude for it) and collected them. But, being the only child of a waiter and a director, prior to giving fashion a go, he logged a year of law school in an attempt to take a more traditional path. That didn't work out.
What has worked out for Mr. Vaccarello has been a career as a fashion designer. The 33-year-old attended L'Ecole de la Cambre in Brussels where he studied sculpture. There he discovered Comme Des Garçons and Azzedine Alaïa while becoming besotted with Tom Ford's work at Gucci. Mr. Vaccarello's 2008 graduation was greeted with his first place win at the International Festival of Fashion and Photography in Hyeres for a collection based on an Italian porn star. Sexy designs indeed.
Expected to start at Saint Laurent as early as May 1 according to WWD, the former Fendi designer (he nabbed that gig off the strength of his Hyeres collection), will follow designers like Alber Elbaz and Mr. Ford who have held the plum post. It's likely that the position would mean that the 2011 ANDAM Prize winner would have to step down from his artistic director role at Versus Versace that he currently holds, working alongside Donatella Versace. It's a sad realization, but one that only adds to the current bout of designer turnover that has seen Mr. Elbaz replaced at Lanvin, an opening at Dior and a street style star taking on Brioni.
As for the designs, expect to see Mr. Vaccarello staying within the same sex appeal he's been up to before. In a recent interview with Paris-based magazine Antidote, the designer said he would only take up jobs that resonated with his aesthetic. "[I would] never agree to work for a house that is not what I am," he said in text we've translated from French. "I do not want to be [schizophrenic]; I don't want to have split personality."
Wise choice.