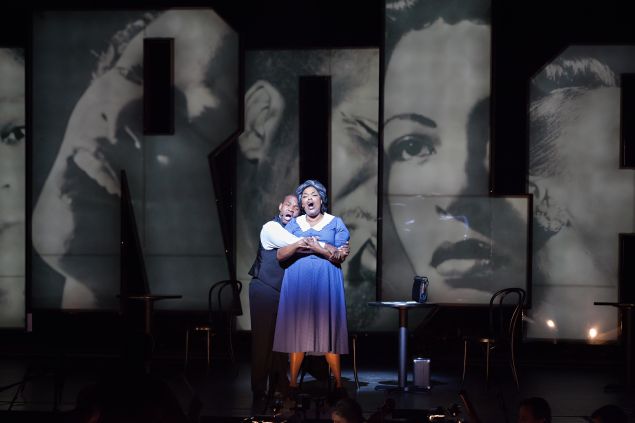 These first weeks of spring it's natural to make big plans based on good intentions: to start running again, to diet off that last that 10 pounds, to look for a new job. Opera companies too tend to have these good intentions, though last weekend they didn't pan out into good opera.
A project bringing together Opera Philadelphia and the legendary Apollo Theater for a new opera on the lofty themes of art and race: what could be more high-minded than that? But Charlie Parker's Yardbird, heard at the Apollo in the second performance of its New York premiere run on Sunday afternoon, felt curiously incomplete.
The premise of the 90-minute piece is captivatingly quirky: jazz pioneer Charlie Parker died suddenly in 1955, but for several days his corpse lay unidentified in a New York City morgue. The opera sends his restless spirit seeking inspiration to compose a masterpiece summing up his life. Flashback vignettes detail the musician's struggle with heroin addiction, his unstable relationships with women and his artistic triumphs playing bebop.
The superb, haunting libretto by Bridgette A. Wimberly eloquently accomplishes the seemingly impossible task of dramatizing Parker's musical genius through a series of motor-mouthed arias for the protagonist. Ms. Wimberly devises spare couplets with clean perfect rhymes reminiscent of the lyrics of the pop standards around which "Bird" wove some of his greatest improvisations.
So articulate a text deserves a more imaginative setting than the timid, correct music of composer Daniel Schnyder. The inevitable jazz influences in his score sound homogenized, filtered through a midcentury Leonard Bernstein/Aaron Copland sensibility, and his mannered word-setting transports the cast's Kansas City natives to Mitteleuropa. (In America, we say "Hell, no!"—not, as Mr. Schnyder would have it, "Hell, no!")
Where the music does work, brilliantly, is as a vehicle for the virtuoso voice of tenor Lawrence Brownlee, who performed the enormous title role. Here Mr. Schnyder wisely did not attempt to recreate Parker's genius, instead depicting the musician's ecstatic relationship to his art.
The opera is at its best in a series of arias, wide-ranging and frantically fast, in which Mr. Brownlee's firm training in bel canto sent him vaulting over seemingly impossible vocal hurdles. Even though he's a fixture singing star parts in Rossini and Bellini operas at the Met, this is by far the most complete and exciting performance of his I've heard, a star turn in the very best sense of the word.
Surrounding the Parker character is a galaxy of the women in his life: wives, mistresses and most significantly his mother, sung here with dramatic gusto and vocal glamour by dramatic soprano Angela Brown. Even the misstep of assigning her two arias back to back in the opera's final half hour didn't throw the work too far out of kilter, thanks to Ms. Brown's vibrant sincerity.
Also in Bird's orbit is another jazz legend, Dizzy Gillespie, reduced here to sidekick status but sung with mellow resolve by baritone Will Liverman. In the role of the mysterious baroness who discovers Parker's body, mezzo Tamara Mumford offered intriguing smoky tone, though surely it was a howler to assign this white European character a final summing-up solo after all the black folks have had their say.
The minimal production by Ron Daniels played out before the logo of jazz club Birdland, a witty solution to the libretto's many brief scenes, and conductor Corrado Rovaris brought rhythmic punch to Mr. Schnyder's pallid tunes.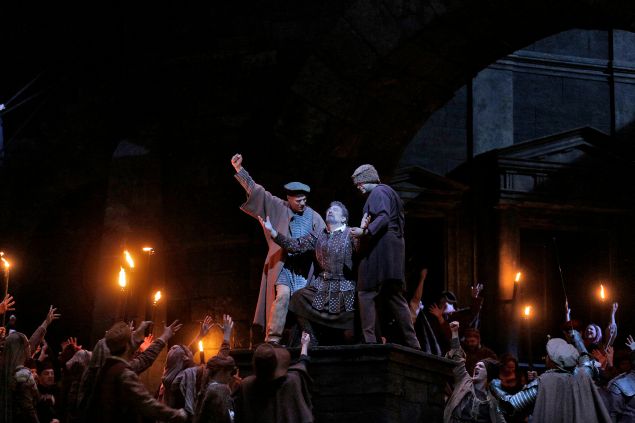 Of course the music wasn't the problem at the Met's revival of Simon Boccanegra the previous Friday, thanks to the grandeur and tenderness of Verdi's score. The issue here was the undoubtedly well-meant decision to have the ailing maestro James Levine return to an opera with which he has been identified here for nearly three decades. Though the musical performance was acceptably solid, with the Met orchestra in its customary excellent form, the whole evening felt tentative, as if foremost in everyone's minds was avoiding making any mistakes.
They mostly succeeded, though in the work's greatest moment, the great ensemble of the Council Chamber scene, veteran artist Placido Domingo in the title role suddenly jumped ahead of the beat and for a couple of minutes everything went off the rails. With the chorus singing one tempo, the soloists another and the orchestra playing yet a third, one couldn't help glancing into the pit to see how Mr. Levine was coping. The sight of his Parkinsonism-related flailing and shuddering, though heart-rending, did little to inspire confidence.
But for this one gaffe, Mr. Domingo sounded astonishingly fresh at an age when most singers have been retired for more than a decade. His is not a penetrating portrayal of the complex Boccanegra, but it is almost always a pleasure to listen to.
Another veteran artist, bass Ferruccio Furlanetto, brought craggy authority to the role of the bitter patrician Fiesco. Representing the younger generation, both in fiction and fact, were the honeyed Adorno of tenor Joseph Calleja and the intriguingly dark-voiced Amelia of soprano Lianna Haroutounian. For these singers' good intentions no excuses need be made.