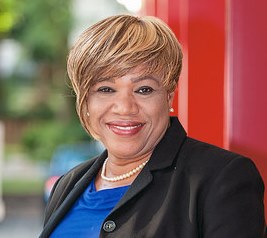 Highland Park Councilwoman Elsie Foster-Dublin today said she will pursue a potential State Assembly vacancy in the 18th Legislative District, following Sen. Peter Barnes' pending nomination to the Superior Court.
"I am certain I speak on behalf of the entire 18th Legislative District in offering my sincerest congratulations to Sen. Peter Barnes on his well-deserved nomination" Foster-Dublin said. "Having worked with Pete for many years on the local and county levels, I know his judgment, temperament and ability to think evenly and critically. He has demonstrated the heart and character of public service throughout his distinguished career."
Barnes' appointment will potentially create a vacancy as Assemblyman Patrick Diegnan of South Plainfield is widely expected to ascend to Barnes' Senate seat. Occupants of the biggest town in the district, Edison Democrats want Diegnan's seat as repayment for letting him replace Edison's Barnes as senator.
Council people Sapana Shah, Bob Diehl and Rob Karabinchak are all fighting locally to snare an assembly seat. On the outskirts of that scrum, Foster-Dublin hopes to generate county committee support from the 18th District's smaller towns and upend the Edison beast.
"With this possible vacancy, 18th District Democrats will have an important choice to make," the councilwoman said. "I would like to have a conversation with our party as to why I believe I am the best choice to serve the citizens of our district and our state."
When elected in 2000, Foster-Dublin became Highland Park's first black Council member. Since that time, she has made community policing and public safety centerpieces of her incumbency and has chaired nearly every municipal department, including the Fire Department, First Aid Squad, Police Department, Office of Emergency Management (OEM) and Community Response Team (CERT).  She served as Council President for eight years and as acting mayor and has also served as Council Liaison to Recreation and Arts, Finance, Department of Public Utilities, Economic Development and Planning, Health and Welfare.Foster-Dublin currently serves as Council Chair for the Borough's Department of Public Safety.
Outside of municipal government, Foster-Dublin has held leadership roles in state, federal and international capacities, including:
Legislative Liaison for the Department of Personnel for the State of New Jersey; Executive Board Member of Caribbean American Elected Leaders; Member of Gov. Corzine's Blue Ribbon Advisory Panel on Immigration Policy; President of the Jamaican Organization of New Jersey; President and founder of the United Caribbean American Network of New Jersey;
Professionally, Foster-Dublin is President and CEO of Aunt Elsie's Homestays, an International Student Housing organization.  She is also the founding partner of JamPhil Consultants, LLC.  Her community service work includes:
Facilitating the creation and launch of the Jamaican Trade Council of New Jersey Brokering a relationship with NJ State Department of Commerce to grant operating license to Jamaica National Building Society, the largest privately owned building society in the Caribbean into the State of New Jersey  Working with the governor's office to initiate disaster relief programs and assistance to hurricane victims in the Dominican Republic, Grenada, Guyana, Haiti and Jamaica.
Foster-Dublin said she looks forward to showcasing her legislative, professional, and volunteer record as she seeks support from the Middlesex County Democratic Organization.
"We have a lot of talent within our ranks so this process will be a boon for the Democratic Party in Middlesex County as we focus on key issues facing the 18th District," she said. "I look forward to the opportunity to demonstrate that I have the skills and qualifications to best serve as the Assemblymember representing 18th District."