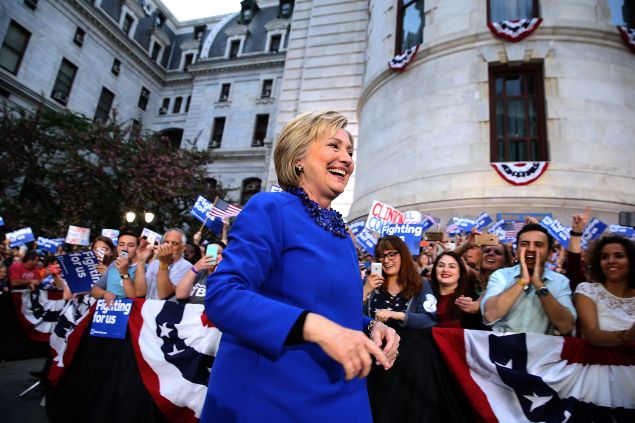 Hillary Clinton won a string of states in the Northeast tonight, building a lead over Sen. Bernie Sanders that may be all but insurmountable.
A week after she decisively defeated the Vermont independent in New York, Ms. Clinton, the former secretary of state, captured Maryland, Connecticut, Delaware and Pennsylvania, while Mr. Sanders took Rhode Island, the smallest of the five states.
Though the race for the Democratic nomination may be nearing an end, Mr. Sanders, thanks to his fundraising advantages, may not be ready to bow out just yet. After tonight, there really isn't a natural exit point for the self-described democratic socialist, especially since he's vowed to fight through the final contest in California in June.
Ms. Clinton, speaking from her victory party in Pennsylvania, called for party unity.
"Whether you support Senator Sanders or you support me, there's much more that unites us than divides us," she said, repeating a line she used in New York after drubbing the Vermont senator.
Mr. Sanders' chances of winning the nomination outright, already dwindling, shrunk even further tonight and Clinton allies are hoping he can leave the race quietly. His attacks on her close ties to Wall Street and fundraising from corporate interests have enraged them, and even led to charges that he's aiding the Republican front-runner, Donald Trump. Ms. Clinton's campaign fears a protracted primary will weaken her for the general election, though her bitter 2008 campaign against Barack Obama did not keep him from becoming the first black president that fall.
Disclosure: Donald Trump is the father-in-law of Jared Kushner, the publisher of Observer Media.