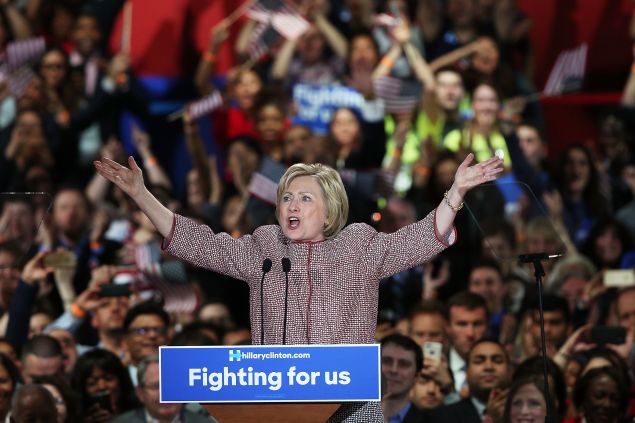 Beating back a furious challenge from Sen. Bernie Sanders, Hillary Clinton rolled to victory in New York tonight, building on her increasingly formidable delegate lead.
Ms. Clinton, who represented New York in the Senate for eight years, was a heavy favorite to win the primary here, and always polled ahead of Mr. Sanders, a Vermont independent. But Mr. Sanders, a Brooklyn native, made Ms. Clinton hustle for her win, outspending her on the airwaves and staging rallies across New York City that drew tens of thousands of supporters.
Ultimately, Ms. Clinton's advantages on her adopted home turf were too difficult for Mr. Sanders to overcome. A sizable chunk of his support comes from independents who were barred from voting in New York's closed primary. The heavily nonwhite Democratic electorate never warmed to Mr. Sanders' democratic socialism. And affluent voters in the suburbs, as they have elsewhere, stood with Ms. Clinton.
With 98 percent of precincts reporting, Ms. Clinton led Mr. Sanders 58-42 percent, according to unofficial tallies.
"Today you've proved again there's no place like home," Ms. Clinton told jubilant supporters packed into a Times Square Sheraton ballroom. "You know in this campaign we've won in every region of the country. From the North to the South to the East to the West but this one's personal."
The entire Democratic establishment, outside of a few stray elected officials and a handful of labor unions, united around Ms. Clinton. Former Mayor David Dinkins, current Mayor Bill de Blasio and Gov. Andrew Cuomo all introduced Ms. Clinton tonight. She had surrogates in every corner of the state and the assistance of local Democratic organizations and unions to help drive turnout for her.
Until recently, Mr. Sanders was unknown here, and he battled to build a political operation to match a Clinton machine that had years to prepare for a run. In 2008, Ms. Clinton also defeated Barack Obama in New York's primary.
The primary was predictably testy. Mr. Sanders, at his rallies and during the Democratic debate on April 14, was often on the offensive, continuing to attack Ms. Clinton for accepting six-figure speaking fees to speak in front of Wall Street audiences. Ms. Clinton, trying to both parry Mr. Sanders and try to focus her attention on the Republicans, portrayed the Vermont senator as someone too beholden to the gun lobby and naive about the workings of government.
Ms. Clinton tonight struck a conciliatory note with her rival. Her pledged delegate lead, not including the numerous superdelegates who back her, is verging on insurmountable, and she's expected to perform well in other northeast states left on the calendar.
"I believe there is much more that unites us than divides us," she said. "You know we started this race not far from here on Roosevelt Island pledging to build on the progressive tradition that's done so much for America from Franklin Roosevelt to Barack Obama and tonight we're less than a year later the race for the Democratic nomination is in the home stretch and victory is in sight."
Trying again to frame herself as a candidate for the general election, Ms. Clinton also aimed her fire at Donald Trump, the GOP front-runner who dominated in New York tonight, and Sen. Ted Cruz of Texas.
"Donald Trump and Ted Cruz are pushing a vision for America that's divisive and frankly dangerous," she said. "Returning to trickle-down economics, opposing any increase in the minimum wage, restricting a women's right to make her own healthcare decisions. Promising to round up millions of immigrants. Threatening to ban all Muslims from entering the country."
"These things go against everything America stands for," she added, "and we have a very different vision."
Disclosure: Donald Trump is the father-in-law of Jared Kushner, the publisher of Observer Media.