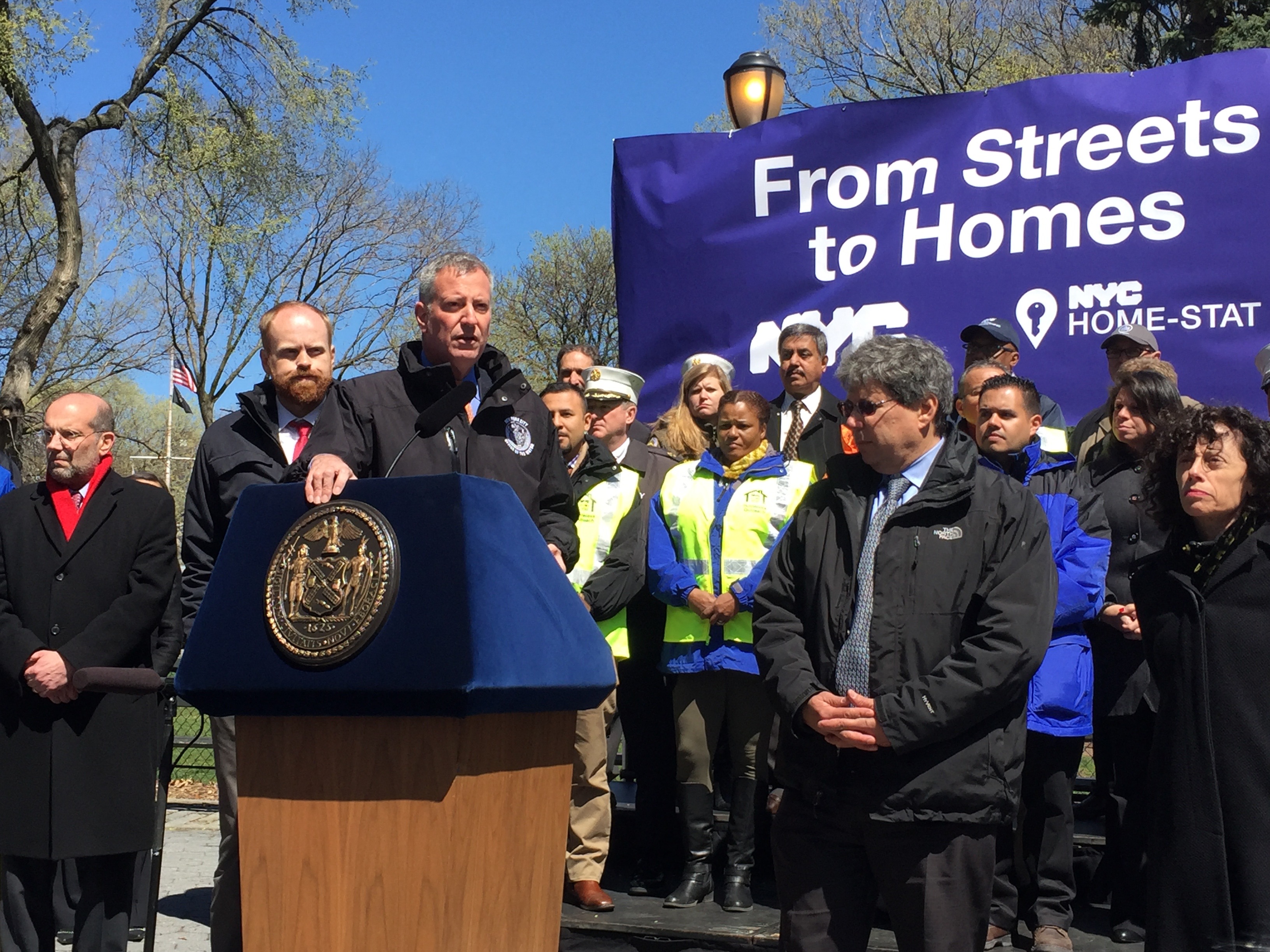 In Tompkins Square Park, Mayor Bill de Blasio was just about to talk about the progress of his effort to help people living on the streets, dubbed Home-Stat.
Jerry Foust sat in one of the blue chairs meant for the press, hoping to listen.
"I wanted to see the mayor talk about homelessness, because I'm homeless," Mr. Foust said in an interview, as he smoked a cigarette on the edge of the park. "And I wanted to fuckin' help homeless people. If I had the money, honey, no one would be homeless in this country."
Mr. Foust didn't get a chance to hear Mr. de Blasio's remarks. Just before the mayor took his spot at the podium, two NYPD officers—members of the homeless outreach unit that is a central part of the Home-Stat plan—escorted Mr. Foust away in what amounted to a minor disturbance at the top of an otherwise orderly press conference. It was over by the time Mr. de Blasio strode to the podium.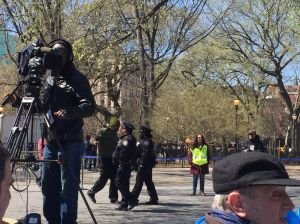 "I don't know what happened in the interaction," Mr. de Blasio said, when the Observer asked what kind of services the man would be offered. "But we can talk about the kind of support anyone would get."
Home-Stat aims to canvass every block from Canal Street to 145th Street, in an effort to connect with anyone on the streets and to offer them help and a case worker. The presence of Mr. Foust, who had been drinking, as well as several other homeless men in the park, offers a hint at how difficult it can be to reach people who often say they simply do not want to stay in shelters, or might be struggling with substance abuse or mental health issues.
"Interactions between the homeless outreach teams, from the police and the not-for-profit teams, are complex," Human Resources Administration Commissioner Steve Banks said.
The interaction with Mr. Foust, who wore spiked sunglasses and a green hat, was quick. They approached him, according to the police, because he had an open container of alcohol in the park. He stood up and argued a bit, and the two officers escorted him away. He was not arrested or given a summons, according to both the city and Mr. Foust.
"They really didn't say anything," Mr. Foust said when asked why police removed him, though he said he was drinking. "I took a nip. You know, the mayor's coming. Let me see this entertainment… The same as it ever was. Bill de blah blah blah."
Officers asked if they could connect Mr. Foust with some services to help him, but he refused.
"The initial encounter may not always be positive," Chief William Morris, commanding officer of Manhattan South, said. "But the challenge is to keep going—not to be defeated, but to get beyond that and get an eventual positive solution."
The city is required to offer shelter to anyone who is homeless—and currently houses around 60,400 people in shelters—but some people complain that the shelters are dangerous or that their belongings are stolen there, and many shelters are in poor condition. Mr. Foust said he simply didn't like the neighborhood of the last shelter he was in.
"They sent me to East New York. There's nothing wrong with East New York—I lived all over Brooklyn, all over Brooklyn. But I like the East Village, man," he said. "Try to order food in East New York—nothing, man."
To head up Home-Stat, Mr. de Blasio has tapped a man who is a veteran of dealing with stubborn social problems—Michael Jacobson, who served as commissioners of the city's departments of correction and probation, and ran the Vera Institute for Justice. Mr. Jacobson first met Mr. de Blasio when the both worked for Mayor David Dinkins, and later he worked under Mayor Rudolph Giuliani.
Mr. Giuliani, a Republican, has been deeply critical of Mr. de Blasio's response to the spike in homelessness in the city.
"It's political," Mr. Jacobson said when asked what he made of Mr. Giuliani's comments. "And my job here is not to, you know, take apart the sort of politics of this or the sort of critical political arguments that go on. There's a real social issue here. That's been apparent for every mayor, right?"
Mr. Jacobson said he thought this mayor's effort was "the most focused and resource-intensive attention" the issue has gotten.
"It's fair for the public and for the Mayor to expect results. Those kinds of criticisms, I'll let the big dogs handle," Mr. Jacobson said.
Note: This story has been updated to correct the number of people in city homeless shelters. It is about 60,400, not 64,000.