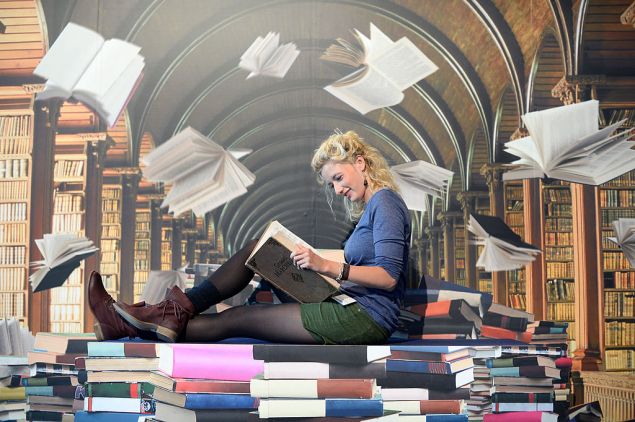 What if scam artists could make thousands of dollars publishing free, fake books that people are tricked into opening but never read? It looks like that's happening.
Amazon created Kindle Unlimited, a Netflix for books, that's delivering indie authors revenue and readers. But it turns out that the way it works may have created an opportunity for scammers to steal earnings from real writers producing genuine works.
On the bright side, Amazon isn't spying on Kindle users as they read. That's a tiny bit of good news in the discouraging tale about hacking a monthly pool of a few million dollars that means a lot to e-book writers but works out to small change for a company that broke $100 billion in revenue for the first time last year.
Case in point: Walter Jon Williams has been publishing books since 1984, back when Amazon founder Jeff Bezos was still working toward graduation at Princeton. As time has passed, he's been bringing out-of-print books back into circulation digitally. In March, he was running a paid promotion on his title Metropolitan (which he originally published with HarperCollins in 1995), but he got a message from Amazon notifying him that the book's buy button had been yanked until he fixed its formatting.
The problem? He had his table of contents at the back of the book. Once he moved it, Amazon sent a message to everyone who had ever purchased the e-book making it sound like Mr. Williams had sold a poorly formatted version.
Later that month, Kindle administrators posted on Amazon forums about the company's table of contents policy, writing, "Some in the community have contacted us about the activities of a small minority of publishers who may attempt to inflate sales or pages read through the use of various techniques, such as adding unnecessary or confusing hyperlinks, misplacing the TOC [table of contents] or adding distracting content."
After digging through the suppositions of various writers pointing fingers at Amazon, it's easy to understand why placing a table of contents at the back could raise the company's ire, and the very fact that it has instituted a policy against that practice suggests the suppositions are right.
Amazon neither confirmed nor denied that its system is getting gamed. "It's important to us to ensure that customers can trust our sales' rankings and that those rankings accurately reflect legitimate customer activity," an Amazon spokesperson told the Observer in an email. "So as not to reveal anything to potential abusers, we don't discuss the specifics of the tools we use to check for abuse, and we are constantly working to improve them."
How to Hustle Kindle Unlimited
The problem lies in the workings of Amazon's Kindle Unlimited service, which gives readers unlimited access to more than a million books for $9.99 per month. As authors A.G. Riddle, Hugh Howey and Kristen Ashley have all told us, this is a deal for avid readers, some of whom finish multiple books per week. Plus, multiple authors have told us that being part of the Kindle Unlimited program has also increased their income, discoverability and readership.  
Kindle Unlimited authors get paid out of a pool of funds set up by Amazon each month ($14.9 million in March 2016). Their cut of that pool is determined by the number of pages a reader reads in their books, not by the number of books readers check out. Top performers get an extra boost of as much as $25,000 in one month for being a top ten author.
But, what if someone finds a way to trick Amazon into believing that "readers" have read thousands of pages, when in reality they haven't read any?
As author Ann Christy wrote on her blog, "Scammers being scammers, they realized Amazon was lying very early on. Amazon couldn't tell what pages were read. They only knew the last place you were at in the book."
In other words: if a scam author publishes a book filled with nonsense (maybe a mishmash of a few thousand randomly picked pages from public domain websites), but then includes a link at the front that takes a Kindle Unlimited reader to the last page, Amazon will register that as if the user has "read" the entire book and pay the author for thousands of pages of reading that never took place.  
In March, a German blog broke down a bunch of methods for increasing the numbers of pages read. For example, write a 100-page book, then auto-translate it into different languages and invite your readers to click through to the first page in their native tongue. If 95 percent of your readers are English speakers, page one can come after the Chinese, Italian and Pashto versions, then as soon as they have clicked to the first English page, Amazon thinks they have read 300 pages.
See how that works?
Here's the good privacy news: Authors wouldn't be able to publish books that trick Amazon if its Kindles were really watching users read. If your device were timing how long it takes for you to finish a page, how often you look up words, go back, skip forward and click on links, Amazon would know you hadn't read 3,000 pages when you got tricked into clicking to the end. The scams work because all the company appears to know is what page a reader had open when he or she closes a digital book.
Earlier this month, two writers (David Gaughran and Ms. Christy) broke down the pure scam scenario based on their own research in the Kindle store. Here's how each says it works: publish a Kindle Unlimited book loaded with clicky words (as an aside, paranormal bear romance is a thing now), get click farms and paid reviewers to give it a bunch of phony engagement so that it rises up in the ranks and then put some kind of gimmick at the front that tricks readers into clicking to the back of the book. When readers close the crummy book in frustration, the scammer gets paid for a load of reading that never took place.
Ms. Christy gives one example of a book she downloaded whose title keywords include "Interracial Alpha Male Pregnancy," though inside are pages and pages of text that don't make sense (here's a screenshot she made).
What's Amazon doing? 
In its reply to the Observer, Amazon did not confirm the scam, but said that it takes any gaming of its site seriously. The truth is, the scam doesn't cost Amazon money. It decides how big the Kindle Unlimited payout will be every month. Downloading bogus books might mildly irritate Kindle Unlimited subscribers, but it doesn't cost them anything either. As long as subscribers keep their subscriptions, Amazon keeps making money and the scam doesn't cut into the company's earnings. 
In the long run, though, if too many authors quit adding good content to the pool and too many readers find it polluted, that could change. And, the company has made some policy changes that corroborate Mr. Gaughran and Ms. Christy's findings. First, the aforementioned rule about putting tables of contents at the front.
Second, Amazon has capped the Kindle Unlimited payout at 3,000 pages, which suggests that the company is aware that there are books with inflated and phony page counts.
On Mr. Gaughran's blog, author and publisher Phoenix Sullivan shared her experience watching a legitimate book she was promoting get crowded out of the top rankings by a set of books that fit the scammer profile. "I want to be the vendor Amazon wants me to be—exclusive, smart about promoting, someone who drives legitimate traffic to their site, a money-maker for us and them, and a cheerleader for their services," she writes. "Why do they make it so hard?"
It's hard to imagine how Amazon can come up with a fix that will keep scammers from siphoning money out of the Kindle Unlimited pool, for now.
For example, Mr. Gaughran points out that there is no good way to flag suspicious books. "Customer service levels at KDP are still unacceptable," he writes. "When there is a serious or complex problem, KDP customer service can be awful. This has been an issue for years now and has never been properly addressed."  
Ms. Christy suggests a freeze on new accounts and a closer vetting process for new authors. But that would unfairly punish legitimate writers. Wikipedia uses artificial intelligence to flag bad edits for humans to review. Why couldn't AI be trained to spot phony books filled with junk? It's one of those team-ups humans and machines are suited to do together. Amazon might already be using robots to spot scammers, but we don't know.
It's a far better plan to charge the baby machine overlords with scanning Mr. Bezos's literary inventory for garbage than it would be to set the machines to watching humans as they read.