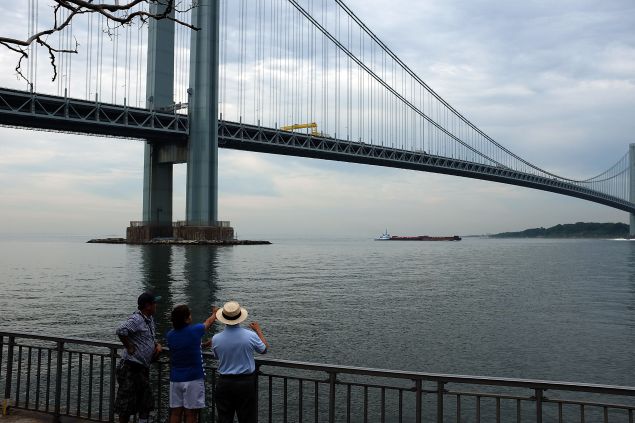 On paper, the 11th Congressional district—the GOP's sole beachhead in otherwise blue New York City—looks ripe for the flipping. Despite its reputation as a Republican stronghold, Democrats actually enjoy a five-to-three enrollment advantage among active voters. Roughly a third of residents are union members, far ahead of city, state and national averages. President Barack Obama bested Mitt Romney there in 2012 by more than four percentage points. In 2014, Gov. Andrew Cuomo outperformed Republican challenger Rob Astorino inside its boundaries with close to 60 percent of the vote. And incumbent Congressman Daniel Donovan has sat for less than a year, and posted solid but unspectacular fundraising totals in the most recent filing period.
But when Mr. Donovan fought for the turf against Democratic Councilman Vincent Gentile in a special election last May, the Democratic Congressional Campaign Committee and the House Majority PAC—which share a mission of of turning red districts blue—refused to get involved. Part of that decision might have been the $3.6 million the two entities had dumped just six months prior into a failed effort to elect another Democratic councilman from Brooklyn, Domenic Recchia, to the seat.
Mr. Recchia challenged two-term Republican Congressman Michael Grimm, who was under a 20-count federal indictment for tax fraud. Mr. Grimm had virtually no national support from his party, and Democrats outspent him and his few remaining allies better than two-to-one. Mr. Recchia lost by 12 points. Mr. Grimm went on to plead guilty to a single charge of tax evasion and step down from his seat, and is currently serving time in federal prison.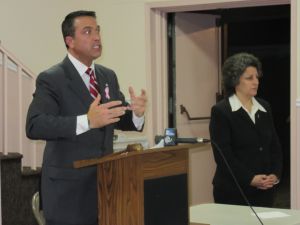 Two years prior, when Mr. Obama carried the area, Democratic challenger Mark Murphy scraped within six points of Mr. Grimm, who was then already under investigation. Mr. Murphy was the son of former Congressman John Murphy, a Democrat who represented a differently drawn version of the district for two decades prior to his indictment for taking bribes from FBI agents disguised as Arab sheiks in the 1980 Abscam scandal. When he ran in 2012, the younger Mr. Murphy had never held elected office, and had recently moved into his father's basement after pursuing an unsuccessful acting career in Hollywood.
The Gentile, Recchia and Murphy defeats, and Mr. Donovan's all-but-assured 2016 victory, are part of a pattern: a pattern of ill-suited candidates, an idiosyncratic district and an incompetent national Democratic electoral apparatus that has failed to understand either.
"Voters in this district really like to go beyond party labels," Democratic consultant Jonathan Yedin said. "It does lean Republican, no doubt. But do I believe a strong Democratic candidate could put up a fight and even win? Absolutely."
A number of the seat's features don't appear on paper. Perhaps the most significant of them is the Narrows, the tidal strait dividing the heart of the district, Staten Island, from the fragments of Brooklyn grafted onto it. Countless family ties and the country's longest suspension bridge straddle the entryway to New York harbor, but political allegiances don't. Numerous Brooklyn Democrats, from Leo Zeferetti to Sal Albanese to Frank Barbaro to Steve Harrison to Mr. Recchia and Mr. Gentile, have aspired to the House seat. None have won.
"What we've learned is that a Brooklyn candidate is at a tremendous disadvantage," Mr. Yedin said.
Mr. Yedin worked as district director and campaign manager for Michael McMahon, the last Democrat to win the seat, whom Mr. Grimm unseated in 2010 after just one term in Washington. More recently, he helped Mr. McMahon handily dispatch Republican Joan Illuzzi to fill the Staten Island district attorney's seat that Mr. Donovan left empty last year.
In fact, Staten Island has no problem electing Democrats on the local level, as State Senator Diane Savino and Assemblymen Michael Cusick and Matt Titone could attest. But none chose to compete for the congressional seat either this year or last.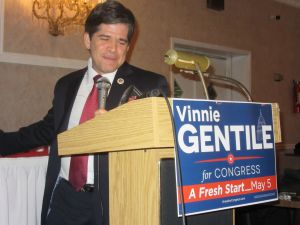 A Democratic insider told the Observer much of the borough's donor base was "burnt" from the Recchia-Grimm battle in 2014, and from Mr. McMahon's subsequent successful push to capture the D.A.'s office. Moreover, state legislators come up for re-election in even-numbered years, and New York law forbids candidates from running for two different offices on one ballot. This means Ms. Savino, Mr. Cusick and Mr. Titone would have to forfeit their present positions to embark on an uncertain campaign for the House—and each arguably exercises more influence in Albany now than they would in Washington as a freshman member of the Democratic minority in Congress.  
Then there is another of the district's unquantifiable qualities: Staten Island's ingrained feeling of aggrievement, which grows out of its situation as an isolated suburban enclave tethered to America's largest metropolis, and out of the traumatic memory of the Fresh Kills landfill, where the city dumped other boroughs' trash for half a century. Related to that sentiment is the conservative inclination of the district's voters, which includes a large number of police officers.
"I think as a borough, we feel sort of under the yoke of a very liberal administration in the White House and in City Hall," a Republican insider said. "I think it's an outlook, and the law enforcement presence in the district. And as a demographic issue, it's the rate of home ownership, compared to renters. It's the only area where taxes really matter. And the people who move to Staten Island, the first and second generation, have actually chosen to leave more urban and progressive areas of the other boroughs."
The district is one of the last preserves of true Reagan Democrats: voters who picked their party affiliation in the 60s and 70s, who liked Bill Clinton but cast their ballots for Rudolph Giuliani in the 90s. The Democratic state legislators are popular and moderate enough to win re-election with little or no Republican resistance. But when Mr. Grimm challenged Mr. McMahon in 2010, he tied the president around the Democrat's neck. Two years later, he depicted Mr. Recchia as a pawn of Mayor Bill de Blasio.
"The election of Bill de Blasio and a far left agenda has made voters want a more moderate voice in Congress," said Jessica Proud, a GOP consultant who worked on Mr. Donovan's 2015 campaign.
Several sources told the Observer local politicos had misgivings about Mr. Recchia, whose house sat just a matter of blocks into the district and who had represented only a few slivers of it in the Council. Finding himself term-limited, the politician had publicly flirted with running for Brooklyn borough president and city comptroller before deciding he wanted to go to Congress. But the Democrat was a millionaire attorney with strong ties to Brooklyn real estate developers, and the DCCC embraced him instantly.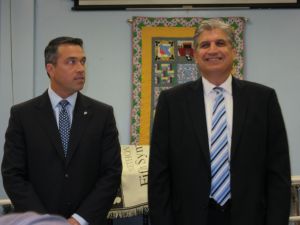 "They just care about how much money you can raise. They're not looking for viability. They're looking for candidates who can raise money. It's the first thing they ask you," a Democratic insider griped.
The national Democratic machine quickly deployed numerous consultants, operatives, pollsters and ad experts—many of them with minimal knowledge or understanding of the district or its people—to handle Mr. Recchia's campaign.
"Whenever you went into that office, they just looked at you like you were garbage," a Staten Island Democrat recalled.
The DCCC's emphasis on fundraising seemed to ultimately hurt the candidate, who did relatively little in the way of public appearances or outreach. Or, apparently, research on key local and national issues.
"Instead of being out knocking on doors and talking to people, and hearing what they care about, they have him dialing for dollars," John Mancuso, a Democratic district leader on Staten Island, said in an interview. "He's on the phone 12 hours a day making calls for money."
This culminated in Mr. Recchia's embarrassing, blundering response when asked about his stance on the Trans Pacific Partnership, which he seemed unable to describe beyond its initials—despite having just held an event about the massive trade pact with labor leaders. His humiliation went national when Jon Stewart dedicated a segment to the gaffe on the Daily Show. The lumbering Democrat seemed similarly ill-prepared to handle the agile Mr. Grimm in their debates.
"I saw Domenic Recchia give speeches in the City Council that would knock your socks off," Mr. Mancuso said. "He was just worn down."
The time Mr. Recchia invested in reaching out to contributors paid off in one way: he raked in $2.3 million for his bid. But, like the funds the DCCC and House Majority PAC pumped into the race, his campaign converted the cash into TV spots slamming the incumbent over his indictment.
"They did a lot of spending, particularly, on the attacks, the negative campaigning, the negative advertising. They spent a whole lot on that, and not a lot on building up our candidate. And it backfired. It backfired big time," Mr. Gentile said. "When we didn't win it, the national Democrats swung completely over to the other side of the pendulum and felt it was unwinnable and didn't want to extend any help at all."
The DCCC did not respond to requests for comment.
Of course, Mr. Donovan is an entirely different political creature than Mr. Grimm. Besides the investigations into Mr. Grimm's operation of a restaurant prior to winning office, and into his alleged fundraising improprieties, Mr. Grimm had a history of erratic and well-publicized behavior. This included allegedly menacing nightclub patrons with a gun, brandishing a butter knife at a House colleague, reportedly having sex with a woman in the bathroom of a bar in Brooklyn and threatening a NY1 reporter that he would hurl him from the Capitol building rotunda—a comment to which he appended the curious addendum: "I'll break you in half. Like a boy."
The unassuming Mr. Donovan did catch the public eye for a brief moment in 2014: when a grand jury he impaneled as Staten Island district attorney declined to indict the Caucasian cop who killed Eric Garner, a black man. But the controversy has receded from the memory of many in the 73 percent white district, or, frankly, was never a concern to begin with.
"When Grimm was running, the whole country knew about him, because of all the problems he was having," said Tom Schcherbenko, another Staten Island Democratic district leader. "If you asked the average person on the street, 'Dan Donovan and Eric Garner, what do they have in common?' they'd say 'I don't know.' Dan Donovan's very good at just being the kind of quiet guy in the background."
This year, the local party nominated as its candidate Richard Reichard, a retired civil servant and former president of the Staten Island Democratic Association club. A small, polite man with a mustache and slight stammer, Mr. Reichard speaks knowledgeably and passionately about key liberal policy concerns like campaign finance reform and global warming.
"I'm not running to fill a spot on the ballot," Mr. Reichard told the Observer over omelettes at Staten Island's Colonnade Diner. "I believe my positions are in sync with the majority of people on Staten Island."
The Reichard campaign said it had had "conversations" with the DCCC. But New York's 11th was noticeably absent from the organization's list of targeted districts this election cycle.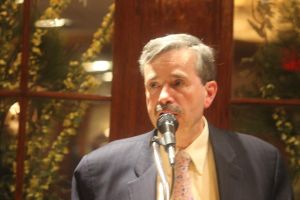 Democrats the Observer spoke to described Mr. Reichard as "likeable" and "brilliant," but gave him small odds of defeating Mr. Donovan, even in a presidential election year.
"Barring something unforeseen, a scandal or something crazy, obviously, I think Donovan will win by 15 points," Mr. Yedin said. Several other sources, apparently without coordination, gave the same estimate.
Mr. Donovan, for his part, assured the Observer in an interview that he was not taking his re-election for granted.
"We'll campaign hard. I'm glad to see my opponent is a gentleman, who seems to be somebody who likes to talk about the issues, which I think is great when you think about some of the things America is observing in the presidential race," the congressman said. "There are some people who write an election off and assume it's a foregone conclusion. I don't do that."