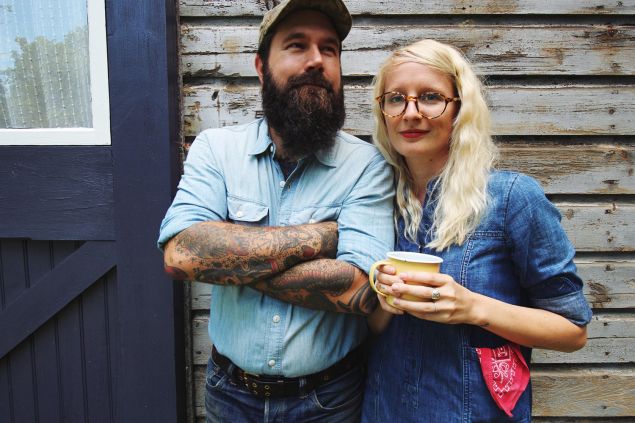 Escape Brooklyn is the best local travel site you don't know about. Thorough guides to day and weekend trips to the Catskills and beyond, replete with drool-worthy photos of rustic cabin interiors, breathtaking mountain vistas and the good old-fashioned behind-the-dashboard shot of the open road induce a maddening combination of envy and aspiration: Who the hell are these people and how do I make my life look like theirs?
These people are married couple Erin Lindsey, 31, and Denny Brownell, 38. "We're a Brooklyn couple that people can relate to: Erin's the blonde graphic designer, I'm the tattooed bearded guy. Everybody either is that person or knows that person," Mr. Brownell told the Observer. 
The couple, who founded Escape Brooklyn in 2013, came to their jaunt setting ways organically. "You live in New York long enough, you get to a certain point where you're like, 'What else can we do?' " Mr. Brownell said. They were headed out the next morning to Middlebury, Vt., to visit friends of friends who run a whiskey distillery.
Ms. Lindsey echoed that sentiment: "How do you want to spend your weekend afternoon? Do you want to wait in line for brunch- again or say, 'Come on guys, let's do something that we haven't done before.' "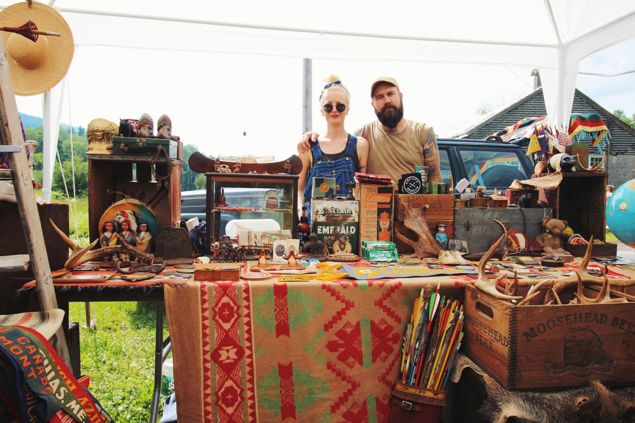 Mr. Brownell and Ms. Lindsey, who hail from Phoenix and Cincinnati, respectfully, have lived in New York for a combined 20-plus years. They've been together for six, first meeting through Mr. Brownell's DJ night, "Ruff Club" at the Annex Bar (R.I.P.), which Ms. Lindsey frequented.
It was on a 2013 trip to Hudson, N.Y., to celebrate their three-year anniversary that they first scratched the itch to travel upstate. "From there, we started exploring—'Hey, what other towns can we visit up the Hudson River off Metronorth?' " said Mr. Brownell.
The idea to document their newfound lifestyle came about like so many great ideas: while drunk Instagramming.
Not long after the Hudson trip, Mr. Brownell and Ms. Lindsey were visiting friends in Ithaca, N.Y., for the weekend. They had spent the day drinking at Ithaca Brewery. "We were both simultaneously posting photos, blasting everybody on there, and somebody suggested, 'Oh, you guys should start a travel blog!' " Ms. Lindsey remembered. "We were four sheets to the wind when we got that comment and we were like, 'Oh, we should totally start a travel blog.' I think we were already calling what we were doing 'Escape Brooklyn' in our minds, so the name came right away. The next day, we started shooting everything we were doing."
When Mr. Brownell and Ms. Lindsey first launched the site, it was a side hustle while they both still worked full-time jobs in the city: Ms. Lindsey, as a graphic designer for J. Crew, and Mr. Brownell, as a manager at Ralph Lauren's flagship store.
It was encouragement from Mr. Brownell's father, who had fallen ill, that propelled them to actually buy a car instead of renting. Before he passed away, he told Mr. Brownell he should sell his car and use the money to buy a car for Escape Brooklyn. "He was a huge fan of what we were doing," said Mr. Brownell.
In 2014, the couple bought a Forest Green Jeep Cherokee, with only 40,000 miles—on eBay!—and it's been a game changer.
"When I'm driving it, I think of him telling me to get out there. Without it, we would not be able to do what we are doing." (Peep the jeep on their Instagram, where it has its own hashtag: #escapemobile.)
"Whenever we go somewhere new we usually stop at a local dive bar and ask the bartender what's cool," Ms. Lindsey explained.
"We're not big fans of Yelp," said Mr. Brownell. "It's a reference, but it's not something guaranteed. You can write that we don't like Yelp."
They'd rather chat with real people. "That's our best tool, next to Instagram, just being willing to go into a store or wherever and say, 'Hey, we have this blog.' Through this approach, they've built relationships with small business owners from the Hudson River Valley to the Adirondacks.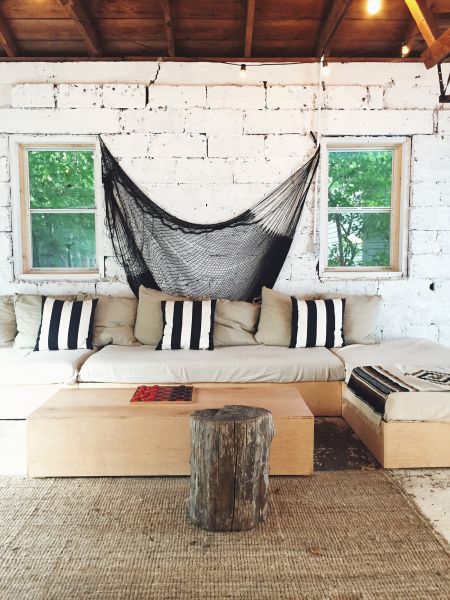 A weekend stay at the Graham & Co., a bed & breakfast in Phoenicia, N.Y.,  connected them with James Anthony, the founder and curator of the Phoenicia Flea, a seasonal mobile flea market populated by vendors from the Catskills and beyond. Mr. Anthony, who was the Graham & Co.'s GM at the time, invited them to join the flea with their antique shop, The Brew and Compass. They've been vendors since spring 2014.
"The market has been a great way to talk about Escape Brooklyn and connect with small businesses," says Mr. Brownell, whose background is in antiques—he owned his own shop, Lost and Found Vintage, back in Phoenix.
Two and half years in, Escape Brooklyn is gaining a real presence. They now have more than 20,000 Instagram followers, and have forged partnerships with brands such as Woolrich, Minnetonka and Paypal.
Building these relationships has been integral to Escape Brooklyn's mission: finding the best of the best in these upstate towns, and directing readers to them. In January—"Cabin Month," they called it—they rented a different cabin every weekend, dedicating a blog post to each one. And it's working: after they posted about Silent G Farms in North Branch, N.Y., the farmhouse gained 300 to 400 new Instagram followers and quickly booked up for early spring.
"It shows that there are so many people who are looking for that trip, that weekend out of town, and they can reference us and know that we are linking out to the best places," Mr. Brownell said. "Nobody else is really doing what we're doing, and there's people who want the information.
Two and half years in, Escape Brooklyn is gaining a real presence. They now have more than 20,000 Instagram followers, and have forged partnerships with brands such as Woolrich, Minnetonka and Paypal.
They're getting closer to reaching their end goal: for Escape Brooklyn to be a full-time endeavor. In June, when Ms. Lindsey was laid off from J. Crew, it was a blessing in disguise: around the same time, Enterprise Car Rental reached out to have Ms. Lindsey contribute to their new travel blog. With that gig, the Brew and Compass, additional partnerships, and Mr. Brownell still part-time at Ralph Lauren, the two are now able to hit the road every Friday through Monday, spending only three days a week in the city.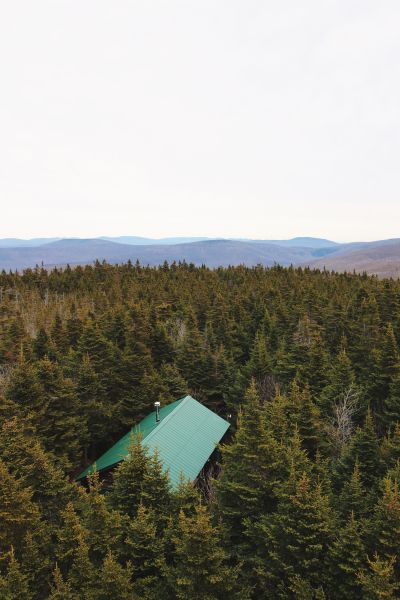 Yet with significantly more escaping than Brooklyn on the docket, I had to ask, why not leave for real?
Ms. Lindsey laughed. "We have this argument all the time."
"Erin thinks that if we leave Brooklyn and move upstate, we can't validate 'escaping Brooklyn,' " Mr. Brownell said. "Well, I think we can, because we'd be the couple that used to live in Brooklyn but we're still providing the same material, same guides. I don't think it would discredit us or be any different."
In the meantime, they make living the double life look pretty damn good.