"I lived in New York from 1998 to 2001," said 49-year old landscape painter Sue McNally over the phone from her Newport, R.I., painting studio. "But I missed my outdoor life." After earning her graduate degree from the Savannah College of Art and Design, Ms. McNally did as many young artists choose to do: take up residence in the art capital of the country—if not the world—New York City. But she quickly realized that city life wasn't for her and, after a few stops, found her way back to her hometown of Newport.
She lives there in a renovated two-story house with her husband, who owns a local residential solar electric installation company. Their suburban neighborhood is just a short drive from the historic city's center, an area filled with gardens, colonial era homes, organic restaurants and picturesque views of Narragansett Bay. It's a slow life…one conducive to painting.
"It was very hard for me to focus in the city," Ms. McNally said. "Honestly, there was so much to see and do that it kept me from putting in the studio time I really craved."
Instead of hopping a subway, Ms. McNally now drives 10 miles and two bridges away from her house, across the bay to her latest studio: an old mill by a river in Kingston, R.I. "It's about 2,000 square feet for $600," she said, sounding almost embarrassed. "And that's more than I've ever paid here."
These numbers are enough to make a city-based artist wince, considering the spiraling real estate madness of the Big Apple. "After I moved I was in much better shape financially. The financial part was huge for me."
Between waitressing gigs, Ms. McNally answered a newspaper ad to paint someone's house, pretending she knew how to do it. It led to house painting becoming her main source of income over the next decade. "Newport has a large amount of secondary homes," Ms. McNally said, which, combined with corrosive coastal weather, is "an excellent place for a house-painting business. After a while, I didn't have to advertise."
But then a funny thing happened. Beginning six years ago, Ms. McNally, who had been living in Newport for 20 years, started completely supporting herself off of her art. "I've been pretty lucky," Ms. McNally said. "But I also lived on little money for years. I was single until I was 39, and I just wanted to paint as much as possible. I wouldn't say that this was my goal at 25; it just evolved that way."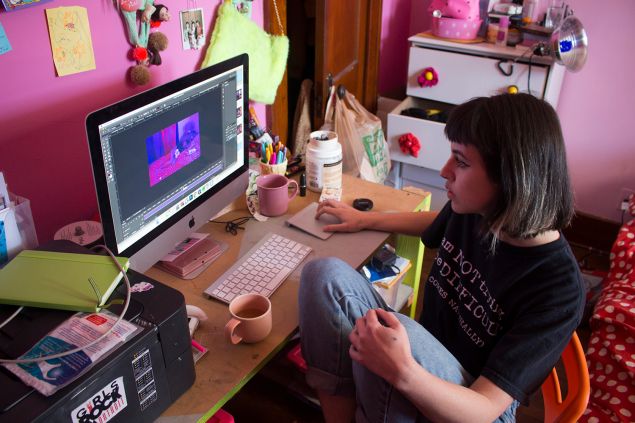 The 27-year-old digital artist Molly Soda had a similar decision to make in the fall of 2013, when looking at apartments in Brooklyn.
"I witnessed how much basic human need you had to give up in order to live in New York," Ms. Soda said. "I'd been living in Chicago and, before that, [was a student at] NYU, and I didn't want to enter that world again. I wanted furniture and a front porch."
After looking at all the usual American art-centric cities, Ms. Soda wound up in the small town of Hamtramck, a township of Detroit that's just five miles northeast of the Detroit city center with a population around 25,000. Thanks to rock-bottom rents, the area has become a hub for young, artistic homesteaders seeking freedom from money, stress and the swirling snowball effect they can have on one another.
Though she already had friends in Hamtramck, Ms. Soda, who sports Bettie Page-bangs and a septum ring, wasn't necessarily interested in the area because of its artistic scene.
"There were specific people who were drawn to me in Hamtramck, but it never felt like some sort of scene," Ms. Soda said. "In Chicago or New York I felt like people stayed in their specific circles more, but here everyone is supportive, regardless of what they do. A lot of my friends in Detroit don't even have an internet presence."
Which to a professional internet icon like Ms. Soda could seem inconceivable. Ms. Soda makes her artwork, which is almost entirely digital, in a one-story house that she shares with two roommates. Though the house is modest by suburban standards, at $820 a month (split three ways), the freedom from debt she enjoys is almost immeasurable.
But her larger point seems to be the general consensus about Detroit: People move to this extraordinarily cheap city to work less, and therefore, "work relationships" are less a priority than they are elsewhere. Getting to know someone for no particular reason seems to be encouraged.
It's easy to forget that hot artist locales like Detroit have always been around, tending to pop up in economically off-kilter places around the globe. Roughly 10 years ago, the hot community was in Berlin, where 41-year-old artist Daniel Seiple still lives with his wife, the German actress Bettina Lamprecht, and their 3-year-old child in the Wedding neighborhood.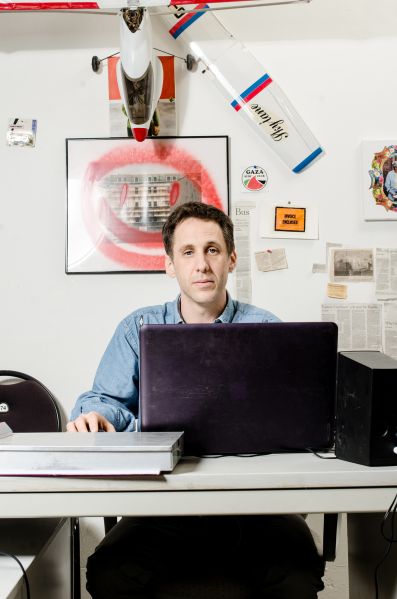 Mr. Seiple was lured to Germany by Ms. Lamprecht, then his girlfriend, but the city was also a booming arts hub in 2003, running neck and neck with Williamsburg in the race to become the hipster capital of the world—with one difference of course.
"Rents were famously affordable in Berlin back then," Mr. Seiple said over email. "But the economy was equally slow."
He took a two-month crash course in German; the first job he was able to procure was a stage design gig for the political TV talk show Hart aber Fair (Hard but Fair). The only problem? The job occurred two days out of every month.
That's when Mr. Seiple got creative. He still had the apartment he was subletting—and his van—in Williamsburg, so he started a man-with-a-van service in Brooklyn and advertised on Craigslist. "I returned to New York every three months," Mr. Seiple said. "One month's hustle made me enough money to live for over three months in the depressed Berlin economy." The artist would sometimes do seven or eight moves in a day, and his man-with-a-van work even inspired him to create a moving-themed art project.
Mr. Seiple's interactive and group-oriented approach to making art was a natural fit in Berlin, a town with a rich history of artist-run and experimental exhibition spaces. He produced both collaborative and solo works in Berlin, including a performance where he and a friend served fondue in a lake and another where he hired a bus to give tours of the artist-run space Autocenter ("the show was in the gallery's outdoor courtyard, so the tour basically consisted of a very tight 16-point turn," according to the artist).
Monetary payoff on the kind of art Mr. Seiple trades in is less likely, so opting for life in a city that had dirt-cheap rents (at least until the last few years) made sense. But for painters who may want to live near wealthy art collectors and the dealers who service them, the concentration of art buyers and sellers in New York City is unmatched.
It's a big part of why painter Brian Montuori, 39, found it so hard to leave the city.
"New York's a fantastic place," he said, "but it has all of the qualities of an abusive relationship. But then I realized that if you're not worrying about 'surviving' all the time, life can open up all kinds of other options for you. It's allowed me to successfully grow a business."
The life Mr. Montuori is talking about is in L.A., where the artist has lived for over a year. The New Jersey-born artist, who specializes in large chaotic paintings and drawings depicting animals facing off with technology, was previously living in Williamsburg, where high rents were always a problem.
"There's an every-man-for-themselves type of mentality in New York City that's kind of built into the lifestyle there," he said. "Life out West—whether you're talking about building a railroad or making a Hollywood movie—is necessarily collaborative. Nothing feels like a solo effort."
Mr. Montuori had been working full-time as an art handler while painting in New York, and though he started selling more and more work, his rent also got higher and higher.
"I wanted to make bigger artwork," Mr. Montuori said, "but my last couple of years…I thought to myself, 'I can continue fighting this uphill battle, or I can try something else.' "
So like many artists recently, Mr. Montuori moved to downtown L.A., to the edge of an up-and-coming art neighborhood called Boyle Heights. It's a neighborhood that's been home to hip art spaces, such as Night Gallery and Francois Ghebaly Gallery, and recently welcomed branches of large New York galleries like Venus and Hauser Wirth & Schimmel. Meanwhile, well-known artists like Wes Lang and Retna have started renting airplane-hangar-sized studios in the area, and a branch of the tony private club Soho House will soon occupy an 80,000-square-foot building in the neighborhood.
The writing is on the wall with the Soho House move: Spaces downtown, though a bit cheaper than similar offerings in Brooklyn, are not exactly "affordable" anymore. Mr. Montuori's work-live space clocks in at 1,800 square feet for $3,000 a month—more money than he's ever paid for real estate—but it's certainly cheaper per square foot than Brooklyn. Plus, "Uber and other daily expenses are much cheaper here," he added.
But most importantly, Mr. Montuori's sales have been strong in Los Angeles despite a smaller group of galleries and collectors than New York provides. "There just isn't any pretense here," said the artist, who also recently landed a job designing the cover art for a new album by the band Good Charlotte. "Artists run their studios like industries [in L.A.]"
The "move to L.A." has become almost cliché now, but for some artists there's still nothing that can compare to the concentrated presence of elite art players that New York City offers.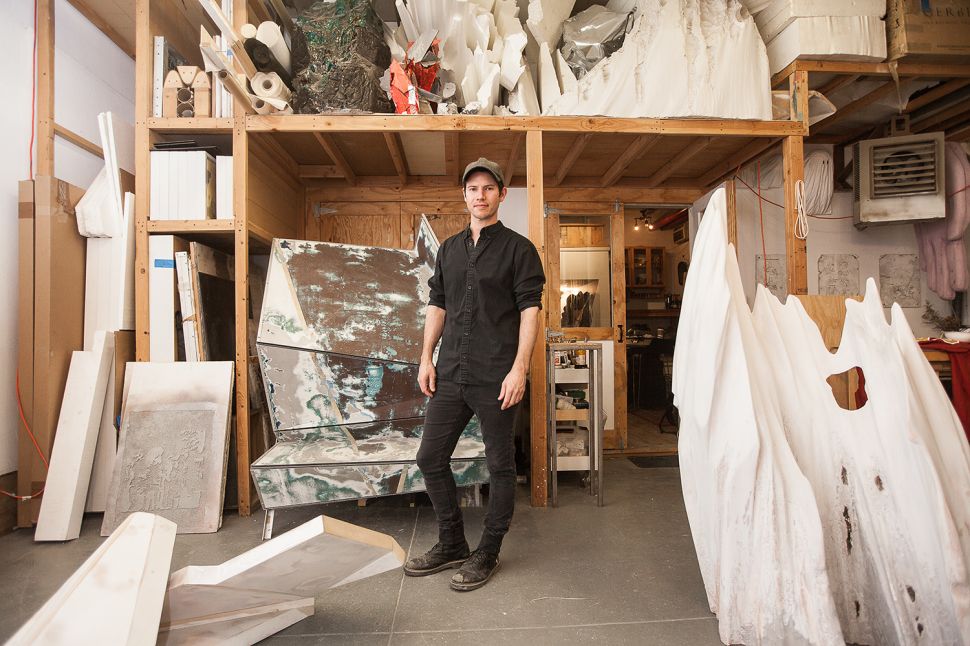 Thirty-five-year-old sculptor John Dante Bianchi was born in a tiny town in New Hampshire where he was "one of three people in his high school who were into art"—which is perhaps why he appreciates the city so much. "The proximity to anyone you'd want to meet as an artist is unbeatable here," he said.
Mr. Bianchi, who makes abstract, process-oriented sculptures with industrial materials, was an unusually focused artist in his youth, quickly matriculating to Cooper Union (after transferring from Parsons) and then to Yale, where he received his master's degree in sculpture while also working to pay his living costs and school fees.
But despite enjoying an idyllic learning experience in New Haven, the artist was eager to get back to New York City.
Since finding a raw live/work loft in East Williamsburg five years ago, Mr. Bianchi, who is handy with tools, has lovingly tailored his loft over time to fit his lifestyle. The raw 1500 square foot space now contains a living space, a studio and a separate shop for using more toxic materials. He also rents out parts of the loft to other artists, and in the end he pays only $1600 a month.
Over the years he's garnered a strong showing record (including a recent solo show in Paris), but Mr. Bianchi still has to take production jobs here and there to make ends meet.
"It's a much slower process than it seems like from the outside," he said in regards to the ups and downs of an art career.
Like all of the artists interviewed, Mr. Bianchi said not working a day job was an important priority for him, but even he admitted that this could be a challenge in a city that continues to price out talent.
"It seems like New York doesn't want artists to live here," he said with a laugh. "But I've been here 15 years, and it's always been hard. The high-rises are annoying, but I'm not going to split because of a high-rise. This is still my favorite neighborhood. I don't want it to change, but it eventually will. It's just a part of life."