"Fitness artist" Nicole Winhoffer has the kind of magnetic energy that makes people actually want to work out. Before a 9 a.m. class above the enormous–at least by Flatiron standards–Bandier boutique, she greeted newcomers by name, while wearing short shorts and revealing enough about her personal life to make people think they're working out with a longtime friend…Albeit an incredibly fit one.
Ms. Winhoffer gained fame after training Madonna and creating the choreography for her Hard Candy gyms, after dancing on Broadway in Wicked. Now, she teaches "The NW Method" at BANDIER and The Standard, along with modeling for Adidas in their commercials. When she isn't conducting her classes, she's teaching clients one-on-one and illustrating her workouts. As far as fitness celebrities go, she's at the tip-top of the Insta-famous pyramid; she's even signed to Roc Nation, alongside artists including Rihanna, whose music is a mainstay during class, DJ Khaled and of course, Jay Z. After telling Ms. Winhoffer my name as I was the only newcomer, she immediately apologized, rightfully warning that she was about to mess up my blow-out.
The bubbly Ms. Winhoffer led the class through an arm warm-up with weights, set to hip-hop music blaring through the dimly lit studio. For some classes, the lights change, because she believes that colors influence each workout, attributing the hues to one of the many chakras. Then, the real work began. Positions alternated, but Ms. Winhoffer warned each leg would go through 30 reps, during what felt like 30 painful minutes, although it could've been closer to 15. Her toning exercises guarantee a muscular physique worthy of red carpets, but they also make everyone look like a dog finding a hydrant.
Later on, Ms. Winhoffer explained how her work-outs combat the inevitable repetition of life: "Because we walk forward, speak to people with forward intention and type and text on our computers and phones, the same muscles get used." Instead of neglecting the rest of the body, Ms. Winhoffer creates balance with exercises she changes weekly, a habit she adopted when working with picky pop stars. "I pay attention to the details of the body we might overlook because we can't 'see' or 'feel' them yet," Ms. Winhoffer told Observer.
Once the toning portion was (thankfully) over, Ms. Winhoffer and her ultra-toned front row helpers led students through abs exercises. They required an elaborate series of coordinated crunches while flailing around. Then, the dancing began. The choreography wasn't exceedingly difficult, but finding the energy to break out Zumba-esque moves and body rolls after toning every muscle was a bit difficult. The dance felt like a throwback for former cheerleaders and dance team captains. Unlike other studios leading students through grapevines and hoping they catch on, Ms. Winhoffer went through every motion to make sure everyone fully understood it, from the top. It felt more like a music video rehearsal than jumping jacks masquerading as dance cardio.
On the choreography, Ms. Winhoffer said, "I make it comfortable and inclusive. We have enough items we are working on as humans, and people don't need to think anymore or solve any more problems. I understand; I go through it, too. I provide a structure when you find your own freedom."
[youtube https://www.youtube.com/watch?v=BiwGl9PpMck&w=560&h=315]
Throughout the class, social media is a constant presence. Ms. Winhoffer kept her hair down, but managed to look like she was making a music video, as opposed to dripping in sweat like the rest of us mere mortals. At one point, she could be overheard telling an assistant, "I didn't get enough footage!" and the tiny, toned girl began filming the class gyrating to Rihanna's "Sex With Me." Ms. Winhoffer currently has upwards of 80,000 Instagram followers, and shares selfies with motivational messages, along with photos and videos from all her classes. Every time the camera comes around, everyone kicks a little higher.
The class ends with a warm down, followed by a motivational talk by Ms. Winhoffer, while everyone crouches down on the floor. It felt like a short therapy session, similar to those preached at SoulCycle, but delivered by a bona fide fitness celebrity.
Speaking to Ms. Winhoffer after class, she explained the routine trains artists for endurance during their two hour concerts. It walks participants through everything from toning to the onstage dance sequence. "It's a lot to think about: choreography, vocal substance, lung capacity, in heels, in a costume, and maintaining the energy of a crowded stadium," she said. While her class-goers don't wear heels or costumes, it's still an exercise in endurance.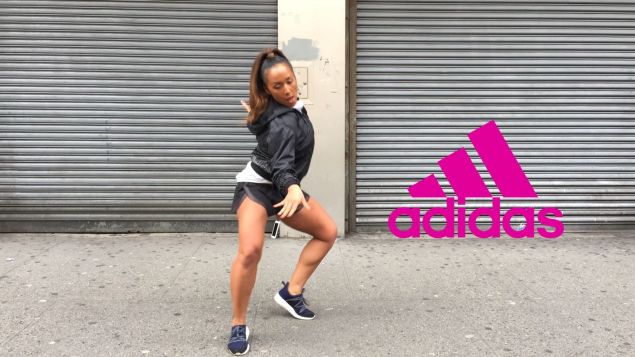 "I want to eliminate the amount of physical, emotional and mental thoughts that could hinder the blissful experience. With enough repetition it becomes an innate strength. I strive for practice and repetition, in a non-boring way, so that we feel confident and we can complete the physical performance with the freedom to enjoy the experience," Ms. Winhoffer told Observer.
While I didn't immediately wake up with Madonna's arms, it's easy to see how she got them. Ms. Winhoffer's class is tough and takes toning seriously; but it's still the best way to feel like a real, live pop star, even if you are covered in far more sweat than they are, and you're not wearing heels or fake lashes.