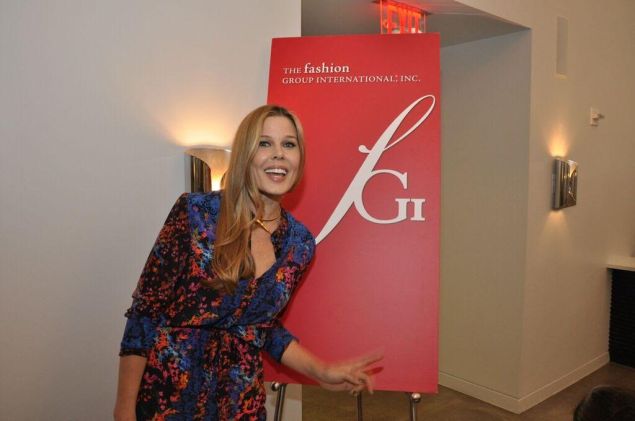 This past Thursday night, Fashion Group International's #NextGen series brought style and beauty expert, Mary Alice Stephenson, to Midtown's Space 530. The sleek white room was filled with a spectrum of the fashion enamored. Seasoned fashion editors rubbed shoulders with hopeful high schoolers while the blonde style fixture circulated the room, sharing how-are-yous and excited hugs.
With the physical presence of a supermodel, standing at six-feet-tall, Ms. Stephenson filled the room with an air of humility and companionship. Though she was wearing a sweeping, mixed-print Saloni dress accented with glittery Alexis Bittar jewelry, she's the first to break composure with silly-faced selfies and guttural vocal impressions of fashion's most precious icons. She feels like your best friend instead of your style icon. Although she's probably willing to be both.
As a fifteen-year-old fashion-obsessed teen in Birmingham, Michigan, Ms. Stephenson made a promise to her mother that she would one day be the fashion director at Harper's Bazaar. Just 20 years later, Ms. Stephenson made her prophecy a reality. With a flick of the wrist, she commanded the powerpoint presentation to move on to the next slide, revealing a picture of her fifteen-year-old self complete with an over-permed mane and sparkly pink eyeshadow. "I was wearing a cowl neck," chuckled Ms. Stephenson. "At least I got that right."
Ms. Stephenson is an equal mix of spirituality, fearless fashionista and humanitarian. As she told the audience about her rise to fashion's elite, she sprinkled quotable lessons throughout. With unforgettable words passed on from her mentors, including Carlyne Cerf de Dudzeele's advice to "learn to turn shit into gold," as well as personal steadfast rules–"say yes"–her seasoned career in fashion rings more like an anthem to the fashion girl than a self help book. Starting her fashion career as a Vogue assistant and later an assistant at Harper's Bazaar, she worked her way up as an editor at Allure and Marie Claire before reaching her pinnacle: fashion director of Harper's Bazaar. Styling iconic shoots with Hollywood heavyweights like Sarah Jessica Parker, Nicole Kidman, Cate Blanchett and Drew Barrymore, Ms. Stephenson's talent for harnessing the power of bold imagery and her unshakable belief in the power of style earned her a place among fashion's influencers.
While waiting for a flight in Albuquerque, New Mexico, a large group of assembling cheerleaders caught her eye. Amidst the perky cheers of "Karen! Karen!" a small six-year-old girl "without a speck of hair" emerged through the cheer tunnel. This was the work of Make-A-Wish America; Karen was going to cheer camp. After witnessing this heartwarming scene, Ms. Stephenson began volunteering for the organization and eventually adopted the title of International Fashion Ambassador. Seeing fashion's impactful results through Make-A-Wish inspired her next move in the fashion world.
"When you've accomplished everything you want, sometimes you find what you need," said Ms. Stephenson. In 2012, fueled by her desire to have a child and a particularly enlightening episode of Oprah, Ms. Stephenson left her post at Harper's Bazaar, leaving behind her fifteen-year-old dream for a new one.
Glam4Good was born from a need to find a way to serve the world through her fashion expertise. The guerrilla endeavor, captained by Ms. Stephenson, partners with non-profits to bring style, beauty and attention to their platforms. Ms. Stephenson and her many dedicated volunteers travel the nation beautifying women of all walks of life: those who live in homeless shelters, veterans who returned home with major injuries, and poverty stricken high school students who want to feel beautiful at prom. "For so many years I was using my love of fashion to work with stars, but there are so many heroic women out there that are stars," said Ms. Stephenson. "If they feel good about themselves, they are able to deal with situations better. It's the healing power of a sequin." With huge partnerships with Make-A-Wish, Suave, Naeem Khan and Michelle Obama, Glam4Good is now working towards increasing its influence abroad.
As the presentation comes to a close, the teenage fashion hopefuls clung to her last words, "seasons come and go, but this I'll remember forever."