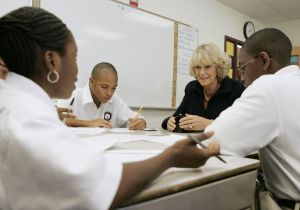 Presidential candidates hoping to win in November need a slice of the 50-plus vote, a block that turns out at higher numbers than younger voters. Tradition says that making more promises—to expand Medicare and Social Security, or other benefits for seniors—is the way to secure these votes. But although these programs are important, many Baby Boomers—he largest, healthiest, and most educated population of older adults in our history—are looking for something more.
Many Baby Boomers don't want a traditional retirement. They are looking for an "encore" that enables them to continue to contribute, although not necessarily by extending their time in the traditional workforce. And while there is no question they are worried about the future, it's not just their own benefits they are thinking about. A majority of older adults are concerned they will leave the world in worse condition than they found it. Millions want to make that right by giving back to their communities and country, particularly by helping young people.
Here's an idea for candidates: support "encores for youth," a way for experienced adults to spend a year in service to vulnerable children and youth in communities.
An encore for youth can take many forms: providing one-on-one reading help in an early childhood classroom; coaching on the playground; mentoring teens trapped in low-performing schools or impoverished communities; or helping a young adult find a job or learn life skills. It could even mean using business skills to help a youth organization increase its impact or improve its back office. America's largest and most talented generation has so much more to give to rising generations.
In New York, ReServe Inc. places people over the age of 55 in mentoring and coaching roles helping to low-income students and their parents navigate through the college admissions process, providing a supplement to overburdened school guidance counselors in high-need schools. Teams of ReServists have also been trained as "Success Mentors" where they work in middle schools with large numbers of students whose chronic absenteeism puts them at risk of dropping out. The ReServists work an average of 15 hours a week, earning a modest stipend ($10 per hour)—giving back and gaining in the process. One of ReServe's most innovative youth programs to date is to help young people transitioning from foster care to go to college by helping foster parents create a college going culture in their homes. This program, entitled PrepNOW! – works with youth and their foster parents, inspiring young people to believe that they can go to college and then helping their foster parents to effectively support them in achieving their goals. Laura Traynor, Director of ReServe said, "This effort has allowed ReServists to play a pivotal role in changing the lives of young people in foster care—not only for today but for years to come. The results are remarkable—youth who never imagined that they could go to college are applying, getting accepted and matriculating."
Americans in their "encore years" have much to offer—the skills they have honed for a lifetime and the emotional stability that research shows comes with age.  And, as Generations United points out, interacting with 50-plus adults not only enables youth to develop social networks, communication skills, problem-solving abilities and positive attitudes toward aging, but also enables 50-plus adults to learn to adapt to their own life changes and experience lower levels of isolation through interacting with youth.
Leveraging encore talent would not be expensive relative to the contributions they could make. Modest funding through programs like AmeriCorps, Foster Grandparents, or existing youth-focused federal programs could support the organization of opportunities and modest living stipends for those who serve. At the end of their service year, encore adults could also receive an education award, which they could pass onto a child, grandchild or young person in need to defray the costs of college.
Encore-stage adults worry about the future of their country and are ready for a call to action. In that spirit, we hope all political candidates will take note that to secure the votes of the 100 million Americans over age 50, they should ask not only what our country can do for them, but what they can do for their country.
Shirley Sagawa is Senior Fellow, Center for American Progress; CEO, Service Year Alliance; and former Managing Director, Corporation for National and Community Service. John Bridgeland is CEO, Civic; Vice Chair of the Service Year Alliance; and former Director, White House Domestic Policy Council. They co-authored the report, An Encore of Service: Experienced Americans Helping Vulnerable Youth.