The raunchy beat of Ginuwine's "Pony" pulses through the sunlit Greenpoint studio as students start rolling out their yoga mats. Then, the class starts with light stretching and swaying to the beat. The eight "newbies" in the room share unsure glances as they are asked to swerve their hips.
As the class pushes into planks, the twerking begins. Instructor Kirsten Dahmer demonstrates gyrating from downward dog to plank. It's far from your standard sun salutation, but then again, they aren't here for yoga.
"Alright class, stand up and pick a pole."
IncrediPOLE was created in Bed-Stuy yoga studio Sacred and it translates a community-first mentality to an unlikely form of fitness: pole dancing. This small studio takes on the task of providing a form of fitness that strips away judgement, which also happens to find its roots in stripping away clothing.
When Sacred announced that it would be eliminating its pole classes to expand the yoga studio, IncrediPOLE owners Sharon Goldberg and Kirsten Dahmer wanted to maintain the culture that they had cultivated by starting their own pole studio. "I've never been in that supportive of an environment, across the board," Ms. Dahmer said. 
IncrediPOLE offers classes ranging from "newbie" to advanced and everything in between, including Intro to Contortion, Pole Combos and the choreography-centered sexy class, "I Bet That You Look Good on the Dance Floor." Most recently, the studio hosted a steamy workshop with ex-stripper, Lux, where students learned to "move, charm, enthrall and hustle" their way to a better love life. The studio takes pride in its no-judgement, positive environment, providing a place where six-packs and cellulite are celebrated.
Despite a heavy competition scene growing within the pole community, IncrediPOLE remains insistent on keeping a judgement-free space. "I think inherently, there's no part of me that wants to be judged against anyone else," said Ms. Dahmer. "It's just not something that motivates us and it's not a vibe that we want to give off in the studio." Its also about remaining accessible to people who are nervous to break into pole dancing. "I totally understand that fear when you first come in and you see people doing some crazy shit and you think, I can't do that," says Goldberg. "You're not supposed to. It's fine. I just want you to have fun."
With vaulted ceilings, exposed oak beams and a commanding fireplace on the wall, the studio looks more like a cozy living room than a place for pole dancing. A former reception hall for the Polish Democratic Society, the homey space seems a bit unconventional, yet oddly appropriate.
Ms. Dahmer began her dance career with ballet at a young age and eventually took on aerial dance. After feeling aerial dance was too heavy on the theatrics, Ms. Dahmer took a pole class at Sacred and discovered that it fit the perfect medium. At Sacred, Ms. Dahmer met Ms. Goldberg, and the pair became part of the close-knit pole-dancing family at Sacred. They were crushed when they heard that they would be discontinuing pole classes and started forming plans to open their own studio. Due to the constraints of their budget, they almost gave up on their dreams, but an affordable space opened and the two became proud owners of their own studio. "My sister had a baby and I'm going to have a pole studio," said Ms. Dahmer. "This is our baby."
Their vision materialized at an opportune time, with the current fitness world favoring boutique studios over massive gyms. The pair has fully embraced the culture of ClassPass, athleisure and Instagram-worthy muscles. "Fitness culture is so crazy now," said Ms. Dahmer. "Having crazy weird little alien abs is really cool now. That's the standard of beauty." While the fitness obsessed culture has proven itself great for business, Ms. Dahmer has a more personal take on fitness. "It's so much more about what you're capable of rather than what you look like. This is what has made my body feel the best, and me feel the best about my body."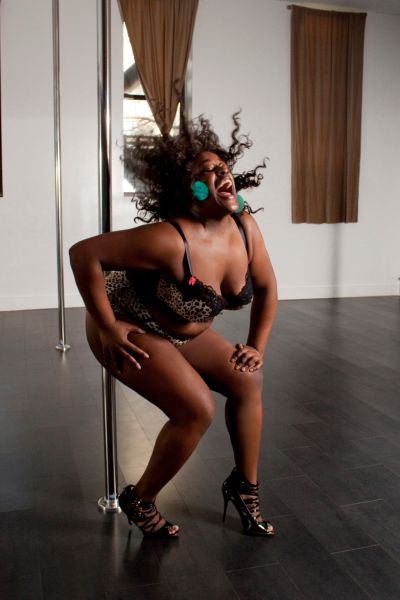 Instructor and self-proclaimed "Pole Diva," Roz Mays picks up the tempo in her Wednesday night Open Level class. As her devoted regulars file in, friendly banter filled the studio. The class begins much with stretches, sways and the usual twerk-session. No Doubt's "Hella Good" pulses in the background as the group begins hip circles and then a hand-held partner roll-up hybrid that resembles something akin to interpretive dance.
Ms. Mays' emphasis on creating an accepting environment is driven by her own journey of self-acceptance through fitness. Eight years ago, in attempt to lose weight, Mays joined Crunch Gym and was intrigued by title on the class schedule: Pole Fitness. "It was the hardest thing I've ever done with my body, but by far the coolest," said Ms. Mays. She was immediately hooked.
"I had been going to the gym for a few months and I didn't know how to workout right," Ms. Mays told Observer. "I thought if I was doing all these cardio classes and lived on the treadmill, I'd be skinny and perfect. I had no idea how wrong that was."
Ms. Mays was inducted into the Sacred tribe after competing in a small pole dancing competition. She caught the eye of Sacred's owner and was asked to be an instructor.
The class takes on a one-legged rendition of the firemen's spin, negotiating their limbs around the slippery metal poles. The looks on students' faces range from fixated concentration to unexpected surprise as they cheer each other on and celebrate each other's mastery of the tricky move.
While pole fitness has gained popularity in cities across the country, there is still a stigma that connects it with stripping. Before becoming a full-time pole dancing instructor, Ms. Mays was fired at a non-profit for her hobby. "People don't have time to stop and ask questions," says Mays. "They see one picture and they don't really need any more explanation. The same picture that other people would see and look down upon, I see an extraordinary step in the right direction."
"I've done other fitness classes before and there isn't an opportunity to be creative. Here, you're learning something that's more personal than a spin class."
Some students find an accepting community that was lacking in the fitness world. "It's empowering, fun and an incredible communal space here," said a 24-year-old student. "I haven't been coming very long and I feel like I already know people. Everyone's happy to see me and is proud of the things I accomplish, as much as I'm proud of the things I accomplish." For others, it's the art of pole dancing that keeps them coming back. "I've done other fitness classes before and there isn't an opportunity to be creative," said a 27-year-old former dancer. "Here, you're learning something that's more personal than a spin class."
As the class closes, Ms. Mays and her students form a circle in the center of the floor for cool down stretches. "I just want to thank you all for letting me kick your ass," she said. The group chuckled and shared exhausted smiles as they begin to dole out kudos, acknowledging each other's accomplishments.