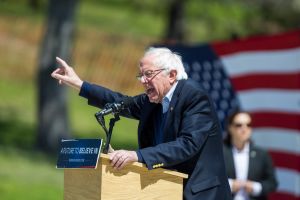 American presidential elections are an extraordinary combination of politics, theater and Marathon. The 2016 election, which is still more than six months from being over, is proving to be no exception. Republican frontrunner, Donald Trump, while exciting to some voters and frightening to many others, is nothing if not entertaining. Important issues such as income inequality and immigration have been debated more than at any time in recent history. The back and forth between supporters of the two Democratic candidates, in tone and sometimes language, evoke insults shouted by Yankees and Red Sox' fans.
Presidential campaigns are also a way to tell stories. The 1968 presidential campaign, for example, was, among other things, a way we now understand the stories of street protests around the war in Vietnam, the racist backlash led by George Wallace, the terrible assassinations of the decade and the victory of the silent majority represented by Richard Nixon. More recently, the 2008 election told the story of America's ongoing efforts to wrestle with its apartheid past, the continued rise of the angry, but unfocused, right wing and the country's exhaustion with the Bush years.
The 2016 election will also tell a story about our country, but at the moment it is hard to determine exactly what the plot will be. One of the complex, perhaps even paradoxical, dynamics at this point in the election is that despite the tremendous amount of coverage and buzz around the notion of outsiders, voter anger and similar sentiments among the American people, as well as the energy and excitement generated by the two candidates, Donald Trump and Bernie Sanders, who best speak to that element within the American electorate, the outcome of this election will probably tell a very different story.
It is possible that in a few years, Bernie Sanders's strong but unsuccessful bid for the Democratic nomination will mark a period of progressive economic policies that has not been seen in the U.S. since the New Deal era.
It is still too early to say anything for certain about what will happen in November, but the public opinion data as well as most expert opinion, including that of many Republican experts, suggest that when the election is finally over the winner will not be an entertaining, or inspiring outsider, or somebody who has successfully tapped into voter anger, but a consummate insider. Hillary Clinton has all but won the Democratic nomination and is in a strong position to defeat any Republican opponent in November.
What then does this tell us about America in 2016? It would be a mistake to dismiss altogether the voters who have been excited by Bernie Sanders progressive outsider campaign, but it would also be a mistake to overstate the significance of that campaign by not placing it in the context of similar Democratic primary campaigns such as those of Jerry Brown in 1992, Howard Dean in 2004 and even to some extent, Barack Obama's more successful campaign in 2008. Mr. Trump, however, seems to have mobilized a different force within the American electorate. He has energized a group of voters who are generally Republicans and who have no affection for the socially liberal and, in their views, elitist leadership of the Democratic Party. However, the Trump campaign has successfully divorced those voters from their longtime support of a conservative economic orthodoxy that has for years done little to help them.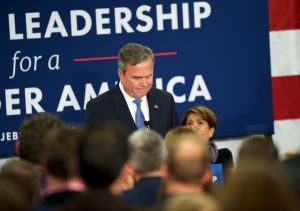 The story that appears to be emerging thus far is that the center in American politics is stronger than the surface optics would suggest. Hillary Clinton is very liberal on the battery of issues around rights, tolerance and identity, but almost defines the center on economic and foreign policy issues. A Clinton victory in November would cast the narratives about anger and outsiders in very different lights. However, if almost anybody besides Clinton wins, those storylines will be stronger than ever. The stories that the Trump and Sanders campaigns will ultimately tell us about America in 2016 are not yet clear, but there are a few likely outcomes.
It is possible that in a few years, Bernie Sanders's strong but unsuccessful bid for the Democratic nomination will mark a period of progressive economic policies that has not been seen in the U.S. since the New Deal era, but it is also possible that his campaign will recede into the more ordinary frame of being simply the latest in a series of elite protest Democratic primary campaigns. Similarly, Donald Trump, even if he does not make it all the way to the White House, could be instrumental in either creating a third party, or a major faction within the Republican Party that speaks to the needs of lower income white voters who are not so interested in a broadly internationalist foreign policy and free trade. On the other hand, in a few years or a few election cycles Donald Trump's candidacy may simply be seen as extraordinary display of vanity and egotism with no lasting political impact.
With half a year remaining in this election nothing is for certain. The theatre production—or reality television show if you prefer—is only midway through the second act, with a lot more that can happen. It is worth remembering, for example, that six months ago Donald Trump was only beginning to float the possibility of his candidacy, Bernie Sanders was still on the fringes of the Democratic primary and Jeb Bush was almost viewed as a shoo-in for the GOP nomination.
Lincoln Mitchell is national political correspondent at the Observer. His most recent book The Democracy Promotion Paradox, was published by the Brookings Institution Press in April of 2016. Follow Lincoln on Twitter @LincolnMitchell.
Disclosure: Donald Trump is the father-in-law of Jared Kushner, the publisher of Observer Media.