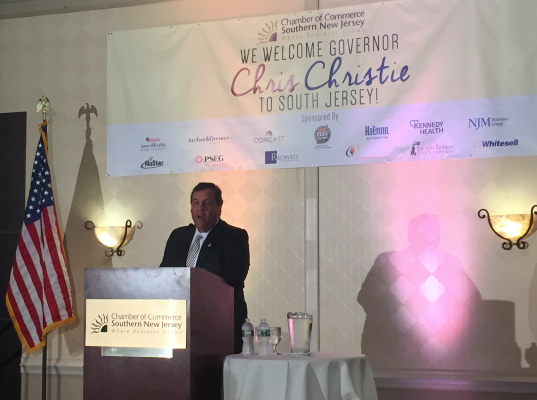 As the Assembly and Senate continue their stalemate over a state takeover Atlantic City, South Jersey's most powerful unelected figure reportedly weighed in this week. Following reports that insurance executive and Democratic boss George Norcross scoped out support for replacing Assembly Speaker Vince Prieto (D-32), Governor Christie made an appearance in Cherry Hill to reiterate his criticisms of Prieto and the Speaker's takeover plan.
Norcross, who was part of the negotiations leading up to the Christie-backed takeover plan early this year, asked Bergen County Democratic Party Chairman Lou Stellato whether he would consider overthrowing Prieto in favor of Valerie Vainieri Huttle (D-37) this week at a fundraiser for Congressman Donald Norcross (D-1), Norcross's brother. Prieto is in ongoing negotiations with Senate President Steve Sweeney (D-3), who sponsored the Senate bill that Christie favors.
Prieto's resistance to the Sweeney and Christie's plan is the only roadblock to its being passed with Christie's signature. The Speaker is seven votes shy of the 41 he needs to pass his bill in the lower house, a margin of support that led Sweeney to offer a 130-day grace period for the city to cut costs. Christie, however, said he does not believe the bill will pass and called Prieto's bill a ploy to delay a deal until the governor's likely Democratic successor takes office in 2018.
"His own bill says after two years you can break collective bargaining agreements after two years if they do not have their finances in order," Christie said in his remarks. "Why do you think he picked 24 months? Because I'm done in 19 months."
Throughout his remarks at Wednesday's Chamber of Commerce of Southern New Jersey event, Christie called Prieto's plan unfeasible and Atlantic City officials' refusal to accept paycuts indefensible. The council heard arguments for cutting council members' and mayor Don Guardian's salaries ($27,800 and $103,000 respectively) by 20 percent Tuesday night, but did not adopt the resolution. 
Atlantic City faces a $100 million budget deficit and $437 million of total debt. If the city misses its next $1.8 million interest payment on municipal bonds by May 10, it will be the first New Jersey city to default since the Great Depression. Prieto fired back at Christie for pinning the standstill on him in a statement.
"Gov. Christie can keep playing his games, but I will not post a bill to give him dictatorial powers to trample core values such as collective bargaining, fair labor practices and civil liberties," he wrote.
With the dividing lines over Sweeney and Prieto's bills falling along regional lines, the takeover has made for strange bedfellows as Christie has pointed the finger at municipal spending and the city's public pensions while pushing two pieces of legislation with the wholehearted support of Norcross' South Jersey Democratic machine. Christie has also repeatedly called Prieto's refusal to post the Assembly version of Sweeney's bill an attempt to damage Sweeney in his campaign against Jersey City mayor Steve Fulop for the Democratic nomination.
The bill to put that amendment to voters saw a similar high-stakes stand-off with Prieto just months ago, with Sweeney winning out in the end and Prieto conceding a greater share of revenues from new casinos to the South. Norcross, whose brother Phillip lobbies for the privately held water company expected to be on the shortlist if Atlantic City's water is privatized under Sweeney's bill, told the Bergen Record that Prieto's recalcitrance on North Jersey gaming has eroded the Hudson Democrat's support.
"That experience, coupled with the probability of Atlantic City going bankrupt because of Prieto's lack of action, is causing, on a more frequent basis, more and more people to question his leadership," Norcross said.