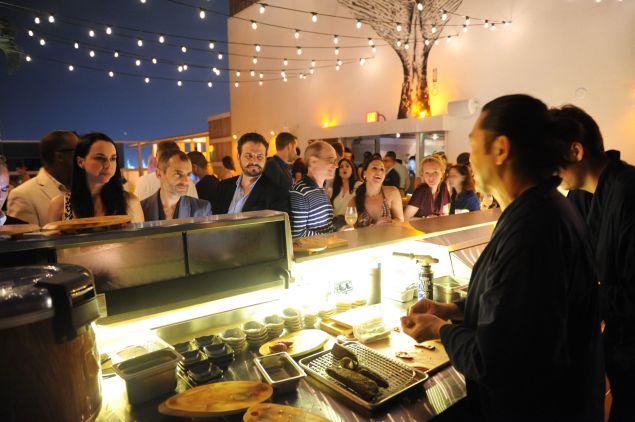 "Let's start with the crickets in brie and then move onto the carp ribs. I think that makes sense," opined a woman at a table adjacent to the bar. "The crickets are kind of like the cracker in this case, right?"
And so went the conversation on a balmy Friday night at Prey, the 1 Hotel's new sustainable sushi rooftop pop-up. Conceived by James-Beard-nominated chef Bun Lai, Prey's concept is simple: eco-eating. And with less than two weeks left in its all-too-short run, the pop-up isn't exhibiting any signs of creative fatigue—or failing to provide superb date-night conversation fuel.
Everything seems to be coming up "eco" these days—and the culinary scene isn't immune to the trend. But Mr. Lai isn't just exploring the overdone farm-to-table movement here. His aim is to reverse some of the damage that humans have inflicted on the predator/prey relationship by putting invasive species on the menu, along with local sustainable seafood and items that are indigenous to Florida—most of which he hunts, dives for or forages himself.
"It's not enough to make food that is tasty and beautiful," he said. "Food must also nourish and revitalize our bodies and souls, while helping restore balance to our profoundly suffering planet. I am fortunate to have partners for this pop-up that share in my culinary vision."
The affinity for conscious eating is a family affair. His mother, a nutritionist by trade, launched a catering company from what was then the family's small apartment that eventually became Miya's, a wildly successful, 35-years-and-counting experiment in sustainable eating. Located in New Haven, Conn., Miya's is owned and operated by Mr. Lai, and bills itself as "the birthplace of sustainable sushi."
It's light and satisfying and full of complex textures and tastes—the type of meal suited to Alice Waters acolytes, with a South Beach aesthetic.
Now, Mr. Lai has brought that affinity to the 1 Hotel rooftop. A stunning affair located 18 stories above the sands of South Beach, Prey boasts white couches set against reclaimed wood, with swaying palms overhead. At night, ocean and sky form an inky horizon, making one indistinguishable from the other, and accentuating the impossibly turquoise water of the 1 Hotel's lengthy pool. Breezes seem to naturally catch the tables and banquettes here, providing a refreshing harbinger of the feast to come.  
And it's a curious feast, to be sure. It's light and satisfying and full of complex textures and tastes—the type of meal suited to Alice Waters acolytes, with a South Beach aesthetic.  Veggies get their day in the sun (or moonlight) with the Sargasso Salad, a slightly sweet mix of wild and cultivated seaweed, and the Karma Virtue Chickenots, a crispy counterpoint to the seaweed that is composed of sesame-marinated vegan "chicken" made from amaranth, peas and organic soy beans. Lionfish, an invasive species that is overtaking coastal waters along the U.S. eastern seaboard, takes on new life here as thinly sliced sashimi. Ribs from the better-known invasive species, Asian Carp, are baked in a ginger-guava sauce, creating a transformed into a delightfully unique dish. Sushi aficionados will find solace in pole-caught Washington state albacore tuna, which tops a traditional roll filled with Florida shrimp and avocado.
For heartier appetites, the Cerdo Imperialisita fits the bill. Here, roasted pork from invasive hogs is wrapped in potato skin and topped with cheese, curry and a sunny-side-up quail egg. But it's the Crickleberry Brie, which combines organic crickets with hormone-free cow's milk cheese, that will excite the adventurous of palate. Sake is the potable of choice here, like the Chinese Firecracker, which is infused with cayenne pepper, lemon, lime and cane sugar. Those who prefer their sake in cocktail form are well served. The Bonobo Boom Boom Juice mixes the aforementioned Firecracker with tequila and passionfruit, drawing its name from the prolific and complex sex life of the Bonobo monkey. But hey, what's in a name?