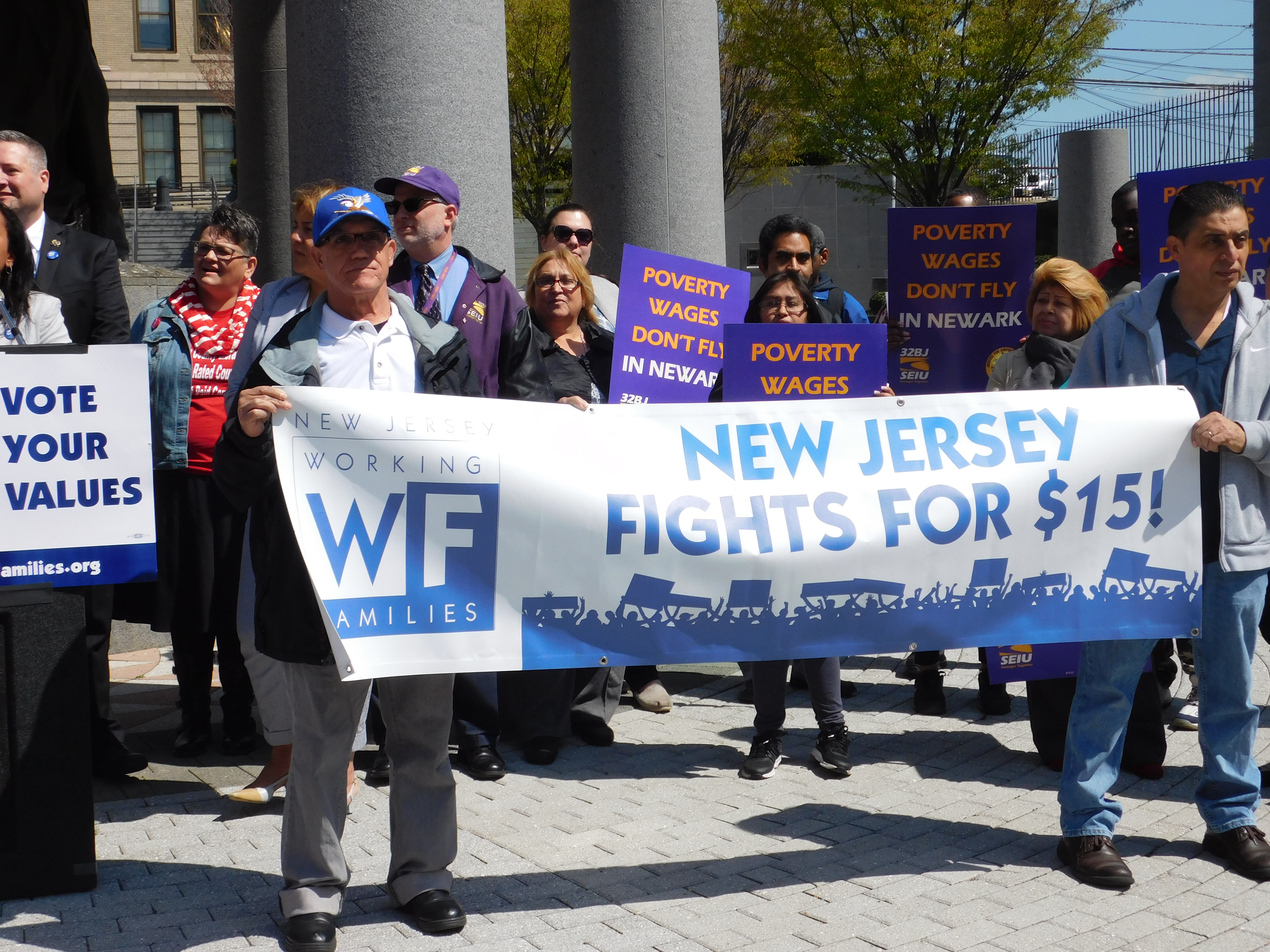 TRENTON – Fake money rained from the sky in front of the Trenton State House on Thursday as labor workers and New Jersey Working Families joined together to empty—and then wreck—a piñata in the likeness of presidential candidate Donald Trump and New Jersey Governor Chris Christie. The piñata was a symbol of the perception to groups have of Christie and Trump's policies on boosting the minimum wage to $15 per hour, something that Christie says he will not consider signing into law in New Jersey.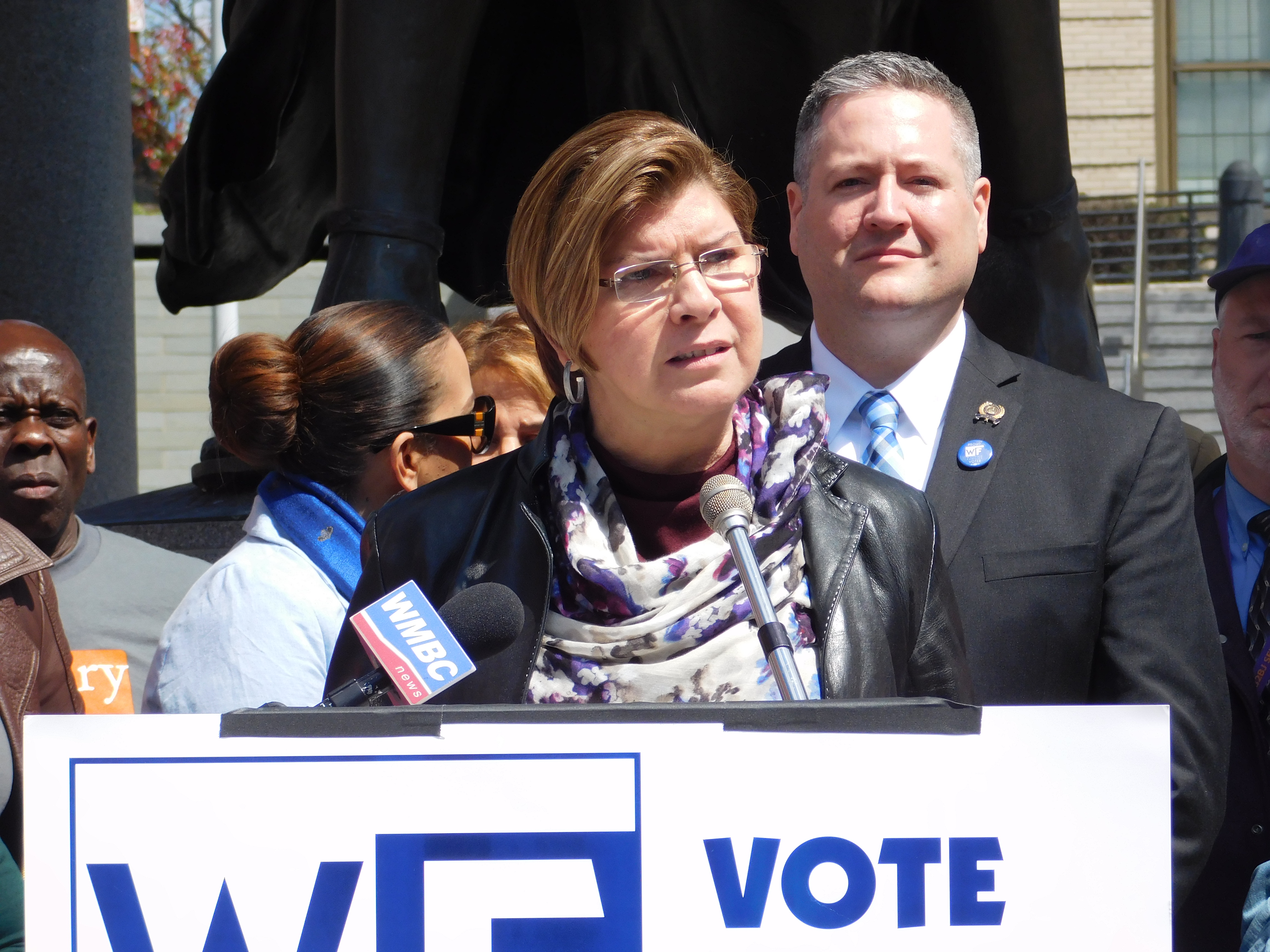 Thursday marked a national day of action in the Fight for Fifteen movement. All across New Jersey and the country low-wage workers and supporters are pushing for the minimum wage to be boosted. After the Trenton rally, attendees entered the State House to lobby legislators in an effort to shore up support for an increased minimum wage boost in New Jersey
Executive Director of New Jersey Working Families Analilia Mejia lead the crowd in chants of support for the boosted wage.
"It is shameful that across our state engines that should be raising up New Jersey Workers are creating poverty," Mejia said of the large corporations that employ low-wage workers in New Jersey. Those workers include airport workers and food service workers.
Also there to support the day of action was state Senator Nellie Pou (D-35), Assemblywoman Angelica Jimenez (D-32) and Assemblyman Dan Benson (D-14). Not present but cited by Mejia as issuing support were state Senator Ray Lesniak (D-20_, former Assembly Speaker Sheila Oliver (D-34) and Assemblywoman Shavonda Sumter (D-35), among others.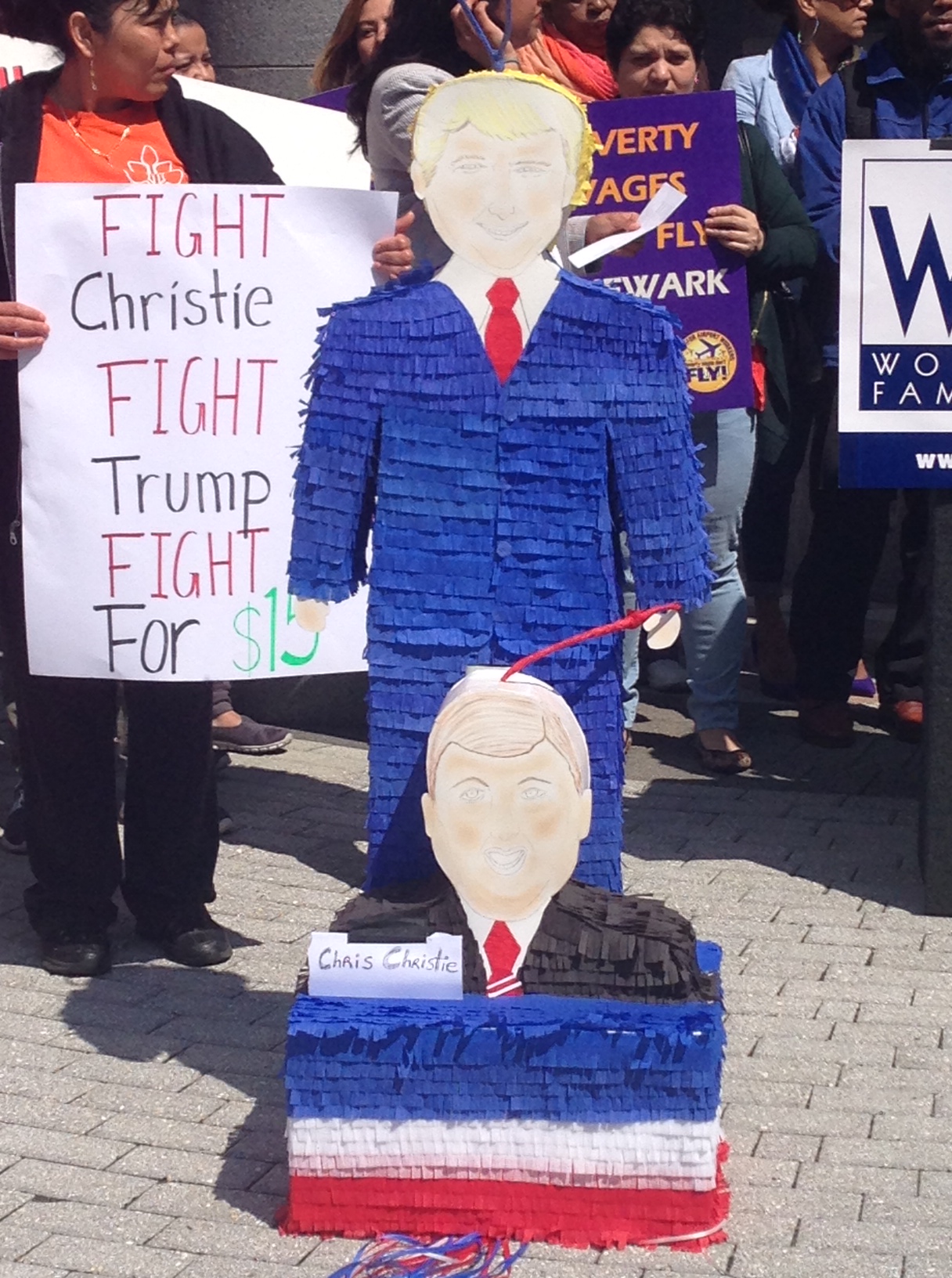 Representatives from the union groups 1199 CWA and SEIU 32BJ were also present. According to SEIU 32BJ's Kevin Brown, boosting wages is critical for economic stability in New Jersey.
"If you raise the floor, you raise everybody," Brown said.
New Jersey is a high cost of living state. While the minimum wage is above the national $7.25 minimum at $8.38 per hour, Working Families cites estimates by United Way that a New Jersey resident needs to earn a minimum of $13.78 per hour to afford food and shelter and earn $19.73 an hour to achieve "basic economic stability."
This month, both New York State and California advanced proposals that would gradually boost the minimum wage in those states to $15 per hour.
Senate President Steve Sweeney (D-3) also issued a statement in support of the Fight for Fifteen. The statement read:
"I want to join with the SEIU, other unions, advocacy groups and all the working people of New Jersey in giving our full support in 'The Fight For $15.' This is a fight for every working man and woman and their right for a fair wage and the basic right to be treated with respect and dignity.
"The National Day of Action is a reflection of this fight and it shows the determination to bring a living wage to the hard-working people. We are part of a national effort to bring the minimum wage to $15 an hour. New Jersey is a leader in this effort. We want to show the country that New Jersey is a place where working people are paid a fair wage for their hard work and where minimum wage workers are able to support themselves and their families."