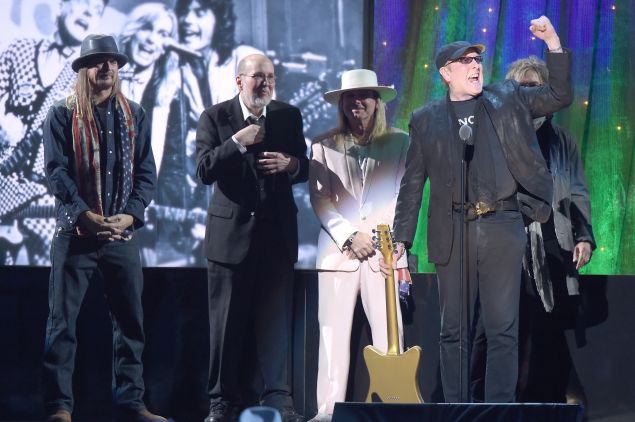 Walking into the Barclays Center from Atlantic Avenue and I can't help but notice how many grown men with ponytails surround me. In an arena that usually boasts long-suffering Nets fans and rowdy Islander followers, fans of good old fashioned rock and roll are gathering to honor some of rock's greats. Tonight's inductees include the likes of Cheap Trick, Steve Miller, Chicago, and Deep Purple. In other words, your father's CD collection. (They're also honoring N.W.A., more about this later.)
Once inside, the arena is buzzing and I hurry to my seat on the floor in order to make the "7 p.m. SHARP" start time my ticket warns. Suddenly, a voice comes over the loudspeaker to tell everyone to get to their seats, and the proceedings don't kick off until 7:30. Because what's more rock and roll than starting late?
Hour One
As the show opens with Kimbra, The Roots and David Byrne belting out a rendition of David Bowie's "Fame" to honor the late rocker, I can't help but look around me. The dress code said "rock and roll black tie," whatever that means. Some revelers are clad in tuxedos, while others wear leather jackets. Metallica's Lars Ulrich is our first speaker of the night, and he introduces Deep Purple—a band largely known for that riff from "Smoke on the Water." Ulrich gives one of the best speeches of the ceremony, a fact Kid Rock later alludes to while introducing Cheap Trick.
This begs the question: What did Cheap Trick do to deserve getting introduced by the guy behind "Bawitdaba"?
Hour Two
There are two common tropes about this annual induction ceremony: 1) it tends to drag on and on, and 2) the actual induction process is bullshit. Both things seems to be at the front and center of people's minds tonight, especially since we're an hour in and we've only inducted one of five acts so far. Steve Miller, the night's next inductee, is outspoken about the latter issue and the planning of tonight's ceremony itself. I suppose that's the problem with inviting industry veterans with nothing to lose to an event like this.
As opposed to grateful newcomers, these jaded rockers are going to speak their minds regardless of what you think. "The whole process is unpleasant and it needs to be changed from the top to the bottom," Miller says backstage later. "They need to respect the artists they say they're honoring, which they don't," then explaining that the Rock Hall only gave a ticket for him and his wife and if he wanted any additional seats he'd have to pony up a cool $10,000. So the Rock Hall is essentially honoring artists by cashing in on them. How very showbiz.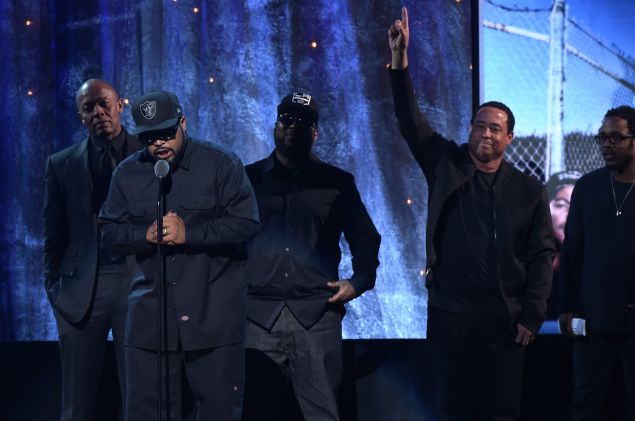 It's now 10 minutes after 9 p.m., and Kendrick Lamar appears on stage to some of the biggest cheers of the night to introduce NWA, who are still taking a victory lap from the incredible success of last year's Straight Outta Compton. Of course, not everyone was happy about NWA's inclusion in tonight's ceremony, which ignited debates about what "rock and roll" is anyway. Is it still rock without a guitar? Is "rock and roll" merely an attitude? Is it rock if you're rapping?
Regardless, Dr. Dre and Ice Cube make a convincing argument during their acceptance speech, with Cube noting, "Rock and roll is not an instrument. It's not even a style of music. It's a spirit. That's what connects us all."
The group is the only one to forgo a performance after getting inducted, with Ice Cube noting in an interview that they felt they "weren't supported enough" to merit a performance. Steve Miller and Cube should stage a coup.
Hour Three
After the guys of NWA depart, so do some members of the audience, forgoing a chance to see Chicago, our next inductees. Introduced by Rob Thomas, the band then performs a variety of their AM radio staples, including "Saturday in the Park" and "25 or 6 to 4."
'If you do drugs, kids, there's a good chance you're going to ruin your life. But there's also a really good chance you'll end up in a band and be rich, bang hot chicks and write really good songs.'—Kid Rock
Now past 10 p.m., the crowd is starting to let loose, but I'm not sure if it was because of Chicago's groovy tunes or the fact the waiters have now started to to uncork the bottles of wine that are sitting on each table. (Also on the tables? Cheese, grapes and macaroons; the three food groups.)
The '90s power couple of Tom Hanks and Michael J Fox are sitting together near the stage, and Hanks can't get enough of what's happening on stage, mouthing the words to many of the night's songs. A few tables back, pretend music industry veteran Bobby Cannavale from Vinyl is enjoying the proceedings as well, no doubt scoring a ticket since an edited version of tonight's show will be broadcast April 30 on HBO.
Hour Four
Finally, it's the moment no one's been waiting for. A tipsy Kid Rock climbs up on stage and gives a rambling speech that includes him spitting out his nicotine gum and saying gems like, "If you do drugs, kids, there's a good chance you're going to ruin your life. But there's also a really good chance you'll end up in a band and be rich, bang hot chicks and write really good songs."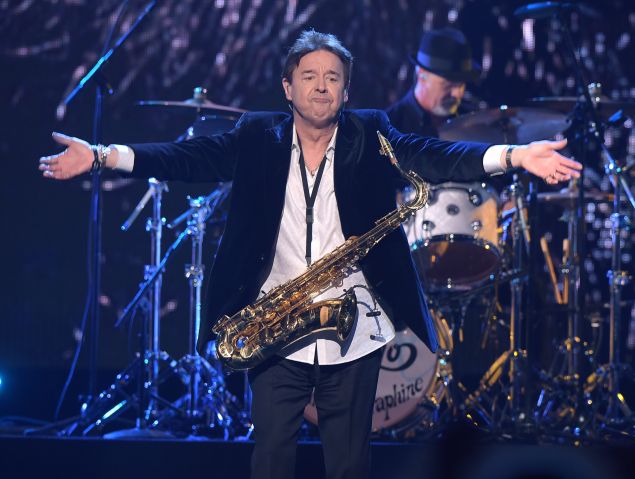 Our night's final inductees, Cheap Trick, then bust out signature tracks "I Want You To Want Me" and "Surrender." Hanks can't get enough, and I can't get enough of Hanks not getting enough.
The proceedings end with the customary all-star jam, of course without NWA who left the arena long ago. Little Steven is up there, as is Sheryl Crow, who paid tribute to Eagles frontman Glenn Frey earlier in the night with a cover of "New Kid in Town." (Kid Rock is either passed out or smoking a cigarette somewhere.)
However, the final song is plagued by sound problems and the night ends on a low note. As people start to shuffle out of the arena and into the Brooklyn cold, I start to make my way through the throngs of ponytails and tuxedos. With focus turning to next year, time will only tell who the Rock Hall chooses to complain about this for 2017.