When it comes to high street brands, Ann Taylor isn't usually a shoo-in for trend focused styles. Usually Topshop or Zara comes to mind when hunting for affordable au courant pieces, such as sculptural jackets and cropped, flared trousers. But, for just a moment, consider Ann Taylor. The brand synonymous with board room-apropos pencil skirts and sensible shift dresses does have a fashionable edge: Austyn Zung. The Oscar de la Renta and Balmain couture alum stepped into the executive creative director role at Ann Taylor this past October, after spending five years as creative director at LOFT. Her Spring/Summer 2016 range from the brand was dubbed a success by a handful of media outlets. And her latest Fall/Winter offering, which was revealed to editors last night, follows suit.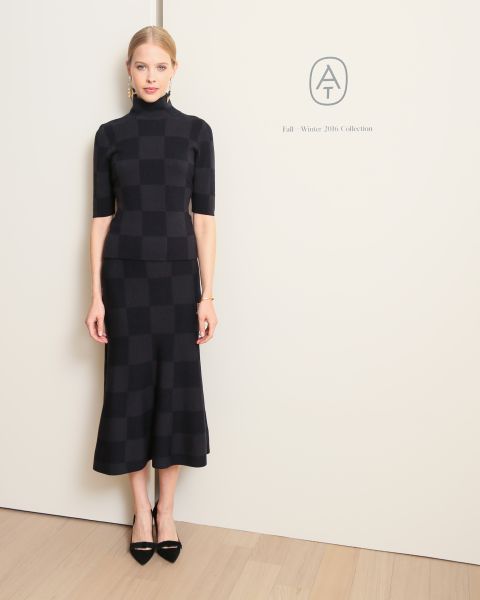 The brilliance of Ms. Zung's work is that in its entirety, it reads as very fashion-forward. But dissect each carefully styled look, ponder the individual pieces and wearability factor becomes obvious. A black-on-black checkered mockneck, paired with a matching trumpet skirt could be mistaken for hailing from a designer label. But if the skirt were paired with a white button down, or the top partnered with a simple black pant, both pieces would have a simpler translation, one that feels accessible and not dauntingly high fashion. The same could be said for the navy floral suit. Or the monochromatic nude turtleneck and sharp trouser, sans the shaggy faux fur coat.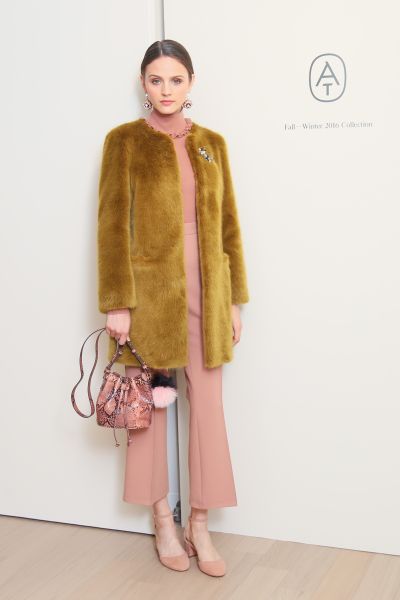 Details in the Fall/Winter collection are simple, with tweaks that keep them in line with contemporary runway offerings. Pants have hems that sweep on the floor, silk scarves are tied around the neck, and colors focus on softly muted nudes. In fact, this range feels like Oscar de la Renta's feminine mystique, adapted for the working woman. The vibe is for a modern lady, one who wants to accentuate her curves and isn't afraid to enrobe them in manageable amount of prints. Finished off with sleek, pulled back hair and a healthy sprinkling of dangling earrings (another signature of the late designer), Ann Taylor just might be next season's go-to for refined, almost trendy purchases, that don't won't the bank.