If you look at Los Angeles with a certain lens, you might think the land of salad and iced tea has turned into the land of avocado toast and iced tea. But L.A., at heart, is really a burger town. From the longstanding dominance of In-N-Out to old-school operators like the Apple Pan and Bill's to the new generation of meateries like Father's Office and Plan Check, this is a city that gets its thrills from grills. The unyielding hour-long line for the new Shake Shack in West Hollywood rivals anything we've seen for the, well, avocado toast at Sqirl.
And that's just the beginning of the city's burger renaissance. Here are four new-school contenders, which you can pair with all kinds of adult beverages instead of iced tea. (Yes, bone broth counts as an adult beverage.)
Burger at Fundamental LA
Nick Erven's rarefied homage to the grease-bomb burgers many of us grew up with is proportionally perfect, such an ideal balance of meatiness and cheesiness and tanginess. Mr. Erven blends chuck, short rib and brisket for a patty he tops with American cheese, caramelized onions, bread-and-butter pickles and Thousand Island dressing.
"In my opinion, the best burgers are the greasy, fast food versions," Mr. Erven says. "So this is our version of those filthy delicious burgers."
Before Mr. Erven joined Westwood's Fundamental LA, he made his mark at Saint Martha, where he served ultra-creative, elegantly composed dishes. He made granola with chicken skin and served beets with avocado, curry almond streusel and coriander. And guests drank lots and lots of wine from the sharply curated, all-over-the-map list.
At Fundamental LA, Mr. Erven is on the same modern path, offering black garlic panisse with yuzu aioli and togarashi—and then taking a kale-and-avocado salad to the next level with habit-forming pickled radishes. GM/wine director Alicia Kemper has long run a restaurant for oenophiles (she even has a monthly wine-delivery club). Want to pair a delightfully messy all-American burger with a big European red? She'll have ideas.
Double cheeseburger at Button Mash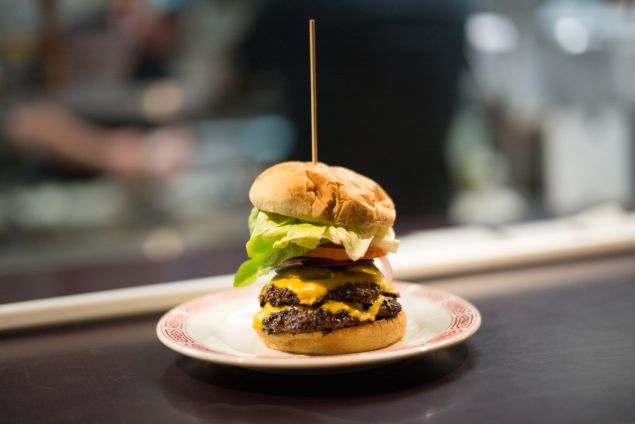 Is this the best double cheeseburger in L.A.? That's not the question you need to ask. Is this the best double cheeseburger you can get in L.A. between rounds of craft beer, shots, Punch-Out, Rampage and Donkey Kong? Hell yes.
Nguyen and Thi Tran of Starry Kitchen are in charge of the food at this Echo Park bar/restaurant/video arcade, and they're slinging a top-tier burger along with their famed stoner-fusion Asian dishes. This well-charred burger is what you want Whataburger and Steak 'n Shake to taste like, a better version of what you ate at your football-powerhouse college when you were studying or fucking around or managing to do both at the same time. Button Mash's blend is chuck and sirloin, the pickles are made in-house, and there's also American cheese, Boston lettuce, tomato, red onion and mustard on the Bimbo bun.
It's not fancy, it's not multi-culti, it's blissfully basic, what Nguyen Tran calls "just a classic fucking tasty burger." Yes, Button Mash has set the wayback machine to awesome.
Wagyu burger at Alexander's Steakhouse
You know how meathead snobs like to mention the funkiness and mineral tang of a burger? Well, go to the bar of Alexander's Steakhouse in Pasadena, eat the wagyu burger and see if you can find better words to describe this luxurious creation. Like the Black Label Burger at New York's Minetta Tavern, this is a burger that's willfully over-the-top without being stupid. There's no foie gras, truffles or gold leaf. What you'll get at Alexander's Steakhouse is chef Matt Bata's blend of wet-aged beef, Wagyu trimmings and dry-aged trimmings. It's topped with camembert cheese and a ragu made from even more dry-aged trim that really brings the, you know, funk. The meaty madness continues with mayonnaise made out of rendered bone-marrow fat.
This is a ball-out restaurant, an outpost of a Northern California destination that likes to meld Asian flavors with American steakhouse classics and once earned Michelin stars three years in a row. So order hamachi shots or crab fried rice along with this bar-only burger ($16 before 6:30 p.m., $26 otherwise). Then dig into the deep wine list or have ace barman Erik Lund suggest a cocktail. You might just discover that Taiwanese whisky pairs well with a mineral tang.
BBQ Fast Burger at Belcampo West Third Street
The West Third Street outpost of Belcampo Meat Co., the high-end chain of butcher shops/restaurants that sells sustainable meat from its own farms, is the only place where you can get chef Brent Thomas' wonder of a burger with beef trimmings, smoked pork fat, grilled red onions, cheddar cheese, BBQ sauce, horseradish and lettuce.
Like the SmokeShack at the West Hollywood Shake Shack about a couple miles away, this is a smoky, sweet, spicy, sensational burger with its own point of view. Unlike the SmokeShack at the West Hollywood Shake Shack about a couple miles away, getting the BBQ Fast Burger might involve only a couple people ahead of you in line. There's no alcohol at this Belcampo, though, but kombucha, Stumptown cold brew and bone broth all go down easy enough.