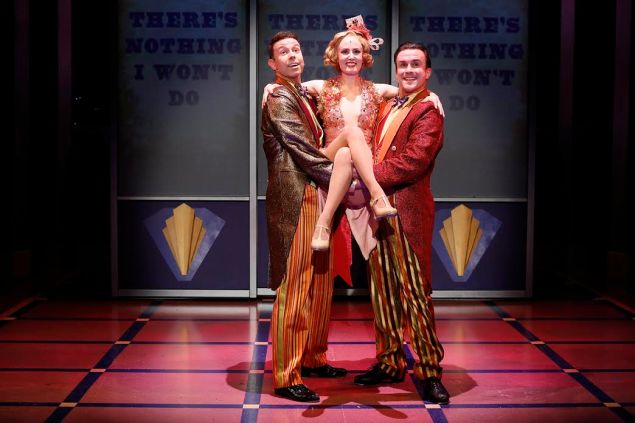 Psycho, gangster, female impersonator, gentleman farmer, patriotic tap dancer, humanitarian defender of right-wing causes, musical wunderkind James Cagney wore a lot of different hats in his phenomenal career. (Playing Lon Chaney in the film Man of a Thousand Faces, he even wore them on a lot of different heads.) If they ever made a movie about his life and his impact on the history of motion pictures, the only star who could have played James Cagney would have been…James Cagney! The new off-Broadway musical called—what else?—Cagney doesn't come close to telling the whole story, but an amazing star turn by Robert Creighton brings pieces of it to life with so much vibrancy and excitement that the chapters fit like the remnants in a patchwork quilt.  
This show is so full of vitality, swirling feet, crowd-pleasing songs and dances that you have to look at your Playbill to believe so many characters filling the stage are played by a supporting cast of only five people. Under Bill Castellino's direction, with busy choreography by Joshua Bergasse, they're like the mobs that climb out of one miniature car in the center ring at the circus; they just never stop coming. Peter Colley's book collates the many scenes of Cagney's life, from his discovery at the tail end of vaudeville during the Depression through his Hollywood triumphs and disappointments, through 48 years of stardom, using the night in 1978 when his mentor and adversary Jack L. Warner presented him with the Lifetime Achievement Award for the Screen Actors Guild as a frame for Cagney's life story. You see the great scenes (Cagney smashing the grapefruit in Mae Clarke's face, which was not in the script) and hear the choice lines ("Say your prayers, mugs!" and "Top of the world, Ma!"). And you feel the struggle as James Francis Cagney, a short, stocky Irish lad with red hair and a penchant for hoofer who wouldn't step on a bug, became an unlikely superstar, fighting the image of a hard-boiled tough guy, trying to stay true and honest and stand up for integrity, fighting Jack Warner's demand for typecasting at Warner Brothers. You want to cheer when he finally breaks out of the gangster flicks, lays down his machine gun and wins an Academy Award as George M. Cohan in Yankee Doodle Dandy.
But even after bringing glory to the studio, Cagney was forced back into roles as safe crackers, hoodlums and jailbirds by his boss, who is depicted as a slave-driving, penny-pinching control freak who said things like "actors are a dime a dozen." Cagney, like fellow Warner contract player Bette Davis, never walked away from the battle. The show follows him to Washington when the House Un-American Activities Committee accused him of being a Communist because he wrote a check to help the Scottsboro Boys' defense fund and to the front lines with Bob Hope to entertain the troops after Pearl Harbor. And there's an interesting coda that delves into his greatest disappointment—the failure of his own production company to make arty, serious films the public wanted to see. So he went back to the top of the exploding gasoline tank in White Heat surrounded by cops, and made history.  
You learn a lot about both the man and the artist in Cagney, with an assist by Robert Creighton that can only be described as a star-making turn. He has the same build, the same forehead, the same staccato vocal inflections and facial expressions. And he wrote some of the music and lyrics on songs like "How Will I Be Remembered?" There isn't much breadth in the score or the staging of the numbers, which is mostly perfunctory, but when Mr. Creighton leaps and taps and soars his way through the George M. Cohan classics like "Give My Regards to Broadway," "Harrigan," "Yankee Doodle Dandy" and "You're a Grand Old Flag," you get the quickest lesson in how to stop a show since Joel Grey in George M. Cagney used to worry about how he would fit into history after he retired to his farm in Dutchess County: "How will I be remembered when they run my final reel? Killers and villains and heels."
Too bad he didn't live to see Cagney. It remembers him with nothing but joy—and plenty of it.
***
How is the appalling state of the New York theater ever going to improve if valued, respectable institutions like Playwrights Horizons continue to commission a pile of pretentious drivel as deadly as Antlia Pneumatica? The title alone should warn you of the dreck that awaits you, but if you are foolish enough to venture forth anyway, be prepared. It begins with the sound of clinking glasses. Somebody is mixing a drink. It's only lemonade, but you hope it's something stronger, and before this ghastly load of gibberish by Anne Washburn ends, you'll pray it's for you.
A Big Chill set in a remote ranch house near Austin, Texas, the palaver gathers a disparate group of estranged 40-somethings to celebrate the funeral of an old acquaintance who may or might not have committed suicide, terminating a life of disappointment. Nothing much is known about his last days except that he refused to face the inevitable—leaving behind no plans for wills, epitaphs, choice of burial arrangements or cremation, not even a power of attorney. Instead, he left behind a dull list of posthumous requests labeled "When I Die." We have to listen to every one of them. An interminable discussion of these issues ensues that drags on for an hour and 45 minutes without intermission, interspersed with much cooking, many reminiscences about stars and constellations, and some boring songs that could drive you to drink. Every actor except one calls pecans "PEE-kons" instead of emphasizing the second syllable. No pecan grower or any other authentic Texan, man or woman, would be caught dead saying anything but "puh-KAHNS." And no real director would allow an actor to say, "PEE-kon," either.
A child's voice offstage stretches out the time singing a long and very obnoxious song about an ant. One scene in the dark is devoted to identifying constellations, including the one in the title, named by a French astronomer in the 1700s. There's another ridiculous and impossibly long scene about oatmeal, as well as an extraneous story about a stranger in muddy boots who arrived at a wedding feast and ate all of the pound cake. Relationships between the characters are so thinly outlined that you end up knowing nothing about any of them. The mourners have grown apart, but we don't know why. The author displays no knowledge of the pace of change most people learn in a first-semester playwriting seminar. Anne Washburn, a name I hope to forget as soon as I shake the cobwebs out of my brain, writes dialogue like "I don't think the night sky is the same without the scent of mothballs" and "obscenity is a dish best served piping hot."
By the time they stopped making coleslaw and guacamole and fried chicken long enough to lose the white box containing the dead friend's ashes, I had lost the thread of what anyone was talking about. The set is a kitchen under a pecan tree with real pecans that fall down on the wooden floor, making a kerplunk noise. Kerplunk, kerplunk, kerplunk. The actors—and the nuts—are all directed by Ken Rus Schmoll (say that name 10 times without a breath and you get a prize) with a meandering limpness that resembles the aftermath of a stroke. No single actor in the six-member cast of Antlia Pneumatica sustains enough interest to be memorable, but lovely Annie Parisse is the only one who pronounces "pecan" accurately.