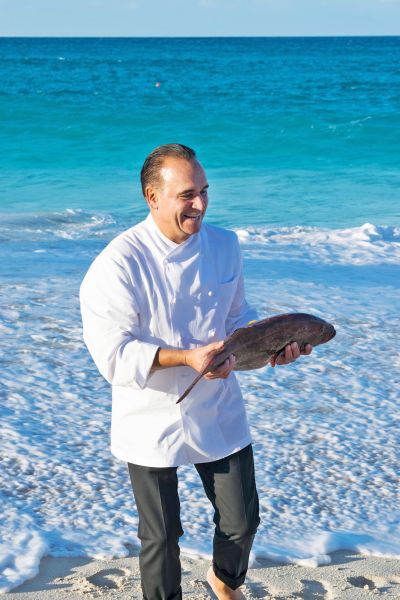 At the One&Only Ocean Club in the Bahamas, Jean-Georges Vongerichten's Dune Restaurant remains the crown jewel, after opening 16 years ago. It attracts locals and tourists alike, thanks to the buzz surrounding Mr. Vongerichten's presence. "The water's actually wavy, but nice," he told us on a trip down the Bahamian way, as he paused to take in the ocean view. Mr. Vongerichten visits this property two or three times a year, but given his portfolio of 30 eateries, 11 of which are in New York, even two yearly visits can be hard to accommodate.
Mr. Vongerichten might be one of the most famous chefs in the world, but there is not a single style or cuisine he subscribes to. He cooks from a classic French core; his success at local adaptation has made him internationally known. Although his touch his obvious, he lets the ingredients speak for themselves. "I love the challenge of creating a restaurant here, and working with the locals," he said.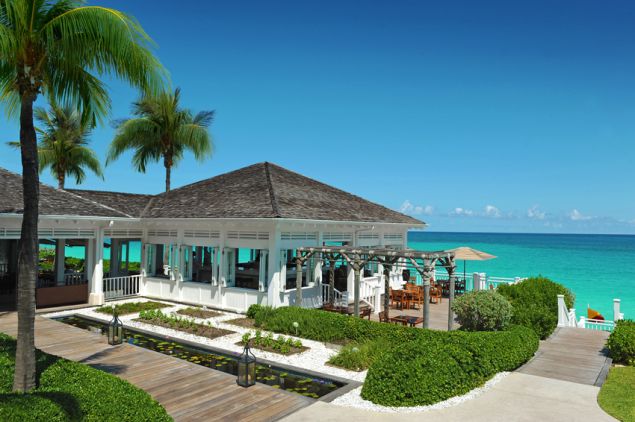 At Dune we dined on conch ceviche and filleted snapper caught earlier that day. The herbs come from a local woman named Teresa, whom Mr. Vongrichten chose as an exclusive grower for the resort, thanks to the fertile volcanic soil on her homestead. Such is the case for his other outposts like JG Tokyo in Japan, where he sources the best fish from Tsukiji Market or One&Only Palmilla in Los Cabos, where he seeks out the perfect vegetables such as kale, tomatoes and arugula from Tamarindo Farms.
"We have a global brand, but we're local in content," he said. "It's important to be sustainable, and to use what's there." With his accent, "this" sounds as if it's being uttered by a cartoon caricature of a French chef—ziss.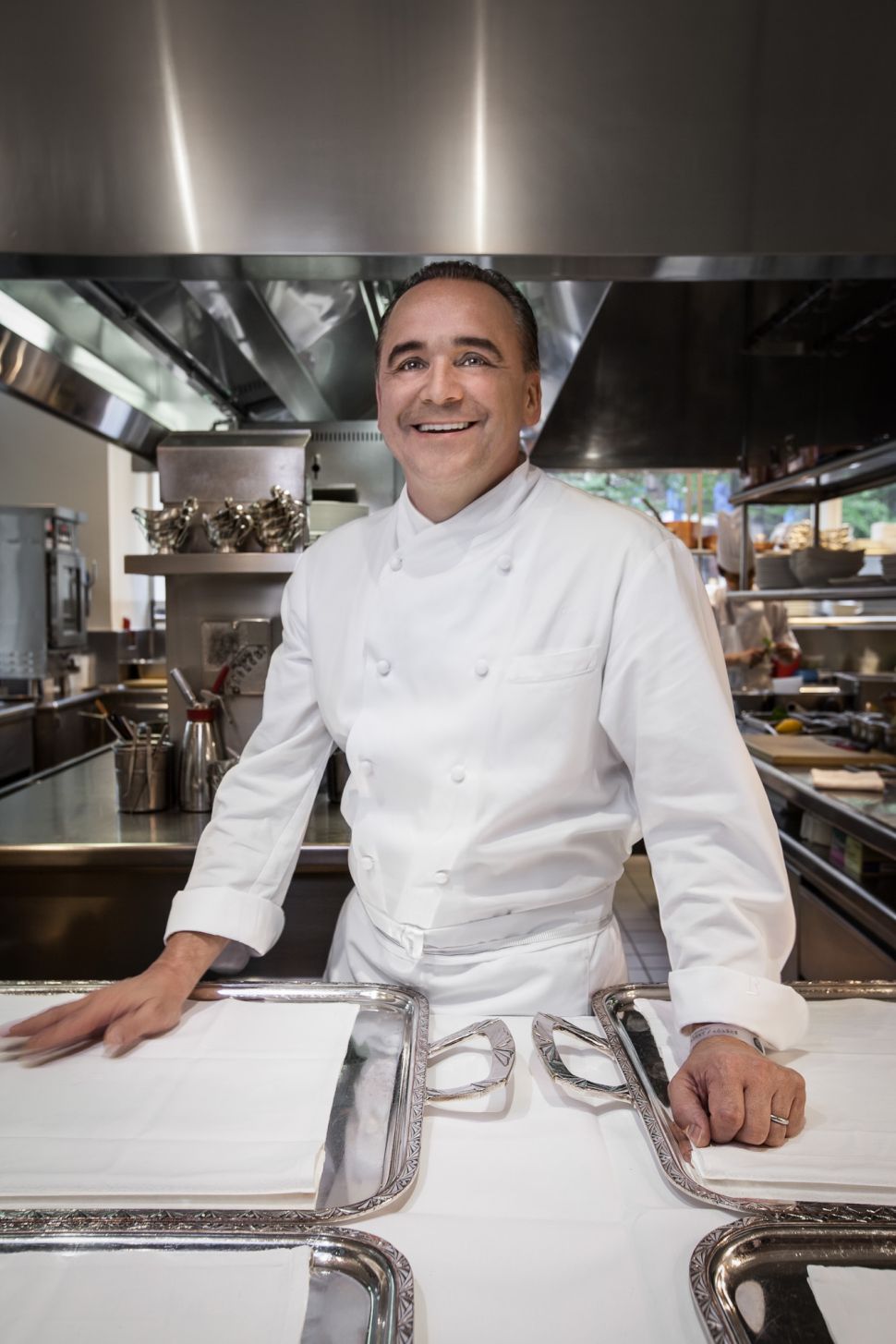 Though he adapts, one common vein throughout is his mission to bring luxury to the relative masses in an approachable way. It's done through his dishes, without any added kitsch or dilution of flavors. "Truffle is a luxury today, because it's more rare," he said. "In the old days, in Périgord or Provence, when people would find truffle, the peasants would slice up some bread, put some butter, slice some truffle, put some salt on it. It was a peasant dish. It became a luxury dish because of the rarity. Caviar is another one. We put caviar with potato!"
The world has wholly gravitated toward these democratic ideals in a natural progression to a new frontier—The United Arab Emirates. "I never think about the business," he admitted. "The business comes after. You have to pursue your passion, and that's my passion–cooking, the entertaining part, because I think restaurant food is entertainment. I love watching people eat. When you have a passion, and you create things, and you see people enjoy it, the money and the business comes second." Business is booming though. Some of his outposts employ over 200 servers, and require 11 months of secured rent. "You can't bounce any checks," he said with a laugh.
It's never been about the business, even before he became successful. In his formative years in Alsace, France, Mr. Vongerichten fondly recalled the many birthday parties he threw for his siblings. "When I was a kid I would entertain all of my cousins, brother, sister—I would organize all of the birthdays. It was amazing. The food was the last thing on my mind. It was all about little things like making sure I sent the invitation, the lights, the music. The entertainment part, the pleasing part, was always my passion."
It was all child's play until his 16th birthday when Mr. Vongerichten's parents treated him to a celebratory dinner of his own at the three Michelin-starred L'Auberge de L'Ill in the small village of Illhaeusern, France. "That was it," he said with a wave of his hands. "I saw that food was entertainment in the restaurant. We were a big family, with three generations living under the same roof, so we never went to restaurants. It was always 15 people so it was too expensive to go and eat together, but I went with my parents that day when I turned 16. I saw the ballet of the waiters, and saw you could make a living out of food."
Now, in addition to passing the culinary torch to his three children, Mr. Vongerichten wants to reapproach his love of entertaining in an unexpected way. "My next project…" he paused briefly to rethink his phrasing. He had a sly smile and raised his eyebrows. "I'd love to do a hotel one day. My dream was always New York, but construction is so expensive now in New York that you would have to charge a fortune. All of the hotels built there now are mostly luxurious because they have to charge $1,000 per night. So maybe somewhere on the beach or next to a rice field, I don't know, but for me that is the ultimate pampering. In a restaurant, the people stay with you for two or three hours. When you have a hotel, people stay overnight for two or three days and you can really take care of them, and really push it to another level."