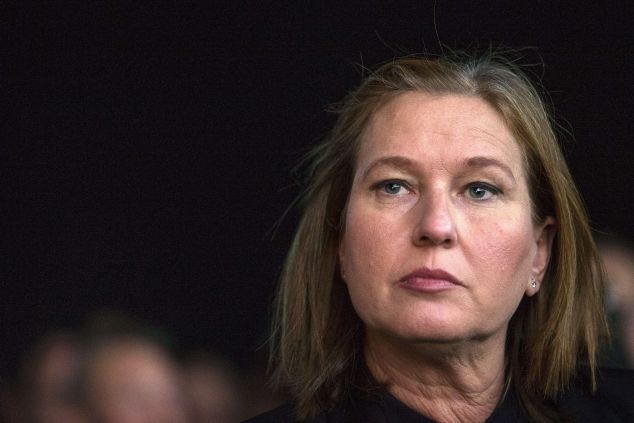 On Thursday, April 14, at an event at Harvard Law School, third year student Husam El-Qoulaq asked Tzipi Livni, a former Israeli minister and member of the Knesset why she is "so smelly."
In reaction to this comment, the former President and current co-Presidents of the Jewish Law Students Association at Harvard published a statement condemning the anti-Semitic rhetoric. Husam later apologized.
Today I received the following email from a Jewish third year law student at Harvard:
"Hello Progressive Jewish Friends,
A group of students has drafted a letter to try to help Husam El-Qoulaq — a quick google search will show he's in a pretty horrible position at the moment. Whatever you may think of his methods of protest, those of you who know him know that he's the last person to ever harbor bigotry of any kind, including anti-Semitism. The feedback he's gotten is that having reasonable Jewish voices speak out and say that can really make a difference in these cases. We already have a pretty substantial group of signatories but are hoping for more, which is why I'm reaching out to you this fine evening. We're going to publish tomorrow late morning, so the deadline for telling me you'd like to sign is tomorrow at 10am. No need to respond if you're not on board — I'll go ahead and assume you're a late sleeper. 🙂
Very Best,
[Name Redacted]"
The Observer is declining to print the name of the person who sent the letter. The Observer had originally declined to print Mr. El-Qoulaq's name and is only doing so now that it's been widely disseminated. The author of this story, a third-year at HLS himself has refused to add his signature to the letter.
Here is the letter itself, in full:
A Letter in Support of Husam

We, the undersigned Jewish students, write in support of our friend and peer Husam El-Qoulaq, and to condemn the vicious efforts we've seen to defame his character.

At a recent panel on Palestinian-Israeli negotiations (which notably featured no speaker representing the Palestinian cause), Husam spoke out in protest, as he often does.

To add some context that has gone largely unreported, the target of Husam's protest that day was Tzipi Livni, a former Israeli Foreign Minister. Livni played a key role in Operation Cast Lead, a 23-day military operation that was condemned by the U.N. and other credible organizations for the brutality it visited upon Palestinian civilians. In 2009, a British judge even issued a warrant to arrest Livni on allegations of war crimes for her involvement in that operation.

Over the years, we've seen Husam experiment with many forms of engagement on this issue, from handing out informational fliers to asking pointed substantive questions at events. Earlier this semester he tried a different tactic, calling a Palestinian speaker a "smelly liar." He did the same with Livni, asking her during a Q&A how it could be that she was "so smelly."

We understand those who criticize Husam's words as disrespectful, reckless, or inappropriate, and we know that he would probably agree with all of those critiques. But based on our own personal experiences with Husam, we reject the charge that our friend is an anti-Semite. Knowing Husam, we could all see that his aim was more mischief than malice. He said more about this in an apology he posted in The Record:

"I am writing to apologize, as sincerely as I can via this limited form of communication, to anyone who may have felt offended by the comments I made last week. . . . I want to be very clear that it was never my intention to invoke a hateful stereotype, but I recognize now that, regardless of my intention, words have power, and it troubles me deeply to know that I have caused some members of the Jewish community such pain with my words. To those people I say, please reach out. Give me an opportunity to make it right. I will assure you, as I have already assured many, that had I known it was even possible that some listeners might interpret my comments as anti-Semitic, there is absolutely no chance that I would have uttered them."

Though it should be obvious, we are not condoning anti-Semitism. We have all felt the pangs of anti-Jewish prejudice at some point. We strive to vigilantly confront anti-Semitism wherever we see it, and we know from seeing him do it that Husam does too.

But we are also persuaded beyond all doubt that charges of anti-Semitism have been dangerously overused. We despair at seeing the persistence of anti-Semitism in the world. But we also hate to see political protest against Israel being carelessly conflated with anti-Semitism, because it obscures and silences a great deal of legitimate dissent against a country whose ledger of human rights abuses keeps getting longer.

Husam is now the target of a vicious smear campaign. His name and face have been posted all over the Internet, where hundreds of hateful commenters pile on racist slurs, malign Muslim students at HLS who had nothing to do with Husam's protest, and threaten various forms of violence against Husam. These tactics are part of a sadly well-worn playbook aimed at discrediting and defaming those who dare challenge Israel's abuses against Palestinians.

Husam is one of a small handful of Palestinians on a campus where the prevailing sentiment is to back Israeli actions that he — along with much of the rest of the world — views as war crimes against his people. He is pressured either to keep silent or to speak softly about this crisis. We respect him for refusing to do either. We ask everyone else to think twice before accepting all the ignorant and hateful things that people have said about him.

We stand in support of our friend and peer Husam, and with others peacefully protesting Israeli injustice. Husam did not choose the most respectful form of protest this time, but protest is not always respectful. At root, it's about exposing and confronting injustice, which Husam does with a bravery that we envy.

Sincerely, and Chag Sameach.
Harvard students have now posted a version of the above letter on the Harvard Law Record. Eleven students have signed on.