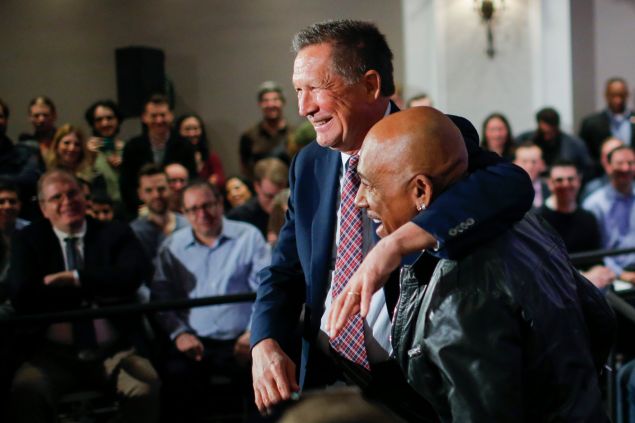 Ohio Gov. John Kasich barely went after GOP presidential front-runner Donald Trump at his town hall in Brooklyn tonight—he had former talk show host and U.S. Marine Montel Williams on hand for that.
The Baltimore native-turned-New York City resident gave an excoriating speech before he introduced Mr. Kasich at an event in Bay Ridge. The daytime TV star laid into the belligerent billionaire for his inexperience and for his suggestion that American troops disregard the Geneva Conventions, utilize torture and attack terrorists' families.
"We cannot turn the reins of the presidency over to someone who is going to do on the job training trying to learn geopolitical politics, and even understand that most of the premises that they have are against most of the conventions that we have signed onto," Mr. Williams said to applause, never mentioning Mr. Trump by name. "We also can't elect a person who and put them in office, and know that the next day they may require our soldiers, sailors, airmen, Marines and Coast Guard department to break the law! And be held criminally responsible for that!"
He also blasted the Queens-born businessman for receiving multiple deferments to avoid serving in the Vietnam War, for his playboy lifestyle in the 60s and 70s and for mocking Arizona Sen. John McCain's capture and brutal interrogation at the hands of the North Vietnamese.
"One in particular made sure he got a deferment," he said. "And then write a book and talk about how you spent time with models, and then turn around and say the people that spent time in Hanoi prison aren't heroes. How dare you?"
Mr. Kasich came out a short while later and applauded his celebrity supporter.
"How about Montel Williams for mayor of New York City?" Mr. Kasich said. The candidate joked later that he would make the author and advocate his vice president.
The upbeat governor, badly trailing Mr. Trump and Texas Sen. Ted Cruz in delegates, complained that he had not gotten attention during "those dumb debates" because he had not made attacks on anybody. But he could not help jabbing Mr. Trump—who is likely to win the April 19 New York primary—at least once.
"People think, 'well, we'll pick Trump because he's not a politician.' He'll have to spend the first hundred days trying to figure out where the bathrooms are," the candidate said.
Billed as a town hall on veterans issues, the event often had the feel of a daytime talk show, with Mr. Kasich dispensing inspirational messages on humble beginnings, tight-knit community values, drug addiction, rehabilitating ex-convicts, greed and even "the book of life." Adding the surrealism of the evening was an apparently staged fight that broke out between two attendees shortly before Mr. Kasich emerged from the backroom, one of whom accused the other of being a Democrat and of spreading lies about his family.
Security removed the two young men from the premises, and Mr. Williams expressed disbelief on Twitter later.
"Ever seen a 'protest' that well choreographed and protesters with obvious training in voice projection? #actors," the host tweeted.
The venue for the event, the Bay Ridge Manor, belongs to the family of local State Senator Martin Golden. An insider from Mr. Golden's office said, however, that he had not endorsed any candidate in the presidential race.
Florida Sen. Marco Rubio's former New York State campaign chair, Assemblywoman Nicole Malliotakis—in whose district the event took place—introduced Mr. Williams. She too has yet to endorse any candidate in the primary.
The Brooklyn Republican Party backed Mr. Trump last month.
Mr. Trump's team did not immediately respond to requests for comment.
Disclosure: Donald Trump is the father-in-law of Jared Kushner, the publisher of Observer Media.