Before he was Juan Wauters—a mellow, sidewalk balladeer and spiritual descendant of Jonathan Richman living in Jackson Heights, Queens—he was just a South American 16-year-old coming of age in Uruguay on the lookout for something good. Then one day, a friend showed Wauters a band called The Ramones.
"It just sounded like nothing I've ever heard before…something really strange," Wauters tells the Observer over the phone. He's at his parents' place in Queens getting ready to board a flight the following day, bound for his native country to play a couple shows. It's his first time doing so as a solo musician, formerly part of lo-fi quartet, The Beets, and now with two records of his own on local imprint, Captured Tracks.  
"There were some guys in the neighborhood that had a wide CD collection and would burn them and sell them to you. I got [Loco Live] like that," Wauters says. "It came in a blank case with the set list on it. I heard it and I was like, 'Whoa!' I never knew much about them. That's around the time that I started playing music, too, and we started to figure out their songs on the guitar."
Wauters has spent the afternoon filming a tour promo with some friends and combing through old family photos of his first days in New York City. One of them is a picture his brother hanging from the scaffolding of CBGB's like monkey bars, sometime in the late-1990s when the now-defunct club and formative home base of The Ramones was on its last legs.
When Wauters immigrated to Queens, he knew "no English at all," he says. But The Ramones became a kind of cultural vade mecum for him. In addition to language classes, Wauters began dissecting their songs as a way to learn English.
"I mean, they're pretty basic, but they help you with the grammar and stuff," he says.
Wauters then found that Ramones—Joey, Johnny, Dee Dee and Tommy—were also from Queens, in nearby Forest Hills. Suddenly, his nascent devotion for the band, born out of a bootleg compact disk, became a vehicle through which to explore his new surroundings.
"I don't know anybody that is like me and my friends from Queens…[The Ramones] could be like somebody that I went to school with."
"We didn't have internet. Like, Wikipedia wasn't a thing yet. You had to look at a book or hear from someone about things. So, there was a whole mystery around everything," Wauters says. "The Ramones are kinda like a hidden treasure, you know?"
Up until 2010, the MTA offered what was called the "Fun Pass"—a MetroCard that provided unlimited rides for a 24-hour period. Though aimed at tourists, Wauters used it to his advantage.
"Me and my brother would take the subway and get off at all the different stops—cover up the whole map. Ride the subway all day," Wauters says. "We actually took the train to Forest Hills a couple times to see the neighborhood, and it was just like our neighborhood…but way more quiet and a little more suburban."
Wauters found an apostolistic identity in the band as his own career blossomed, particularly as the early-aughts Brooklyn music scene was exploding.
"I don't know anybody that is like me and my friends from Queens," Wauters says. "I'm not talking about people who live in Queens. More like people that grew up here, went to school here, have their families here—stuff like that. [The Ramones] could be like somebody that I went to school with."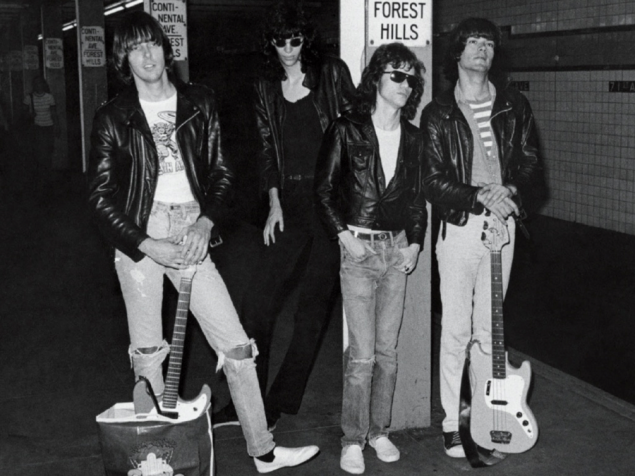 The immediate influence of The Ramones in Wauters' music is less obvious—his instrument of choice is a nylon string guitar, and rarely do his tunes come close to the frantic velocity of Dee Dee's howl of "1-2-3-4!"—but his respect for pop hooks, ear-worm melodies, winking humor and genuine, direct songwriting recalls the Ramones' formula. 
"I love traditional music, like folk music. Not what people call 'folk music,' but more like music of the people," he says. For Wauters, not only is it the message ("the idea of living through life with the 'happy struggle,' you know?") but the universality of their straightforwardness.
"This music is usually simple, and The Ramones kind of follow that. Three chords. Simple melody. People can sing along. People can relate. Kind of like a lullaby, you know?" Wauters says. "It feels like home no matter where you are."
[youtube https://www.youtube.com/watch?v=C1_Gv0UEWUc&w=560&h=315]
And home, whether it be Uruguay or Queens, seems to never be far from Wauters' mind. A collection of his songs are in Spanish—the triumphant "Asi No Mas," for example, is a colloquialistic call for perseverance that works equally inside or outside of the hispanosphere, and in some ways, perhaps, exists as a much tamer cousin to The Ramones' equally anthemic "53 & 3rd." The same can be said of Wauters' "Woodside, Queens," which shares the same kitschy, postcard sentimentalism of Rocket to Russia's "Rockaway Beach".
Wauters hints that he might take a sabbatical from touring this summer, and his venture back to Uruguay is part of the process of centering himself. Nonetheless, his studious love for The Ramones and musical craftsmanship endures.
"I look up to these people. I'm more than a fan. I'm interested in what they've done. Kinda how someone can be interested in George Washington. They're not a fan of George Washington," says Wauters. "Passion is something that's really good in life. I feel like The Ramones had passion. They followed their dream and they followed that up until the end."