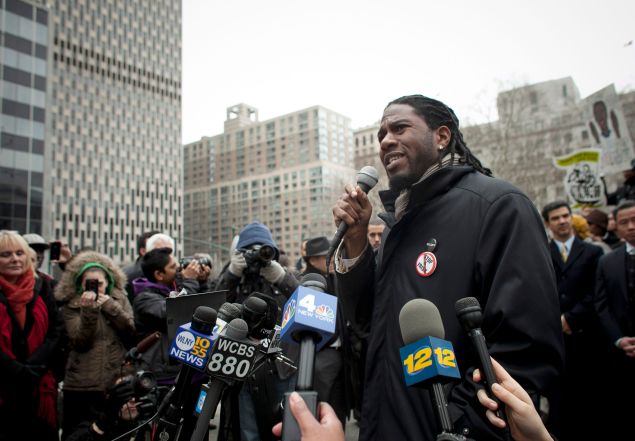 Brooklyn Councilman Jumaane Williams this afternoon became the second member of the City Council to endorse Vermont Sen. Bernie Sanders for president.
Taking the stage at the candidate's massive rally in Prospect Park today, Mr. Williams announced he supported the self-described democratic socialist's bid for the White House. He mocked the Daily News for suggesting Mr. Sanders' was "at war with reality," which the councilman argued was a battle worth fighting.
"I thought to myself, 'you're goddamn right.' Because too many people's reality in this borough, and in this city and in this nation needs to be at war with," he said. "Too many people's reality is struggle. And maybe if you're not at war with reality, you're not focused enough."
The candidate insisted on the value of what he termed a "political revolutionary moonshot."
"From an eight-hour workday, to no child labor, from LGBT rights, to women's suffrage, from the Civil Rights movement, to freeing the slaves, were all revolutionary moonshots. In fact, the birth of this nation was a revolutionary moonshot. The people who say it cannot be done, please move out of the way of the people who are doing," he said. "I'm proud today to endorse the next president of the United States of America, Senator Bernie Sanders, who will bring the revolutionary moonshot, baby!"
Mr. Sanders thanked the councilman by referring to him as "Assemblyman Juwaane Williams" in his speech.
The Caribbean-American Mr. Williams is known as one of the Council's most left-wing members on economic and racial issues, having participated in Occupy Wall Street and Black Lives Matter demonstrations. As a legislator and advocate, he has pushed hard for police reform and gun control—the last being one of Mr. Sanders' perceived weaknesses, as a longtime representative a rural and heavily armed state.
But, hailing from a socially conservative community, Mr. Williams has expressed personal reservations about gay marriage and abortion.
Councilman Rafael Espinal, another Brooklynite, is the only other member of the Council to back Mr. Sanders. Mr. Williams is now the lone member of the Council's Progressive Caucus to support Mr. Sanders. Most other members of the dominant liberal conference have either endorsed Ms. Clinton, like Speaker Melissa Mark-Viverito, or have not backed a presidential candidate at all.
The presidential primary is on April 19. Polls show Ms. Clinton with a double-digit lead in the Empire State, where she resides and which she represented in the Senate, despite dropping seven consecutive contests to her underdog rival.
Mr. Sanders is a Brooklyn native, but has resided in Vermont for 48 years.