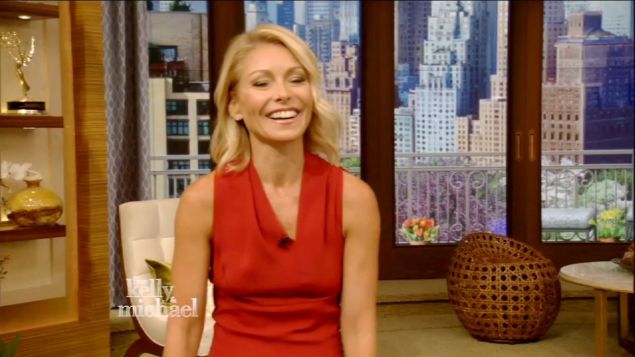 The verdict seems to be in: Kelly Ripa killed it the other morning. She stood alone before the microphones on her show—Michael Strahan off-camera even when she turned to effusively congratulate him on his promotion to Good Morning America—and, her clasped hands twisting together to indicate she was thinking on her feet, she delivered a heartfelt and very believable address to her viewers, explaining her protest-absence on the show the previous Thursday.
For much of the end of last week, of course, she had been called a "diva" who had "gone crazy" and "had a meltdown" after being blindsided by the last-minute news that Mr. Strahan was leaving (months earlier, it turns out, than she was even told at the time) their Live for GMA. Forget that it's profoundly insulting for a co-host who long preceded the departing host to their show (and who had chosen him as retiring Regis Philbin's replacement) to be told at the very last minute that he was leaving their show for Better Things; she was still lambasted for going on strike from her own show. At best, she was called plucky and witty for walking out of her apartment en route to the airport carrying (hint, hint) Malcolm Gladwell's David and Goliath. At worst, she was thought of as a tantrum-throwing brat who had been a mere soap opera actress before the big break that pays her somewhere between $15 and $20 million a year.
It was forthright, humble, honest—and funny. She thanked her viewers for standing by her; she said she'd needed a few days to collect her thoughts; she acknowledged that the network had apologized and that she had accepted it; and, with a sincerity that drained the sentiment of any cliché, she hailed the incident as starting a conversation about respect in the workplace. Finally, she coda'd by saying that her sensible working-class father "thinks we're all crazy"—and that she agreed with him. Normally cynical media reporter Lloyd Grove called it "genuinely riveting television—compelling and real." He even went further and termed it "her Gettysburg address." Mr. Grove may have been exaggerating, but he wasn't being sarcastic. I would call it something else: the latest and best Female Reputational Rocky Moment.
What do I mean by this? There's a long history of women, from serious entertainers to reality stars to political candidates, being called lightweights, divas, tantrum-throwers, sluts, bimbos, or annoyingly treacly goody-goods—and then upending the worst of their bad press with a Rocky Balboa-like up-from-under victory: a riposte of any length that displays humility, wit, honesty—any one or more of these—that puts the insulting party in his or her place and makes you think anything from "Great comeback!" to "I never thought I'd say this, but…I like her." Think our current Democratic Presidential frontrunner, eight years ago, upon hearing then-primary opponent Barack Obama (in a rare off-tone moment) opine, "You're likable enough, Hillary." Her reply was simple: "That hurt my feelings." Point, Ms. Clinton—and a big one: Her plainspoken minimalism accentuated his condescending pomposity.
[protected-iframe id="d7a622c2ee966ec54df524e2e6904c6e-35584880-59143305″ info="//platform.instagram.com/en_US/embeds.js" class="instagram-media"]
To go from sublime to the, um, less so: When Kim Kardashian posted a nude selfie of herself last month and Bette Midler and other respected women safely (who is lower-hanging fruit for ridicule than Mrs. Kanye West?) tweeted their caustic if humorous disapproval at its tackiness, Ms. Kardashian surprised many by writing back an exasperated, hurt—and lengthy—response to the constant judging of her by other women. "I don't do drugs, I hardly drink, I've never committed a crime," she pleaded, then went on at frustrated length about how her sex tape had dogged her for 13 years. "I shouldn't have to be constantly on the defense. ….It's 2016. The body-shaming and slut-shaming—it's like, enough is enough….You be you and let me be me." She ended with "#HappyInternationalWomen'sDay." Even the web Bible of snark-feminism, Jezebel, was so struck by the earnestness, exasperation, and self-defense that poured out of the usually bland and silent Ms. Kardashian, that the item writer, JE Reich, admitted to being "almost in tears."
Since it is underestimated women who are most susceptible to public ridicule, a good tool for Rocky moments is self-deprecation—roast yourself before the eager critics can, be shockingly honest and then use the audience's dumbstruckness to deliver a feminist statement. Case in point: When, in 2006, Katie Couric became CBS Evening News anchor, replacing the embattled Dan Rather, the first time a female had filled any of the three hallowed 6:30 anchor seats, the difficulty with which some diehard Cronkite worshippers took the news that a "perky" female morning show host could fill the great man's chair made it easy for the lowliest tabloids, the Enquirer and Star, to do what they would never have done to a widowed male news anchor: Spread it over their front pages that that anchor was dating a younger person. But Ms. Couric was considered fair game. So what did she do when she was chosen as honorary commencement speaker at Princeton? In cap and gown, looking out at the sea of distinguished professors, her first lines were that she was "proud to be a tiger"—Princeton's mascot—"because I've been called a cougar a lot." Having served up the lowest, and most unfair dirt dished on her, she went on to give a rich and funny speech, full of feminist scolding for Princeton's shortsightedness in never having a real female eminence—a Secretary of State, a Nobel-winning scientist—before lazily choosing her. Rocky moment and teaching moment in one.
Sometimes a Rocky moment can be silent and invisible, manifest in the underestimated woman's own good works, rolled out over the long haul. Way back in 1985, when Sally Field won her Best Actress Oscar for Places In The Heart and famously shrieked, "You like me! You like me!" her oversharing of her insecurity became a gaucherie, a punchline, with which she was tarred for years. (It's still a meme, and when people say they're having a "Sally Field moment," you know what they mean.) But decades of excellent film performances erased that stinging ridicule and her Rocky moment was built on slow-cooked action, not fast rejoinder.
Much more recent was a similar case with Taylor Swift. Two years ago, the unimpeachable Amy Poehler and Tiny Fey tag-teamed the tall, blond singer-songwriter—then still the considered a prim Barbie by the hipoise —by making fun of Ms. Swift's thin-skinnedness over Ms. Poehler's too-close-to-quite-be-funny wisecrack about her at an awards show. (The latter had said Ms. Swift should stay away from Michael J. Fox's son, in a veiled reference to Ms. Swift having dated Bobby Kennedy Jr.'s son, a high school student.) "There's a special place in hell for women who don't support other women," Ms. Swift later told Vanity Fair writer Nancy Jo Sales, and then all the cool people lined up behind Ms. Fey and Ms. Poehler. Now, two years later, Ms. Swift is considered a serious feminist, a major force in protecting recording artists from streaming exploitation, an actual rather than wannabe New Yorker, and, well, a nice, sophisticated person who has a select posse of genuine (and glamorous) women friends. She graduated from joke-butt to someone to sit up and pay attention to. Silent Rocky moment.
When do maligned or ridiculed women's attempts at righting their reputational ships fail? When they defend themselves by sniping at others. Back in 2009, Ashley Dupre, the would-be singer who had been working as a prostitute when her client Eliot Spitzer was famously arrested (and resigned the governorship) in 2008, became a New York Post dating advice columnist. When people ridiculed her (while, by the way, Mr. Spitzer was making a handy comeback in business and politics), she was justified in wanting to make the point that someone who had been prostituted had the right to not be tarred by that for the rest of her life. Only she did it the wrong way: by putting down other women for allegedly using men as sugar daddies and manipulating them to get expensive clothes.  Rocky moments don't work like that.
Nor for what Rielle Hunter did. The former mistress of John Edwards (with whom she has a child), Ms. Hunter took a swipe at his late wife, Elizabeth Edwards in her book, two and a half years ago, referring to as a "witch on wheels." Hunter's publicist Rose Terenzio, who does crisis and reputation management for many celebrities through her RMT Management, told Ms. Hunter to immediately fully and publicly apologize—in the media. She did so, in Huffington Post. "I behaved badly," was her first sentence, soon followed by, "I am very sorry for my wrong, selfish behavior."
For the record, Ms. Terenzio thinks Kelly Ripa's performance on Tuesday was "brilliant. She brought it to her audience, not to the media. She was funny, warm, witty, engaging."
If there's a precursor to Kelly Ripa's Rocky moment, it, too, happened on morning TV, a few years ago. In 2013, Anne Hathaway—long (unfairly, I think) disliked as a goody goody—exited the limo at the premiere of Les Miserables in such a way that, unfortunately, exposed her apparent lack of underwear. The media pounced, and the next day, Matt Lauer told her, "We've seen a lot of you lately." Now, Ms. Hathaway would go on to win the Oscar for her performance, in an extremely arduous role, one for which she lost an almost dangerous amount of weight, virtually shaved her head, and sang opera in a one-take shot. Her spontaneous response to Lauer's opening remark was brilliant: The "obviously unfortunate incident…made me sad on two accounts." One, "that we live in an age when someone takes a picture of a person in a vulnerable moment and rather than deleting it, sells it. And I'm sorry that we live in a culture that commodifies sexuality of unwilling participants, which brings us back to Les Miz, because that's what my character is [all about]."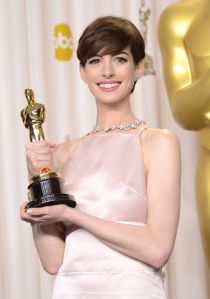 Hathaway's dignified response to Lauer's snide sexism was the hinge that turned her from someone to ridicule to someone to respect. And she used the key word "vulnerable moment," which so often underpins these female Rocky comebacks: Ms. Couric's intentionally proffered one, Ms. Kardashian's stumbled-on one, Ms. Ripa's affect on Tuesday. "It's a matter of being able to access your vulnerability and present it as a strength," said Dr. Jane Greer, Manhattan-based psychotherapist, author and host of the radio show Shrink Wrap. "So you're not blaming or attacking but simply saying, 'This was the impact you had and it was upsetting to me.' You become a role model of strength and intelligence—to react that way and not in anger is very, very powerful." Like a Rocky punch, but,well, you know, sort of the Zen opposite.
Kelly Ripa's riposte came at an opportune moment, said Dini von Mueffling, whose eponymous company works with high-profile individuals like Monica Lewinsky, companies and non-profits. "Women have had enough," Ms. Von Mueffling said. "They are really tired of being told how to look, what to say, of their appearance being made what matters. Ripa absolutely nailed it in her comment: that this is about respect. So how does a female celebrity accomplish this? She is grace under pressure. If she isn't, if she gets angry, she is labeled a shrew. The double standard is reprehensible and no longer acceptable. Ripa said she needed a few days to decompress so she wouldn't say something she regretted. She was absolutely right. The stakes for women are still that high."