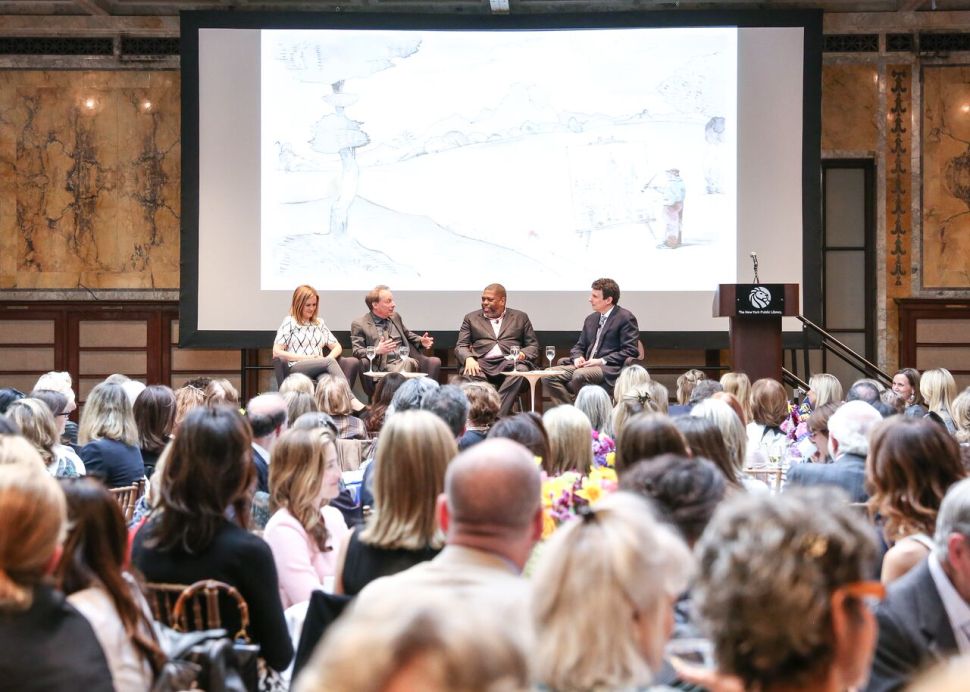 The motif of the annual Library Lunch earlier this week was a "A New York State of Mind," but in the vein of Edith Wharton rather than Billy Joel or Jay Z. The 35th annual fundraiser for the New York Public Library, held under the Beaux-Arts style domed ceiling of the Celeste Bartos Forum, certainly harkened back to an age of innocence.
Elegant women of a certain age, whose hair could only have been set on the Upper East Side, and their younger counterparts, clad in cheerful wrap dresses, chatted over daintily plated slices of chicken and salads. Boldface names like Fran Lebowitz, Candice Bergen and Tom Wolfe were strategically seated among the patrons.
Tables, designed to reflect the theme and purpose of the luncheon, were festooned with New York-related literature and enough trinkets to fill a Times Square tourist trap. Miniature monuments, novelty items, disassembled puzzles with colorful pieces of hometown attractions, playbills, newspapers and vintage maps were arranged in a carefully casual fashion around blooming flower centerpieces. A sealed can purporting to contain authentic New York air was remarked upon but not opened.
"Shhh, it's a library," said Tony Marx, the president of the New York Public Library, interrupting the din to start the program— a panel moderated by New Yorker editor in chief David Remnick, featuring comedian Samantha Bee and New Yorker staff writers Adam Gopnik and Hilton Als. The magazine, for the fourth year in a row, served as the benefit's literary partner.
Event co-chair Zibby Right, daughter of Blackstone Group CEO and major NYPL donor Stephen A. Schwartzman, took the stage in the building that bears her father's name to drum up contributions. Enclosed in gift bags, nestled between the most recent issue of The New Yorker and a gift-wrapped leather pouch donated by the British brand Asprey, was a donation card to for a plaque on a seat ($5,000) or table ($50,000) in the Rose Main Reading Room, which will reopen in the fall.
In keeping with the event's theme, Ms. Bee and the three New Yorker men discussed their own New York stories. Mr. Als, an essayist, magazine writer and theatre critic, was the lone native New Yorker in the group. Both Ms. Bee and Mr. Gopnik are Canadian transplants.
"You feel like you could eat a sandwich off the street," Ms. Bee replied, when asked about her hometown of Toronto. Her first year in the city, Ms. Bee said that she and her husband consulted a guidebook for restaurant recommendations, and were confused to continually find themselves exclusively dining at establishments less hygienic than the streets of her hometown. The guidebook, they eventually realized, was aimed at budget-conscious backpackers.
Not surprisingly, the anecdote was well received by the crowd. Ms. Bee, after all, is a seasoned performer. After 12 years as a correspondent on The Daily Show, she now hosts her own show satirical news show, Full Frontal with Samantha Bee, which premiered on TBS in February.
The talk quickly turned to neighborhoods, as all New York story inevitably do.
"I never leave the Upper West Side," Ms. Bee said. "West Side, Best Side—I know no one here agrees with me," said Ms. Bee.
"I'm guessing slightly east," Mr. Remnick, also an Upper West Sider, replied.
No conversation about New York, especially one by New Yorkers who live on the Upper West or East Side, is complete without a mention of the banks and Duane Reades that have colonized the city. "And T-Mobile," Ms. Bee added.
"What are they selling at T-Mobile?" wondered Mr. Remnick.
According to Mr. Gopnik, who served as the panel's Upper East Side representative, the situation is similar on his side of the park, except boutiques that sell French baby clothes stand in for discount cell phone stores.
Mr. Gopnik, who has gotten a lot of material out of his children over the years, told a story about something charming that his son, Luke, said when he was eight. Later, he related another story about something equally charming that his daughter, Olivia, said when she was three.
The author of From Paris to the Moon recounted how he and his then girlfriend, now wife, left Canada for New York on a bus "like in a bad movie," and rented a basement apartment in Yorkville, which he said was the size of the area rug beneath the panelists.
"Nowadays, of course, everyone goes immediately to Brooklyn," he said. "It's a kind of sentence you are given the moment you arrive."
"By sentence, you don't mean a jail sentence," Mr. Remnick interjected.
"Well, sort of a jail sentence too, of another kind," Mr. Gopnik quipped.
Mr. Als hails from East New York, a section of Brooklyn that, as Mr. Remnick noted, is one of the few New York neighborhoods that has not been gentrified.
Asked about his feeling about the wave of gentrification that has swept through other parts of the borough, Mr. Als gave a thoughtful answer about complexities of class and privilege.
"The reality is that if you don't grow up middle class," he said, "you can't really separate life changing in the city from you catapulting yourself out of your own circumstances. I don't think it would be fair for me to say that I'm pro or con gentrification, it's actually the geology of the city and it changes.This geology reflects my own ability to morph, too. So I can't extrapolate and say it's better or worse, unless I say I am better or worse."
As the discussion drew to a close, Mr. Remnick brought up the presidential race. Even in the old New York atmosphere of a public library benefit, the subject is hard to avoid.
"It's like a welfare program for journalists," Mr. Remnick said, of the primary. "When you can just trace a very small hand and call it a New Yorker cover, that's good stuff."
Mr. Remnick brought up Ted Cruz's jab about "New York values." Mr. Gopnik pointed out that the term used to be code for "Jewish," a subtlety apparently missed by Mr. Cruz. "To double the madness of it, I think, if he suspects anything, he thinks Donald Trump is Jewish," Mr. Gopnik said. As the room erupted in laughter, Mr. Remnick admitted that he had also been under that impression for years.
After the panel, the crowd filtered out into the bright spring sunlight. Tom Wolfe walked slowly towards the exit, leaning on a wooden walking stick with a carving of a wolf. "It's a self-portrait," he explained.
In keeping with the panel's theme, I asked the author about his neighborhood. "I live on the Upper East Side. My kids call it 'upstate,'" he replied. His daughter lives downtown, and his son lives in Williamsburg, where, Mr. Wolfe said, everyone is under 30. That afternoon, Williamsburg felt like a distant planet.
As the room emptied out, attendees clutching flower arrangements circled the tables, stuffing books and props into their goody bags. Walking by a table with a pile of old Subway tokens, I couldn't resist pocketing a souvenir from a different kind of old New York.