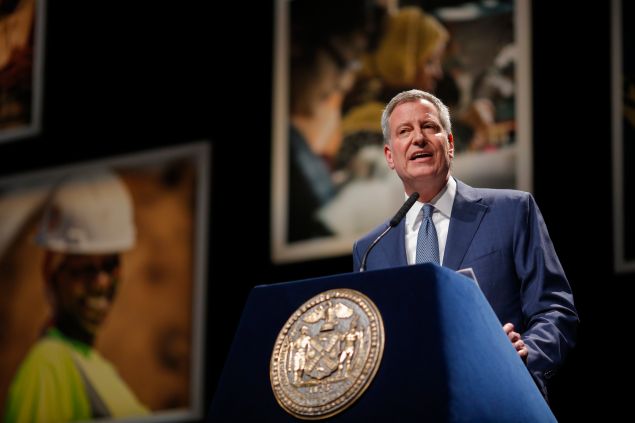 Mayor Bill de Blasio is throwing a lifeline to homeowners treading water with their summer utility bills.
The administration proposed an automatic $183 discount on water and sewer bills for some 664,000 households across the five boroughs today. The mayor also called for a $250-per-apartment credit for affordable rental buildings.
"For decades the city has been using the water bill as a cash cow for the general treasury. That's not right," the Mr. de Blasio said in a statement, reiterating an argument he made last week at a Staten Island town hall where a man asked for a moratorium on water rates. "The water bill should be for one thing and one thing only—the cost of water."
To pay for the credits, the mayor waived the Water Board's annual rental payment for the city's pipeline infrastructure, which the administration estimates will reduce the cost of water and sewer services by $244 million this fiscal year. The board has leased the system from the city since 1985.
The mayor's office said the $183 credit will help nearly 205,000 Brooklyn families, almost 277,500 Queens households, some 110,500 Staten Island homeowners, roughly 65,500 properties in the Bronx and approximately 6,300 payers in Manhattan. The $250 waiver will impact an estimated 40,000 units of below-market housing.
Mr. de Blasio has long struggled with underwater approval ratings in neighborhoods with many single-family homes—communities like Bay Ridge, Brooklyn, where he announced the twin credits today. He has sought to keep aqua costs from rising, even apparently floating the unpopular proposal to postpone the extension of a third water tunnel to Brooklyn and Queens, which would keep the boroughs hydrated should the decrepit older conduits fail.
The mayor quickly backed away from the idea when it proved a wash with the public.
Today's announcement even won plaudits from Republicans, who offered up approving statements in the mayor's press release.
"When the mayor is right, I say so. This credit will keep hard-earned money for more than 120,000 residents in my district where it belongs: in their own wallets. That's the right move," said GOP Congressman Daniel Donovan, who represents Bay Ridge and Staten Island.
Bay Ridge State Senator Martin Golden agreed.
"I want to thank Mayor Bill de Blasio for including the elimination of the rental payment on water bills," the GOP lawmaker said. "This will help to alleviate some of the financial burdens facing hard working residents."
The administration noted that the proposals require the approval of the seven members of the Water Board. But, since the panel consists entirely of mayoral appointees, the passage of the measures appears assured.