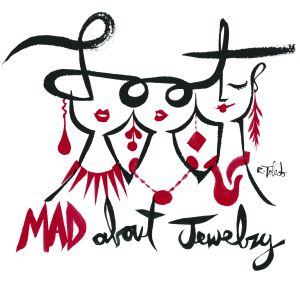 LOOT: Mad About Jewelry, which opens today at the MAD (Museum of Arts and Design) Museum, is a weeklong event that celebrates and sells the work of international emerging and acclaimed jewelry artisans. In its 16th year, 44 artists from 17 different countries were hand-selected by curator Bryna Pomp after months of research, social media searches and old-fashioned word-of-mouth.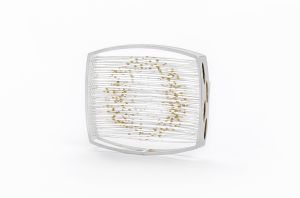 There are some well-known designers like Hervé Van der Straeten, who uses his background in lighting and furniture design to create geometric pieces in 24-carat hammered gold. But this show's mission is to "provide increased visibility for emerging artists," and so the event also includes recent SCAD graduate S.J. Paik's galaxy-inspired senior thesis collection. Using 24-carat gold drops suspended on wire, stars and constellations are crafted onto a striated base that resembles plucked strings from an instrument in the chordophone family.
Jewelry, more so than fashion, is deeply rooted in a tradition of craftsmanship. It is easier to see the connection jewelry has with art, with its focus on sculpture and architectural forms. For some, fashion is too feminized, too ephemeral, to be regarded as true art. But jewelry has an inherent tension between the the hard, masculine edges of metal and the often delicate, feminine aesthetic it produces. While LOOT: Mad About Jewelry is open about its function as a venue for commerce, the commercial aspect does not devalue the jewelry's artistic qualities. Just the opposite: the event is more art gallery than open bazaar. Organizers transformed the Museum of Arts and Design's Jane and Leonard Korman Gallery into what looks like an oversized jewelry store. Glass vitrines holding each jeweler's wares are lined up to create a large "L" shape. Each artisan stands behind their glass display of wearable art, to facilitate interaction with potential customers and collectors. At the back wall, jewelry hangs on the walls in the mode of an art installation.
The jewelry here takes classic jewelry forms and turns them on their head. Alice Clarke, hailing from Yorkshire, England uses wool and feathers to create rustic necklaces and earrings inspired by her rural childhood. American Jennifer Merchant's pop-art pieces are made of acrylic layered with paper printed art by Andy Warhol, Roy Lichtenstein and Richard Riley. She then cuts, sculpts and polishes them into bangles, earrings and necklaces that are vibrant and eccentric; perfect for a woman with a bold personality who is unafraid of standing out.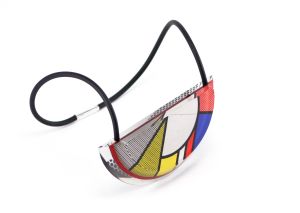 Music is the inspiration behind Irish designer Genevieve Howard's work. Using Japanese linen card stock, she carves musical notations whose graphic edges vaguely resemble piano keys. The finished design becomes the score of some of her favorite songs to perform (she plays the harp and the piano). In a video on an iPad set up by her display, Ms. Howard plays the music for each corresponding piece of jewelry; one of which is "The Song of The Chanter," a centuries-old Irish song which inspired an emerald necklace that drapes around the shoulders (for a dramatic effect, Ms. Howard suggested pairing it with a strapless dress).
Thomas Raschke, a German who works out of Sweden, buys rolls of iron wire, stretches it out, and bends and solders it into wire frames to create minimalist, architectural pieces, that he calls "technical, logical [forms]." But when used in more complex designs, the technique has an odd realistic quality: the chain of a necklace takes the form of a fish whose spindly skeletal structure is visible beneath the smooth, curvilinear lines of its metal skin.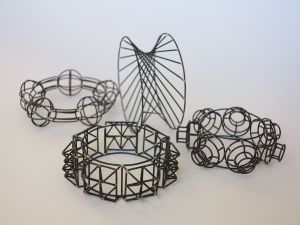 As an added feature, LOOT invited Atelier Paulin, a French company that makes custom wire jewelry, to not only to sell their available wares, but to design custom pieces on the spot. Anne Sophie Baillet and her partner Matthias Lavaux take long rods of metal in silver, gold and 18-carat gold, and twist them into any phrase or word you desire. Atelier Paulin's interactive booth is the jewelry equivalent of having an open kitchen in a restaurant: it gives buyers an inside look into the processes required to create one-of-a-kind pieces.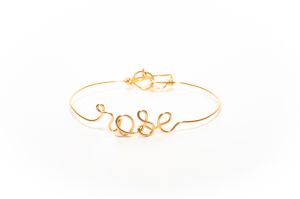 The prices of the jewelry at this event ranges: there are some affordable pieces for as low as $50, but many can sell for upwards of $1,000. But what unites them all is the almost unlimited techniques and unconventional materials used. From delicate, finely crafted earrings to vibrant, sculptural necklaces that seem to grow out of one's neck, there is something here for everyone. Michele Cohen, a LOOT Chair who wore a hand-cut polyethylene necklace by Alena Willroth that had a starched-lace ruffled look resembling an Elizabethan-era ruff, said, "This is my 7th year doing it, and it gets better and better every year."
LOOT: MAD ABOUT JEWELRY is open from April 12-Friday, April 16, 2016
The Museum of Arts and Design is located at 2 Columbus Circle, New York, NY 10019                                    Hours are Tuesday to Sunday from 10:00 am to 6:00 pm                                                                                      and Thursday and Friday from 10:00 am to 9:00 pm
Closed on Mondays and Major Holidays