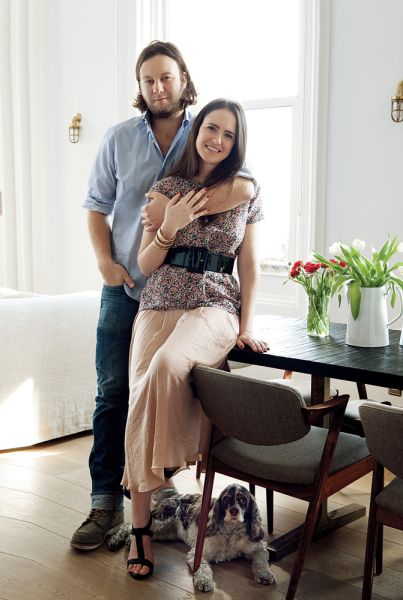 Out with the old, in with the new. Tribeca super couple Matt Abramcyk and Nadine Ferber have decided that it's time to part ways with their condo after just three short years, which is located in—you guessed it—Tribeca!
Mr. Abramcyk, one of the original founders of the first incarnation of the Beatrice Inn, as well as Tribeca spot Smith & Mills and Tiny's, has more recently opened Soho restaurant Navy, while Ms. Ferber is the co-founder of trendy and eco-friendly nail salon Tenoverten—they've done collaborations with such lifestyle brands as SoulCycle, Yes Way Rosé, and J. Crew, and the salon has such features as an iPad offered during your manicure. There are even rooms to host meetings whilst having your nails done.
"They did a complete overhaul of the space," Douglas Elliman broker Brett Miles told the Observer. "Kind of Ace Hotel," he added, "that kind of style, with really cool antique lights and tiling." Well, since Mr. Abramcyk, who previously opened Tiny's & The Bar Upstairs with New York Rangers Henrik Lundqvist and Sean Avery (who's no longer a Ranger, but still), is currently getting ready to open a new Brooklyn hotel, Gowanus Inn and Yard, maybe he was experimenting with the aesthetic.
Renovations to the 2,314-square-foot condo at 161 Hudson Street included a custom designed master suite and second bedroom where they added Dutch and Moroccan tiles, hand plastered wall treatments and paneling in the kitchen, dining room and great room, custom copper lighting, and the addition of new detailed moldings.
"I think they'll always be that couple that's always renovating—they love it. They don't mind it!" Mr. Miles, who has the $5.75 million listing, laughed, "I'm sure as their two kids get a little older, they won't want to do that as much."
"They both have a really good eye. They know spaces really well, and they're quick studies," Mr. Miles added.
Though they might be ready to leave behind this particular Tribeca pad, don't expect them to stray too far—after all, each tenoverten nail polish is named after a street in downtown Manhattan.
"They're ready for another challenge," Mr. Miles said. "They're ready for something else…they're more than likely staying in the neighborhood, though. They are downtown all the way!"