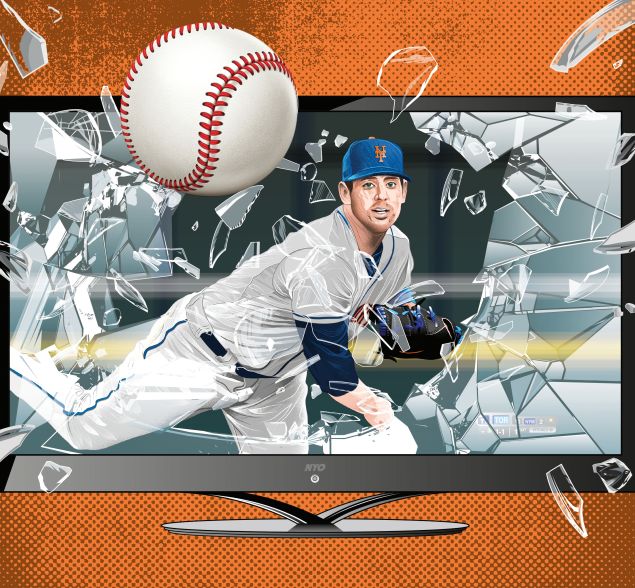 Matt Harvey, the putative ace of what might be one of the best pitching rotations in baseball history, wanders past a row of lockers crammed with uniforms and shoes, gloves and bats, in the clubhouse of Tradition Field. Harvey is virtually alone; most of his teammates are on the field, preparing to take on the St. Louis Cardinals.
Two days earlier, Harvey had made his Grapefruit League debut, his first outing since Game 5 of the heartbreaking 2015 World Series, when the right-hander dominated the Kansas City Royals for eight innings, but then successfully lobbied Mets manager Terry Collins to keep him in the game for the ill-fated ninth. The Royals finally hit Harvey hard, tied the game, and three innings later ended the Mets storybook season.
Many Mets-watchers believe Harvey's reaction to an earlier controversy in the last year over whether he would sit out games to protect his valuable and surgically repaired right elbow spurred him to stay on the mound despite fatigue. But Harvey says his self-confidence and media hype fueled the firestorm.
The 6-foot-4, 215-pound right-hander has no shortage of self-confidence or talent. He  dates supermodels and fires a fastball that averages about 96 miles per hour and will likely boost his salary from the by-baseball-standards-bargain of $4 million annually he will earn this year to a figure that could hit $30 million, and maybe more, per year after team control over him ends in 2018.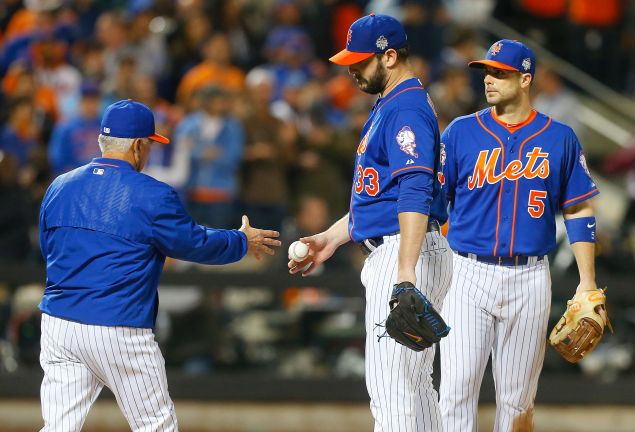 Just 27, Harvey is at a juncture in life when most people are just finding out who they are.  But, as sure as he is about himself, is Harvey mature enough not to let his antics block the Mets' goal of not just reaching, but winning the 2016 World Series? And can he cope with the city's harsh media spotlight?
Case in point: Harvey's recent health scare over a painful clot in his bladder. The subsequent media razzing riled Harvey. The New York Post went to town, with cheeky mock-ups of potential back page headlines like "Whiz Kid" and "Field of Streams." The paper settled on "Urine Luck." The cumulative ridicule prompted Harvey to boycott beat reporters for a few days, and touched off a renewed debate over whether Harvey is a crybaby.
'I've had bad stomach issues from when I was a kid…I had a severe allergy to eggs and that was something that I was eating pretty much every day that was basically poisoning my body'
Harvey's so-so season opener on Sunday—four runs on eight hits in 5 and 2/3 innings—spawned a new torrent of bladder jokes. But after the game, he finally stopped giving reporters the silent treatment. "That's not the way I wanted to start the season," he told reporters of the loss to the Royals.
While he has established, and arguably cultivated, a public persona as a cocky athlete and man about town, underneath bubbles a wellspring of sensitivity. That dichotomy is hammered home by a technical glitch at Tradition Field. Just as he sits back in a cushy office chair in a small conference room to offer a thoughtful analysis of his tempestuous relationship with the fame he both seeks and shuns, the stadium's fire alarm system goes off: "Can I have your attention!" blares a recorded voice over the PA. "Can I have your attention!"
For Matt Harvey, the first twinkle of his most enduring love affair came as a Fitch High School student in Mystic, Conn., regularly taking the train into Manhattan. "In Mystic, there are things you can do, but not a whole lot," recalls Harvey, placing his cellphone on a table with old-fashioned black landline telephones. "As a curious high schooler, I had the opportunity to hop on a train for two hours and be in the big city. Getting off that train and just the feel of it, was something I knew was dear to my heart and some place I wanted to be."
But how much longer he will pitch here remains in doubt. 
Harvey became Public Enemy No. 1 late last summer when his agent Scott Boras floated the idea that his client cap his mound time to 180 or so innings to preserve his surgically rebuilt elbow, a concept introduced just as the Mets began their playoff run. Many Mets supporters, and sportswriters, were in no mood to coddle what many perceived as another spoiled athlete looking out only for himself.
'It hurts me that I have to see those people and give those people interviews that I eventually know are going to end up being read by my mother who is not going to like it.'
Harvey returned to the fans' good graces by publicly ditching the innings limit and routinely flummoxing opposing hitters.
"I think what happened to Wilmer Flores says it all for what we have," says Harvey. He is referencing a memorable moment from last season, when the Mets' shortstop was informed in between innings that the team had just traded him to the Milwaukee Brewers, and then played through tears. Flores later revealed he cried because he dreaded leaving the team (the trade ultimately fell through).
"We're all young," says Harvey of the appeal of playing at Citi Field. "We've all bonded really well. We've all enjoyed playing in New York…"
But it would not be shocking if the famously parsimonious Mets ownership will pressure GM Sandy Alderson into trading Harvey, lest a new contract, negotiated by the infamously hardball negotiator Boras, balloons to unprecedented levels for the team.
Harvey understands baseball economics and is not fazed by trade rumors: "The realization of baseball being a business kind of puts that thought in your head every once in a while," he says when asked if he would be disappointed to be traded to, say, Kansas City.
While much has been made of his childhood affinity for the rival Yankees, Harvey bristles at the notion that he is on a gilded path to don pinstripes.
"A lot of people think that and say that, but I'm in New York and still where I want to be, regardless of what uniform you're putting on," says Harvey, staring a reporter in the eyes. "I'm happy to be putting the Mets uniform on and if it's a career I'd love it. And if it's not in the business plans for the organization…that's part of baseball."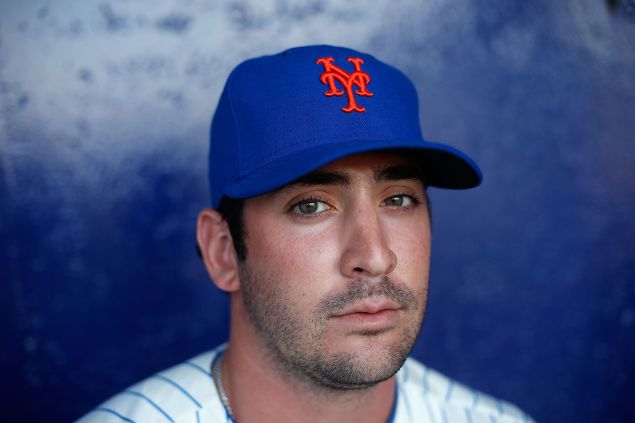 Harvey may still be under contract to the Mets, but when it comes to matters of the heart, he is currently a free agent.
The man linked publicly to models, including, but not limited to, Anne Vyalitsnya (known as Anne V., Ashley Haas and Asha Leo says he is not dating anyone.
He has just moved from the East Village to  a West Village townhouse. He drives a slate blue Maserati, has a lucrative endorsement deal with Mercedes Benz of Brooklyn ("in the winter, I can't drive around in the Maserati," Harvey explains) and he has 24-7 access to private jets, thanks to a business relationship with the aviation membership club Wheels Up.
Still, Harvey disagrees with the perception that he has assumed the legacy of now-retired Yankee shortstop Derek Jeter, who like Harvey was known for being a model-magnet.
"I don't really look at it that way," he says of the Jeter Junior comparison. "Maybe when I was younger, 21, 22, 23…For me, being young, being in a position where I have some decent money, it's more fun to me to entertain my family, entertain my friends and [live] through the excitement of them."
"Obviously, there are a ton of perks," he continues. "Sporting events, Broadway shows, things like that…During Christmastime…I can take my nieces and nephews to The Nutcracker. The excitement I can provide for them, at such an amazing city at such a young age, is something that makes me strive to be better."
Harvey downplays the idea that he is a womanizer, arguing that he sets a high bar for potential love interests.
"I'm very close with my friends," says Harvey. "If someone was to ever come along and be the right person, they would have to get along with my friends."
He laments the intense scrutiny he receives and pines for the "good old days" before social media.
"I've sat down with Derek Jeter and a bunch of other players who played in the old days—not that Derek played in the old days—but he experienced playing baseball without Instagram, without Twitter, without [camera] phones. And the stories that those past players tell about the fun they had…it is so much different now,"  frets Harvey.
Nowadays, "you just have to be more careful," he goes on. "There's not one part of me that wants to go crazy and do anything out of the ordinary but it would be nice to do something and not have it spread all over the place. But that's the world we live in now and you either have to accept it or figure it out—or become a villain, I guess."
Harvey, nicknamed "The Dark Knight," has contributed to his social media feeding frenzy.
Six months after his shoulder surgery, he tweeted out a post-recovery shot, grinning while flipping the bird. The gesture is nearly as common a greeting as a high-five in New York, yet the image caused criticism. And three years ago, his relationship with Ms. Vyalitsnya became gossip-column fodder with speculation that they were headed to the altar but broke up; rumors he contributed to through tweets about picking her up on the elevator at a Rangers game. There were later stories about the demise of their relationship, including a snapshot she shared from Thailand.
Asked if he has ever been dumped, turned down or had his heart broken, Harvey hedges. "I'm sure it's happened," he says, declining to elaborate. "I think someone once told me that you find the right one, it doesn't really matter."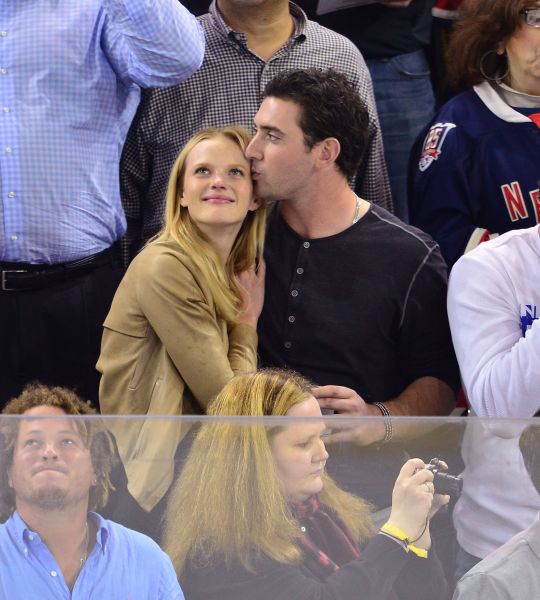 What Harvey will freely talk about is his desire for respect—from the owners, from the media, from the fans.
That's what drove him to become his team's player-representative to the Major League Baseball Players Association (MLBPA). It's also what led him to take part in Jeter's athlete-authored The Players' Tribune website as New York City bureau chief. The site publishes stories and images by athlete-reporters, such as a recent essay by St. Louis Cardinals first baseman Brayan Pena detailing his escape from Cuba to pursue a career in America.
"Something for me that was very important was the importance of us as players, not only as players, but as people, not being treated like pawn pieces of a chess game, and that's why the union was set up," says Harvey.
The MLBPA "is the strongest of any sport, because we as a whole stood up for what we believe is right and what we feel is necessary toward the game of baseball," he says. "We all ultimately know that without us, without the talent we can provide, there is no game."
There's a lot at stake. The chess game that is baseball is a big-time enterprise, with annual revenues nearing $9.5 billion, according to Forbes.
As the two sides start the dance for a new collective bargaining agreement, Harvey , who wears a thin mask of dark stubble, smiles deviously when asked whether he foresees labor trouble ahead.
"That's a great question," he says. "But you'll have to wait and see."
His smile vanishes, however, when he recounts some of the media coverage he has garnered.
"In New York," says Harvey, "There's a lot of things that can be…turned around and used in ways that aren't always true."
"I kind of learned that firsthand," he goes on. "I gave an [interview] to somebody one time, a lot of my words were turned around."
The routine locker-room interviews also frustrate Harvey.
"You give a press conference and they'll pick one word, they'll pick two words," he says. "The media is still out to write what they want to write. As a human being, as a person, it can get frustrating not being able to [speak] your mind."
That's what made The Players' Tribune appealing, says Harvey, who was skewered over last season's innings flap, including by the likes of New York Post columnist Ken Davidoff, who wrote that it was "all about Harvey wanting it both ways and being a nuisance both ways. He surely increased Advil sales among Mets employees with his incessant whining."
It was that kind of coverage, though Harvey doesn't get specific, that led him to write his side of the kerfuffle.
"I think that Derek Jeter and his group came up with a great way for players personally to write every word they want to come across and I think right away, once he and his team had pitched that business…it just seemed perfect," says Harvey. "I obviously know the media side of everything is a business as well."
Harvey understands there is no comparison between his occasional pieces and banging out copy on a daily basis. But having the outlet is an antidote, he says, to some of the distressing things he reads.
"As a son to a mother who really cares and really worries and unfortunately does read all of the crap," he says, "it hurts me that I have to see those people and give those people interviews that I eventually know are going to end up being read by my mother who is not going to like it."
"As a public figure, you deserve to be treated fairly. If it's something you deserve, you deserve it. But if out of somebody either being jealous or not particularly liking you and having the power of the pen to write a certain article, I just think it's wrong."
But the drumbeat of negative publicity over the innings limit was largely a matter of miscommunications, argues Harvey.
"It was never a question of whether I wanted to pitch or not," he says. "I guess you could say when hearing that news and being thrown into a media conference with not enough knowledge on both sides, that was the tough part. If we had, behind the scenes, more time to discuss these issues, then I think they would have been completely resolved. I just think the timing of everything was completely off."
For all the strurm und drang, Harvey, who went 13-8 with a 2.71 ERA in 29 regular-season starts, wound up pitching a total of 216 innings in 2016, including almost 27 in the postseason.
Harvey might have gone into his shell over the bladder issue, but down in Port St. Lucie, he is isn't reticent to talk about another matter regarding bodily functions that would make back-page headline writers do a jig.
"I've been struggling pretty much my whole life with a lot of stomach issues, energy levels and things like that," says Harvey, after a discussion about his interest in one day opening a restaurant in New York with a menu based on his maternal family's Roman roots. "I always thought it was just me. My dad always says his side of family always had stomach issues. This and that, things you really don't want to discuss with people.
"I've had bad stomach issues from when I was a kid," says Harvey, who has tried different cures. "I went gluten free one time, but that didn't really work."
Finally, in January, while working at his agent's training facility in Newport Beach, Calif., Harvey underwent a battery of tests.
"It came back that I had a severe allergy to eggs and that was something that I was eating pretty much every day that was basically poisoning my body," he says.
Since throwing off the yoke of the yoke, Harvey says he has noticed "big-time changes in my energy level, in my sleep. I don't feel bloated all the time. I was constantly feeling bad and I kind of got used to it over the years, but now that I've been off of eggs, now I know how feeling good feels."
For Harvey, part of the mockery over his urine woes was his explanation that it may have been caused because he would hold it in too long.
But apparently there's something else Harvey held in too long.
Resentment.
And it remains to be seen just how much that will sour his relations with his team, the press corps and the city he loves.