Valextra is a storied Milanese leather brand that dates back to 1937, but they've got a chokehold on the modern design scene. Case in point? They've recently debuted a slew of collaborations with architect Bernard Dubois, a Belgian creative who graduated from L'École de la Cambre just seven years ago.
But rather than letting him touch the leather product designs, they've given Mr. Dubois a chance to interpret the brand's DNA on his own terms, with a pop-up display at the Paris department store Galeries Lafayette, in addition to redesigning the Valextra flagship in Milan.
A strikingly simple approach to design helped the young Belgian rise to prominence rather steadily. In 2011, Mr. Dubois received acclaim for his collaboration with La Ville Rayée, a simple marble structure that wowed. Just three years later, he went on to curate the Belgian Pavilian at the Venice Biennale.
Now, Valextra is his latest coup.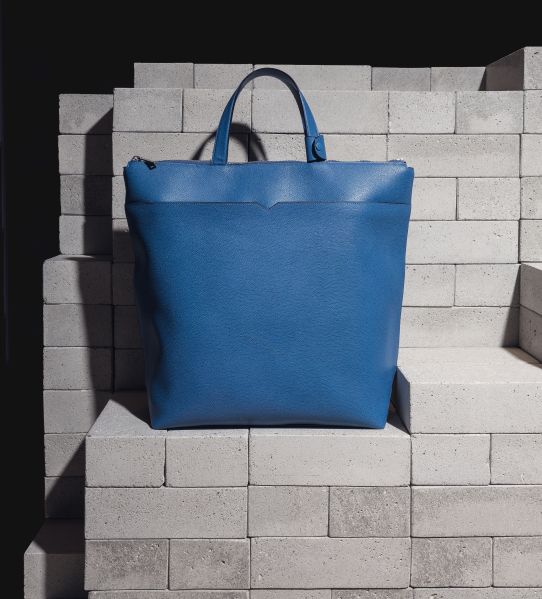 "Valextra's interest in architecture and geometry expresses itself in its own designs. Geometrical shapes, folding bags, a strong interest for rigid forms and angles. Valextra is also very Milanese. It is sober, masculine, sophisticated yet austere, humble yet proud. In this way, the Milanese identity re-joins a certain Belgian identity…it's discreet but refined in a hidden way," he said in a press release, regarding an alignment between his aesthetic and that of Valextra.
For his massive Galeries Lafayette installation, Mr. Dubois was inspired by the "classical and rationalist influences" of classic Italian architects Adalberto Libera and Guiseppe Terragni. The result was an angular grey structure, with columns and ridges, in a nod to Milanese facades. The counter was made from Ceppo di Grè, the grey Italian stone frequently used in the historic city.
https://www.instagram.com/p/BAuIEPYmwYN/?taken-by=bernard_dubois
"Galeries Lafayette was a bit of a challenge because of the location," he told Observer in an interview. "The rest of the environment is busy with other brands and you have to express your identity in a very strong way." So Mr. Dubois decided to place his structure in the very middle of the long, narrow space. Rather than having customers enter the branded Valextra area, they are forced to consider the structure in front of them.

Meanwhile, at the Valextra flagship in Milan, the young architect went with a more colorful approach: the space's three sections were assigned a hue of their own, with a little help from Kvadrat fabrics.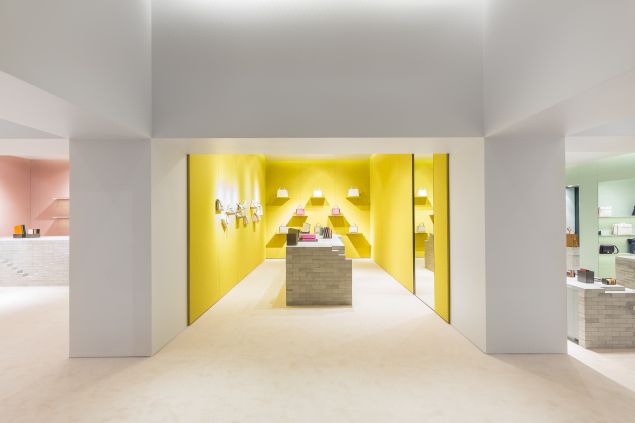 "Before, there was a lot of furniture with great big elements of classical design. The first thing I wanted to do was really remove everything to see and express the structural elements," explained Mr. Dubois.
The aim here was to play with the dimensions of the store, breaking up the shop into three separate rooms. The architect wanted the structural elements of the store to shine, so he covered the floor in powder white carpet and covered the walls in pink, yellow and green, hues he considered to be neutral. And they are, at least in contrast to the vibrant colors of the Valextra leather goods.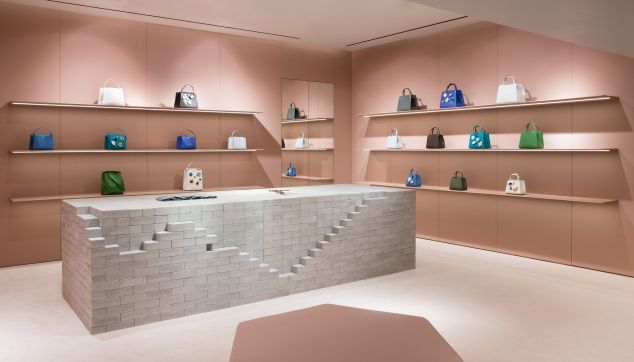 If you thought there was a slight similarity between the concrete structures in both Galeries Lafayette and the Valextra boutique, you are correct. The stacks of bricks were considered for the department store installation, but just as an option. However, juxtaposed against the strong yet simple bags on display from the leather goods label, this heavy brick creation looks right at home in this store.
Whether you find yourself in Milan or Paris this spring, with a thirst to shop for clean, considered leather pieces, keep Valextra's well-designed destinations in mind.