MeetMeOutside is the latest hyper-specific app available for download; now, there's everything from friendship finders to group dating for young partiers. MMO pairs people who want to do more than grab a quick drink after work. Boston-native Rob Hand tried his hand at dating apps before branching out and creating his own, MMO, which urges singles to have an outdoors first date, to prevent the usual awkward interview questions in a dimly lit dive bar. SingleFit and sweatt also promise to match fitness focused 20-somethings who want someone who understands their gym routine.
Although the thought of working out with a first date repulses me because I would rather not be my sweatiest self when making a first impression, I decided to give the app a go. While the athletically inclined look for similarly fit folks, if I'm going to embarrass myself on a trampoline or at an underground dance class, I'd rather be with friends who are far less likely to (openly) judge me.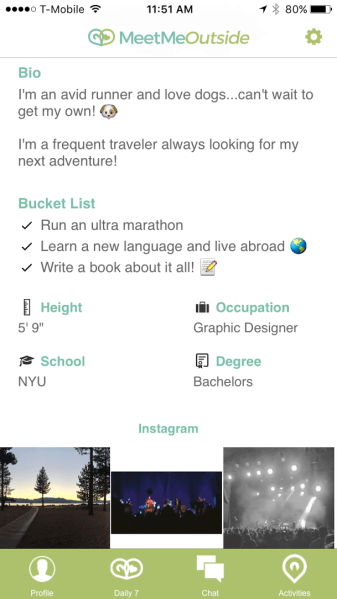 After downloading MMO, users choose their favorite activities to share in their profile, with options including running, biking, weightlifting, team sports, water sports and extreme sports. As someone who is less than athletically inclined, my options were limited. I went with "mind and body," because yoga is less terrifying than winter sports, and dance. I also chose "water sports," in hope that it would lead to happy hour cocktails on a yacht, instead of canoeing. Then, you add photos. In most of mine I'm nowhere near the outdoors, proving again I'm definitely not the app's target audience. I chose one where I was standing outside of a bar to make it look like I appreciated fresh air. Then, there's a required biography section, with suggestions: "I'm a runner who loves to…" and "By day I'm an accountant, by night I'm a…"
My seven options looked similar to the men of Tinder. One was shirtless on a boat and a full 31 miles away, another gentleman nearby appeared to be hiking in the ruins. Many users seem to be located in Boston, where the app originated.
The hope is that two people will match, put in their location, and nearby activities appear both parties would like. My only option appeared to be ice skating, because of my apparent hatred of the outdoors. To find out where MMO originated and who's using it (and what kind of extreme sports they're trying), the Observer talked to founder Rob Hand.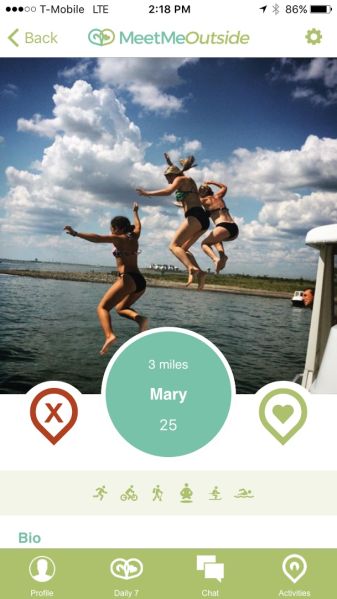 What were your app dating experiences like before creating Meet Me Outside? I've tried Tinder, Coffee Meets Bagel and Bumble, always hoping to find an adventurous girl that enjoyed being active or the outdoors as much I do. I knew there were plenty of singles around me in Boston that loved staying fit and active, but there was no way to filter people on apps based on their active lifestyle interests. Around this time, I noticed plenty of new dating apps popping up to fit strange and specific niches like dog lovers, farmers only, sci-fi fans, gluten-free singles and even one for bearded men and people who love beards.
What inspired you to create Meet Me Outside? I thought, 'How could there not be a dating app for people who simply live an active lifestyle?' First dates can be nerve-racking, and the traditional date scenario of sitting down for coffee or drinks to interview one another does nothing to relieve that nervousness.
Can you walk us through the process? MeetMeOutside is similar to Hinge or Coffee Meets Bagel in the sense that you get a set number of people you can match with every day. As a user, you open the app every day to check out your Daily 7. You can view their profile and decide if you like them or not. On their profile they have icons denoting their favorite activities, a quick bio about themselves, and their top three "bucket list" items.
What happens after people match? Once a match is made, you can chat and use the "MeetMeOutside Button" to find nearby date activities that suit your mutual interests and location. When you find an activity you want to try for a date, you simply share it with your match via chat and set a time to meet.
What are some of your favorite activities the app suggests? My favorite activity we suggest, and one I would personally recommend for a date, is a boxing or kickboxing class. You typically work with a partner holding pads for each other so it keeps it social…and who doesn't love to hit things? One of the more unusual, and most extreme first date suggestions is skydiving. We've seen some funny comments on social media hinting towards the idea but I haven't heard anyone go through with it yet. I'm waiting to see the pictures!
What has the response been so far? In early November, MeetMeOutside co-hosted an after party at the Fenway Park Reebok Spartan Race. One couple came up to me at our booth and said they had saw a couple weeks earlier that MeetMeOutside was sponsoring the event so they both signed up for the app. A few days into using the app, they matched with one another, started chatting, and realized they were both running the Fenway Park Spartan Race. They decided to make the race and after party [with] their very first date.