Hours after Prince died Thursday, Rachel Maddow on MSNBC and Megyn Kelly on FOX (FOXA) presented drastically different takes on the biggest news story of the day.
During the 9 p.m. hour of prime time, Ms. Kelly and her production crew seemed wired in to the website TMZ, which broke a story in the early evening that Prince's airplane made an emergency landing late last week due to an overdose of drugs by Prince.
Her first guest was Harvey Levin, who runs the site that sometimes pays for information and often gets it first and right. Prince's plane—from Atlanta to Minnesota—landed in Illinois.
"Doctors advised him not to leave," Mr. Levin said. "He was treated for a drug overdose."
In Illinois, TMZ reported, Prince was injected with an antidote. Mr. Levin said his staff had more information than it published but "We haven't posted most of it because we're trying to confirm various things."
This was the most important Prince news since his death was announced and Ms. Kelly made the most of it. She showed a TMZ photo of a man purported to be Prince pacing near a vehicle outside a drugstore the previous night. The man was said to be agitated and sweating while someone shopped for him.
"We are told that he had problems," Mr. Levin said of Prince. "The dots are increasingly connected."
Fox and Ms. Kelly were playing the TMZ story longer and harder than any other outlet.
"The news is breaking," Ms. Kelly said, "right here, right now."
'People call me rude. I wish that we were nude.'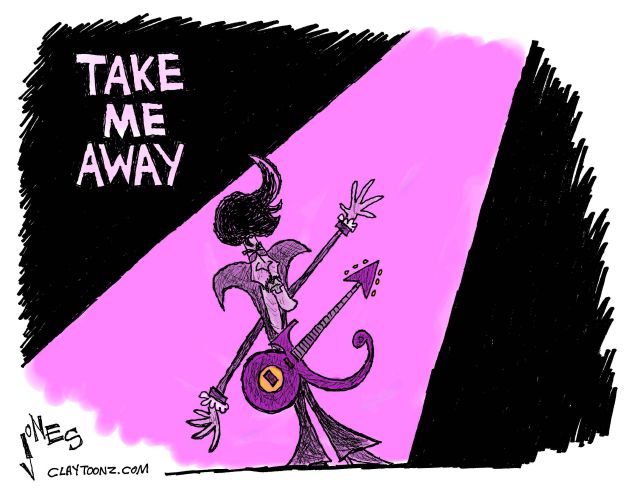 Over on MSNBC in the very same hour, Ms. Maddow indeed reacted to the Prince story in her precious meandering way and with many more smiles and giggles than one might expect from someone covering the sudden death of a global musical idol.
Ms. Maddow never mentioned the TMZ report and we must assume her producers have the Internet. Instead of breaking anything new, Ms. Maddow backed into what seemed to be her theme: That Prince was a classic gender-bender of the rock era who made some people nervous with his sexuality.
"Mick Jagger should fold up his penis and go home," Ms. Maddow said, quoting a Village Voice review of Prince.
Thoroughly enjoying herself, Ms. Maddow read from an old New York Times review that wrote of Prince's "black bikini briefs" and "thigh-high stockings" and how "he is sexual license incarnate."
"People call me rude," Ms. Maddow said, quoting Prince. "I wish that we were nude."
When Brian Williams took over for Ms. Maddow at 10 p.m., he waited six minutes before mentioning that the story about Prince's emergency landing was out there but "none of this has been confirmed. This was not a person who used drugs."
On CNN, during the same hour, at 10:26 p.m., Don Lemon alluded to Prince having the flu that turned into walking pneumonia that may have been a factor in his death in an elevator at his home near the Twin Cities.
Van Jones, a friend of Prince and a CNN commentator who speaks from the gut, could not hold back soft sobs as he choked out his words.
"Just guilt," Mr. Jones said of his feelings. "Feeling like, 'What could we have done? And just what happened?'"
Over on Fox, Ms. Kelly sometimes alludes to how her program is the only thing live on her network during prime time and this advantage scored big for her Thursday.
The show before her, The O'Reilly Factor, alluded to Prince only at the end when Mr. O'Reilly revealed that he once saw Prince at the Super Bowl halftime show. This is what happens when a "news channel" pre-records a prime time show.
Instead of Prince, Mr. O'Reilly's opening was—surprise—Republican Presidential candidate Donald Trump attacking the news media.
"Look at all those cameras zooming," Mr. Trump said in a speech Wednesday in Indianapolis. "They are the most dishonest people in the world. The media. They are the worst. They are the worst. They are very dishonest people. They are terrible people. Do we hate the media?"
"Yeah!'' the crowd roared.
"O.K.," Mr. Trump said, with sarcasm. "No I don't hate anybody. I l-o-o-v-e the media. They're wonderful."
It was worse during Hannity, which followed Ms. Kelly at 10 p.m. Like Mr. O'Reilly's show, Sean Hannity's right-wing infomercial is taped earlier in the day.
Twice during Mr. Hannity's hour, Fox producers showed Mike Tobin on screen at the scene live with "Breaking News." Both times, he started interviews. Both times, he had to bail out abruptly because Fox producers were switching back to Mr. Hannity's taped show.
Like Mr. O'Reilly's show, Mr. Hannity's hour seemed canned and stale and beside the point. One guest was—Surprise! —Mr. Trump. Mr. Hannity, as is custom, groveled for the man who is likely to run against Democrat Hillary Clinton in November's presidential election.
Mr. Hannity congratulated Mr. Trump for nicknaming Ms. Clinton "Crooked Hillary." Then they talked about North Carolina's toilets—an appropriate metaphor for the entire show.
Disclosure: Donald Trump is the father-in-law of Jared Kushner, the publisher of Observer Media.