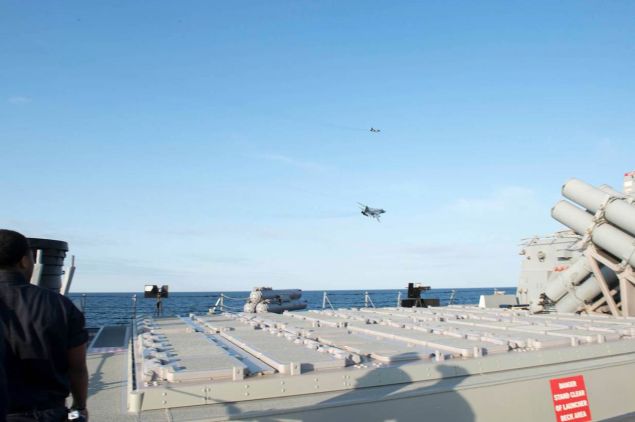 This week we saw yet another disturbing challenge to freedom of the seas—and America's Navy. Two Russian fighter aircraft buzzed the U.S.S. Donald Cook in the Baltic as it was engaged in practice operations with our Polish allies. The unarmed jets, flying close to the speed of sound, came within 30 feet of the ship's bridge and engaged in maneuvers designed to simulate an attack on the American vessel.
According to retired Vice Admiral Doug Crowder, former Commander of the U.S. Navy's 7th Fleet, the hot-dogging Russki pilots were not only behaving dangerously—unintended accidents have the potential to escalate into unwanted confrontations—but with a purpose. They acted as they did to convey a message from Russian President Vladimir Putin: The Baltic is Russia's preserve, and any naval maneuvers by the U.S. or its friends are permitted only at Russia's pleasure.
That perception was reinforced by retired Admiral James Stavridis, former Supreme Allied Commander of NATO and now the Dean of the Fletcher School of Diplomacy at Tufts: "Clearly the aircraft were operating with full authority from Russian officials given their extremely weak response when challenged by U.S. authorities. The highly unprofessional buzzing of a U.S. Navy vessel in the Baltic brings back to mind the worst days of the Cold War. All of this is playing with fire in an area of the world that is already rife with global tension."
President Putin's message was clear: The Baltic is Russia's preserve, and any naval maneuvers by the U.S. are permitted only at Russia's pleasure.
It is hard to believe that Mr. Putin's instructions to his pilots were not another test of America's resolve. Only three months ago Iranian gunships seized two American Navy boats in the Persian Gulf and held the crew hostage for 24 hours. To which the Obama Administration commented, stunningly, "We do not see this as hostile intent."
Perhaps it is time for the Obama administration to understand Russian (and Iranian and Chinese) acts for what they are: incremental moves designed to curtail America's influence—and freedom to act—in each respective region. These are not the provocatively hostile acts that would demand a president act immediately. But with a president who is reluctant to recognize that other countries do not share his kumbaya, lead-from-behind worldview and is hesitant to act militarily, they are probes that cannot go unanswered.
The Russian flybys—and there have been several, including a much-too-close encounter with an American Air Force jet on patrol over the Baltic—are part of a multipronged strategy known as A2/AD: anti-access area denial. Russia's other initiatives designed to deny America and NATO full and free access to the Baltic include an upgraded S-400 air defense system, the deployment of Iskander mobile ballistic missiles—which were prominent in Russia's incursion into the Crimea—and the potential to quickly move its Bastion anti-ship missile system into the region.
Mr. Obama's well-known reluctance to take even proportionate action in response invites further adventurism by aggressive state actors.
In an unusually blunt statement of his concerns, the commander of Pacific Command, Admiral Harry Harris, recently said that China might attempt to establish an Air Defense Identification Zone in the South China Sea, which would ratchet up regional tensions; and that the United States needed more submarines, more long-range weapons and more intelligence, surveillance and reconnaissance (ISR) to counter the threat. Sen. Kelly Ayotte (R-N.H.) said the Navy told her the service can only meet about 62 percent of combatant commander requests for attack submarines, and Harris said his Pacific Command sees a comparable shortfall.
As Admiral Crowder said to the Observer, "If a bee flies close by you at a picnic, you don't pack up and go home. You wave it away and go about your business—or pleasure."
In short, presence and capability matter.