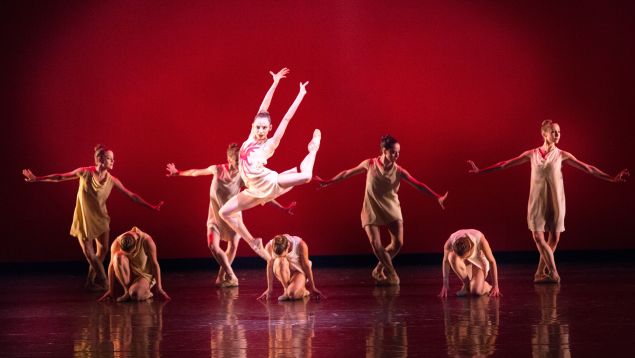 What a triumph! The Miami City Ballet flew back into town after an absence (other than an appearance on a mixed bill at Fall for Dance) of some seven years. At home in the pit was the New York City Ballet Orchestra, under the swift baton of Gary Sheldon, Miami City Ballet's principal conductor. I'd say it's about time, but the timing could not seem better. The troupe—under the new leadership of Lourdes Lopez, gracefully following the founding director Edward Villella, and like him a New York City Ballet principal under George Balanchine—is marvelous.
If you lived in Miami, you'd go see this company regularly, you'd follow them, the way you go to see New York City Ballet here. They have a similar repertory, a similar range, and a remarkably similar ability to project in a lovely grand theater like the David H. Koch, where they were presented by the Joyce Theater. These dancers are ardent, direct, and connected, like both Villella and Lopez, a ballerina whose warmth and calm dazzle made me feel—as ballerinas can do—that she was my ballerina, so that when she entered—on this very stage—I would think, "There's Lourdes!"
The Miami dancers have lineage, they have a continuity, they have an aesthetic based on a particular dance technique and training. And they are, as everyone in the press keeps remarking, a "company." What's so special about that? Well, they put everybody before somebody, dancing across the barriers that can exist between the soloists and the principals, and between the soloists and the corps. They project a kind of group ethos, and among the women—and the women as ensemble are significant entities in two of the three Balanchine ballets they brought here, Serenade and Symphony in Three Movements—a lovely sorority, yet sorority allied with a contemporary sensibility. The women are strong, in a beautiful pliant way. Their arms are richly energized, with an upper body strength that, although they can do decorative things when decorative things are called for, makes them willing partners rather than needy ones. It's not that they require their partners, but that they enjoy their partners. And the men, in turn, are swell in their band-of-brothers mode, and gallant in cavalier mode. I'm told they all like to stand in the wings watching each other dance, and cheering each other on, and I believe it. That said, there is no shortage of unique talent, and it comes from the top to the bottom. There is a present, and there is a future.
You always want to fall in love at the ballet; it's one of those things that makes it such a personal experience, even apart from the vagaries of one's own taste in choreography. And it's what makes even rather overwrought or otherwise iffy choreography okay to watch. Because you get to watch your special dancers do it. This time around, my affection for the dancing Delgado sisters, Jeanette and Patricia, was reanimated, while I admired Tricia Albertson, Jennifer Lauren, Nathalia Arja and Emily Bromberg, and swooned over Simone Messmer, a ballerina of real grandeur and scope. While the principal men had a lot to offer, I fell for three men in the ranks: Shimon Ito, whose verve blew me away; Chase Swatosh, because handsome is as handsome does; and Ariel Rose, who proved moving and adept in Twyla Tharp's Sweet Fields. A real Tharpian!
All the dancers are light on their feet, ready to move in any direction on the instant. They understand syncopation and how to make a downbeat a springboard. They make the most of small details and fancy footwork against large shapes and large spaces. They also know how to run—with intention. They don't race around. They go someplace. And then they come back. They dance with the fervent motivation that movement itself can supply, and even when their repertory calls for angst, as in Liam Scarlett's unduly tortured Viscera, they aren't really—bless them—angsty in the slightest. They're from Miami, for heaven's sake. Good weather, the beach, the pool, huevos rancheros for breakfast.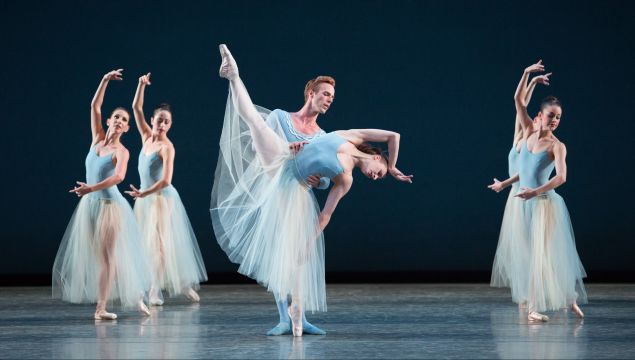 So, that's who they are—so uncluttered that you see things you've never seen before in a dance you've seen so many times you can't begin to count them. That's the way it was with their opening night Serenade, a Balanchine icon. And then there was his Symphony in Three Movements, where the women are the Rockettes meet the Mariinsky, with flexed feet. Their version—a faithful performance of the text that is the choreography—was utterly fleet and joyous and clear!
Clarity! Even with a work that has a tendency towards confusion because it's so jam packed, like Alexei Ratmansky's Symphonic Dances; or towards cliché—albeit elevated to art—like Justin Peck's made-to-measure Heatscape, these dancers don't overdo, and they don't sell. They dance full out and fully invested, but without commenting—without making faces at us or smiling us into compliance. This is how to make the most of a dance. (Or of anything, really.)
Intention and appropriate intensity can yield comedy, romance, drama, lyricism. Perfume, if you will. Or oomph. The rarely seen Balanchine closer Bourrée Fantasque, (staged by Susan Pilarre for The George Balanchine Trust) showed off Miami's range in one sumptuous concoction. So too did the sweep of their repertory, with its variety demanding that they shape-shift during the intermissions.
As the week went by, insights accumulated, and so too the pleasures in experiencing the entire repertory Miami City Ballet brought with them. That selection showed what good programming can do for a dancegoer. In each of the three evenings—the opening gala, and the two longer programs—the ballets, as people say, talked to each other. And then there was the surprise of the Tharp.
Sweet Fields was made in 1996 and has since disappeared. Lourdes Lopez has brought it back for us (with Alexander Brady staging). The dance is about The Shakers, a sect that gave up everything—including sex—to live in a community of belief. Whatever their sublimated desires and urges, they came out in dancing, or "shaking."
Gender is sublimated. Relationships are sublimated. Ego is sublimated in the communal. The ecstatic breaks forth! In Tharp's poignant and ravishing depiction this is a vision of heaven, where the music is hymns from the Shaker tradition that are marvelously like Gregorian chant. And it's also a portrait, as so many great dances are, of a dance company. Dancing for dancing's sake, because dancing is sublime.
In a talk two nights before Miami City Ballet opened, in a basement studio at Lincoln Center, Lourdes Lopez—in a conversation with Robert Gottlieb, the regular dance critic for this publication—told a story. When she was 17, and new to the New York City Ballet corps, she went into the theater to watch Allegro Brillante from out front. "What are you doing, dear?" asked George Balanchine.
"Oh," she answered, "I'm just watching." And he told her to come back afterwards, and tell him what she saw. Wasn't that prophetic?
Robert Gottlieb, The Observer's dance critic, is closely involved with the Miami City Ballet, and has therefore recused himself in favor of Nancy Dalva, who has written about dance for The New Yorker, The New York Times and 2wice.