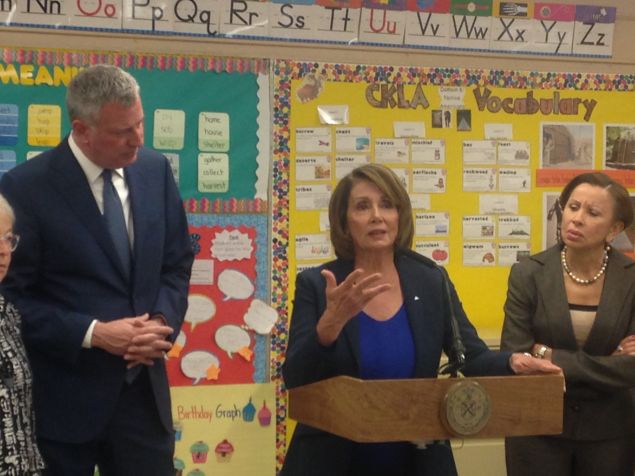 House Democratic Minority Leader Nancy Pelosi joined Congresswoman Nydia Velazquez, Mayor Bill de Blasio and top city education officials to inspect a Brooklyn prekindergarten program—and to call on the federal government to take Mr. de Blasio's signature program nationwide.
Talking to reporters after her tour of the Bushwick school, Ms. Pelosi insisted on the objective value of sending four-year-olds to school, and urged the GOP-dominated Congress to allocate a proposed $75 billion to make pre-K available to all American children. President Barack Obama has pushed for expanded early childhood education since his State of the Union address in 2013—the year Mr. de Blasio successfully campaigned for mayor on the same proposal—but the Strong Start for America's Children Act, which would create the funding stream, has languished on the Hill.
"They know better now how the brain develops, and how there's a missed opportunity, and why should children have to catch up when science tells us they're so receptive to learning so much earlier," the San Franciscan lawmaker said, praising the New York City program for being free and accessible to children of all income levels. "The beauty is in the mix. It's very important for children to be in an inclusive environment, because that's the society in which they live."
The science is undecided on the longterm impact of pre-kindergarten on academic achievement, but it accustoms children to the classroom and provides relief for working parents in need of daycare for their toddlers.
Ms. Pelosi hinted that a "different Congress"—i.e. one with her caucus on top—would pass the pre-K initiative, but argued that the proposal has bipartisan backing. Upstate GOP Congressman Richard Hanna is one of the co-sponsors of the Strong Start bill, but most Republicans have balked at its massive price tag.
"They just don't want to pay for it, that's the problem," she said.
The Democratic leader, however, argued that the nation would reap dividends on the investment, as better educated students and more productive mothers and fathers would boost the economy
"It's parents earning, children learning," she said. "To be competitive, to have national security, economic security, to have America number one, education is key."
Mr. de Blasio argued his pre-K program in New York was another case of cities and states becoming laboratories for liberal policies that cannot clear the federal government.
"We're seeing with everything—minimum wage, paid sick leave, a whole host of changes—it's a combination of things. It's local action and national leaders," he said. "Local action proving things can be done, and national leaders raising the bar, raising the demand."